Norris' gem gives Astros shot to sweep Angels
Righty goes eight innings as Houston secures series victory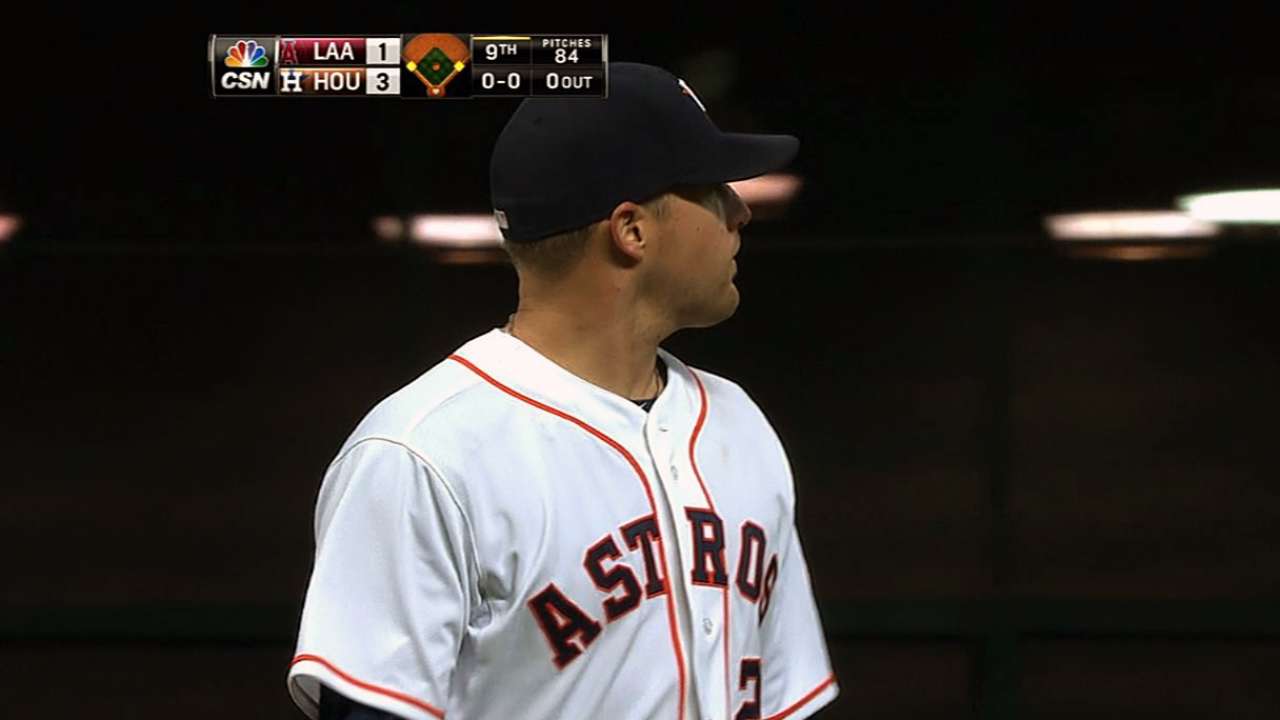 HOUSTON -- Bud Norris paced in the dugout, picked at his fingers and really tried to do anything to keep himself occupied. Perhaps the best performance of his career was on the line in the ninth inning and was now in the hands of teammate Jose Veras.
Norris had been masterful against the Angels, working into the ninth inning for the first time in his career, but it wasn't until Veras coaxed Howie Kendrick to hit into a 6-4-3 with the bases loaded to end the game could the Astros' ace relax and enjoy his work.
When Kendrick hit the ball toward shortstop Marwin Gonzalez, Norris raced to the top step of the dugout and then gave an emphatic fist pump when second baseman Jose Altuve threw to first for the final out of a tense 3-1 win on Wednesday night at Minute Maid Park.
"We got a lead and we got to shut the door," Norris said. "Veras came in and definitely made the pitches when he needed to. He had a huge strikeout of [Mark] Trumbo and first-pitch heater to get a double play from Kendrick. He knows what he's doing, he's pitched a long time and I feel comfortable passing the ball off to him every time."
The Astros have won two in a row from the Angels and can sweep a series for the first time this year with a win Thursday.
Norris (4-3) allowed nine hits and one run on a homer to Josh Hamilton while throwing only 84 pitches. He flirted with his first complete game, only to be pulled by manager Bo Porter after giving up consecutive singles to Mike Trout and Albert Pujols to start the ninth.
"It's a little frustrating," Norris said. "I definitely put in the work to go out there and put in nine innings, and it's really close. It's happened a few times, but that's OK. The wins are more important for me and for this team and where we're going. That was the No. 1 priority."
Porter had complete confidence in Veras, but he was also looking out for Norris' bottom line: He didn't want him to suffer a loss.
"If there was one man on base, I would have let him keep going, but once the second man was on base, at that point all he can get is a no-decision," Porter said. "The closer is up, he's ready and that's why I had Veras ready to go."
Veras struck out Trumbo on three nasty breaking pitches before hitting Hamilton to load the bases. While Norris fidgeted in the dugout, Veras went right at Kendrick with a fastball and got him to hit into a double play -- the fourth of the game for the Astros.
"When guys like that throw that good, you have to find a way to get it done because they deserve it to get that win," said Veras, who has saved games on consecutive days.
Norris has been a high-strikeout pitcher in his career, but he had only two because he pitched to contact with an effective sinker that set up his breaking stuff. He threw only eight pitches in the second inning, five in the third, six in the fourth and eight in the fifth, bringing his total to 38 after five innings.
"After the fifth inning he was at 35 pitches, and I was like, 'Is that right?'" said left fielder Chris Carter, who hit a solo homer in the fifth.
Trumbo was appreciative of the way Norris attacked the zone.
"He gave us strikes to hit," he said. "You always appreciate a pitcher who is willing to challenge you like that. Ultimately, if he's proven he's going to throw strikes, it's not wise to go up there and try to work a long at-bat if you're going to get a quality pitch to hit early. Sometimes, that's all you're going to get and you can't let it go by."
Back-to-back doubles by Matt Dominguez and Gonzalez -- who snapped an 0-for-19 slump -- in the third inning put the Astros ahead 1-0 against Joe Blanton (0-6), and Jimmy Paredes shot an RBI double to right field one out later to push the lead to 2-0. Carter's homer made it 3-0, which was more than enough for Norris, who improved to 3-1 with a 2.30 ERA at home.
"Bud has taken a tremendous step forward in his career," Porter said. "He was our Opening Day starter, he's our No. 1 guy. There have been times this season the bullpen has been taxed and he's been asked to go out there and be that No. 1 guy. Tonight is another example of him taking the bull by the horn and saying, 'I'm going to put this team on my back and I'm going to do everything I can to get us a victory."
The Astros did their part defensively, too, with another crisp performance. They turned four more double plays, pushing their Major League-leading total to 46. Prior to the game-ending double play, the biggest twin killing came in the fifth when Norris got Chris Iannetta to hit into a 6-4-3 double play and strand a runner at third.
"I really hope the rest of the starters take heed at what can happen when you attack the strike zone," Porter said. "We have a pretty good defense, and when you make the other team feel like they have to swing early in the count and put the ball in play and allow our defense to play, we can get starts like we got tonight from Bud Norris."
Brian McTaggart is a reporter for MLB.com and writes an MLBlog, Tag's Lines. Follow @brianmctaggart on Twitter. This story was not subject to the approval of Major League Baseball or its clubs.