Angels drop fourth straight in Houston
Blanton is solid, but offense is limited to Hamilton's homer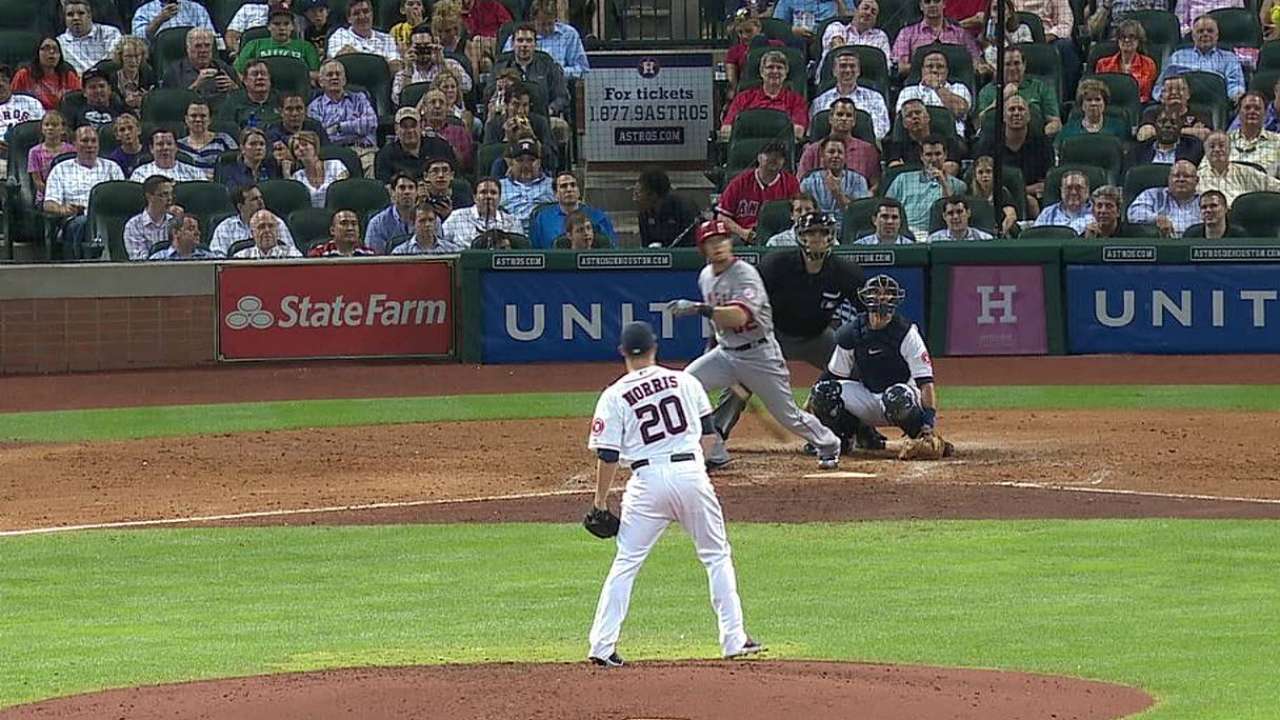 HOUSTON -- It looked like the Angels finally had something going in the top of the ninth at Minute Maid Park on Wednesday night. Trailing by two and three outs away from 22 losses in 33 games, Mike Trout and Albert Pujols opened the final inning with singles off a dominant Bud Norris, finally getting the Astros' ace out of the game, and closer Jose Veras hit Josh Hamilton two batters later to load the bases with one out.
Finally, you thought, the Angels were showing some life, some spirit, some grit in their season-long quest for relevance.
And then, one pitch later, a hard ground ball from Howie Kendrick settled into the glove of shortstop Marwin Gonzalez, who flipped it to second baseman Jose Altuve, who fired to first baseman Carlos Pena. A double play, the fourth of the game for the Angels. A 3-1 defeat, their fourth loss in a row and 11th in their last 14 games. And a series loss to a last-place Astros team that came in with six consecutive losses.
"It's not who you're playing or where you're playing; it's how you're playing," Angels manager Mike Scioscia said. "And right now, we're not doing enough things well to set the game up on our terms and give ourselves the margin of error you need when you don't get a break."
But the Angels did get a break.
When Dane De La Rosa scooped up Trevor Crowe's safety-squeeze bunt in the eighth and flipped home, Jimmy Paredes appeared to slide past the tag of Hank Conger and swipe the plate with his left hand. But home-plate umpire Bill Welke ruled that he didn't touch the plate and Conger was able to tag him for the out to keep it a two-run game.
It didn't matter.
Norris, who pitched seven shutout innings at Angel Stadium on April 12, gave up only a Hamilton solo homer -- the slugger's third on the year and first since April 14 -- in eight-plus innings of crazy-efficiency. Norris threw 58 of his 84 pitches for strike, needed only 77 of them to complete eight innings and moved opponent Joe Blanton to 0-6, even though the Angels' starter gave up only three runs in 6 2/3 innings.
"I think the sinker was really working," said Norris, now 4-3 with a 3.40 ERA on the year. "I threw a lot of two-seamers to the outside of the plate and got some guys out of their comfort zone. When I can do that and go back to my slider and fastball away, it sets up both sides of the plate. The No. 1 priority is locating down and away, but throwing some sinkers into some guys was really big."
The Angels had nine hits, but went 0-for-5 with runners in scoring position.
Erick Aybar hit a leadoff single and Pujols laced a double in the first, but they didn't score. Mark Trumbo singled in the third, but was thrown out easily at second on what Scioscia said was a "misread" -- not a hit-and-run -- with Hamilton batting. Kendrick and Alberto Callaspo hit one-out singles in the fifth, but Chris Iannetta grounded into an inning-ending double play. Trout hit a two-out double in the sixth, but Pujols grounded out to end the inning. And when J.B. Shuck drew a one-out walk in the eighth, Aybar hit another inning-ending double play.
Their fourth double-play groundout, coming one inning later, gave the Angels five straight series losses and nine in 11 tries this season.
Asked if this team is past the point of frustration, Trumbo said: "It's still frustrating. You never want to stop feeling frustrated because then you've pretty much given up hope. You come here each day with the mindset we're going to win the ballgame, so obviously it's a letdown when that doesn't happen."
Scioscia tried hard to take positives out of Wednesday's loss. Like the fact that Hamilton's homer went to the opposite field. Or that a lot of balls were hit hard. Or that Blanton has thrown three consecutive quality starts, giving up eight earned runs in 20 2/3 innings in that span.
But Blanton's ERA on the year is still 5.66.
And the Angels' 11-22 record is matched only by the 1969 and '76 teams for the worst start through 33 games in franchise history. Neither of those teams won more than 76 games.
"It's a team game," Blanton said when asked if he could at least take solace in the fact that he's pitching better. "Our goal is to win games. It's not happening right now, but it does feel better to at least contribute and at least give us a chance when I'm out there. The first couple starts, I wasn't doing that. And now I am at least giving us a chance. We're just missing by a beat right now. Hopefully it comes around soon."
Alden Gonzalez is a reporter for MLB.com. Read his blog, Gonzo and "The Show", and follow him on Twitter @Alden_Gonzalez. This story was not subject to the approval of Major League Baseball or its clubs.