In second career start, Webster roughed up
Papi's 27-game hitting streak comes to an end with 0-for-5 night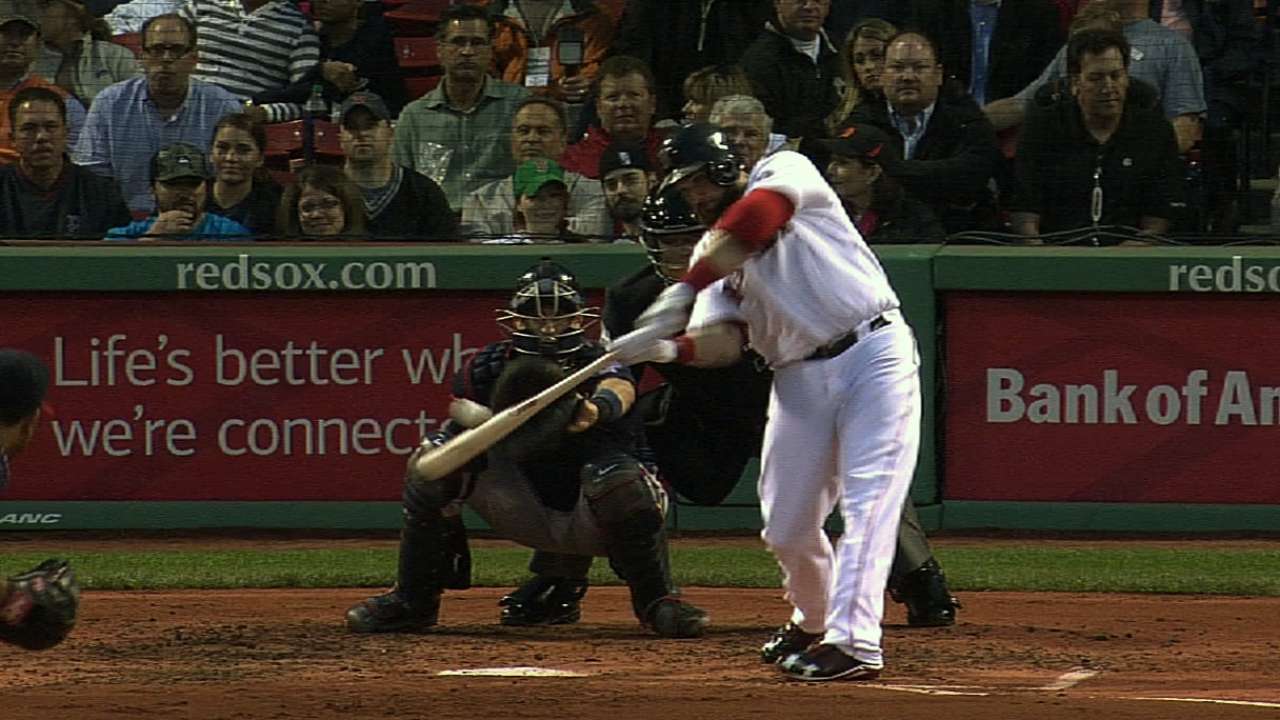 BOSTON -- The second start of Allen Webster's career is one he hopes he will never duplicate again.
The highly touted prospect didn't have command of anything, and the Twins let him know it. Webster lasted just 1 2/3 innings and the Red Sox were outslugged, 15-8, on Wednesday night at Fenway Park.
After the game, Webster was informed that the club is optioning him back to Triple-A Pawtucket. That was no surprise, really, as manager John Farrell had said all along that the plan was to skip Felix Doubront for just one start.
What was the message Red Sox pitching coach Juan Nieves wanted to convey to Webster?
"Rome was not built in one day," Nieves said. "Go back to square one and keep on working on whatever you have to do. Cy Young Award winners are working on their craft every day. It's no different. Sometimes they take their bumps and bruises, too. Staying the course and working on the things he needs to work on are very important."
Slugger David Ortiz went 0-for-5 with two strikeouts as his 27-game hitting streak came to an end.
The loss was the fifth in the last six games for the Red Sox, who lost sole possession of first place and are now tied with the Orioles atop the American League East.
"We've just got to come back tomorrow and win and try to split the series," said catcher Jarrod Saltalamacchia. "That's how we're trying to take it. Through 162 games, you're going to go through some bad times. The more we harp on that stuff, the worse it's going to be. We just have to focus on tomorrow and getting that 'W.'"
The mighty struggles of Webster and Doubront overshadowed a first-inning grand slam by Jonny Gomes.
"Jonny gives us a huge lift after we give up four in the first," Farrell said. "We take the lead and unfortunately the ability to maintain it, and that seven-run second inning, things got away from us. At that point, they continued to tack on. I think in short, again, tough night from the mound."
Webster, who had a strong showing in his Major League debut on April 21, never looked comfortable in this one. He gave up six hits and eight runs while walking three and striking out two.
"I just fell behind and didn't make my pitches," Webster said. "I didn't have my command I had in the first game and they made me pay."
Doubront came on in place of Webster with two outs in the second and was hit nearly as hard, giving up 12 hits and six runs over 5 1/3 innings.
"The one thing that's a little concerning with Felix is that while he'll get ahead of certain hitters, he still lacks the ability to put guys away, and we've seen that the last two outings from him," said Farrell.
The night turned ugly for Webster in a hurry.
With one out, he walked Joe Mauer and Josh Willingham. Justin Morneau opened the scoring in this slugfest with an RBI double. Trevor Plouffe followed with a sacrifice fly. Up stepped Ryan Doumit, who drilled two-run homer to left to put the Red Sox in a 4-0 hole before they even took a swing.
However, the Red Sox answered swifter than anyone could have imagined. Shane Victorino (bunt single), Dustin Pedroia (single to left) and Mike Napoli (walk) set the table. Gomes cleared it, unloading for a grand slam, the fourth of his career.
"It was just the second pitch I saw, a fastball," said Gomes. "I put a good swing on it."
The hits kept coming against Twins starter Pedro Hernandez. Saltalamacchia lofted a double off the Monster. Stephen Drew added an RBI single and Webster actually had a 5-4 lead when he took the mound for the second.
The righty basically held the lead until his warm-ups ended. Pedro Florimon, who isn't known for his power, started the top of the second with a home run to right. Jamey Carroll walked. With one out, Morneau hit a sac fly and the Twins were back on top at 6-5. Plouffe smashed an RBI double and Webster's nightmarish night was over.
"Yeah, I mean, the team did all they could to help me out and I just went back out there and if I had put up a zero, we probably would have won the game. I didn't," Webster said.
On came Doubront, who was originally supposed to start the game before a roster shuffle led the Red Sox to switch to Webster. Doubront started his night by giving up a walk, a single, a two-run single and then a two-run double to Florimon.
When the Red Sox came to bat in the second, they were down 11-5. Victorino got one back with a homer to right.
From then on, it was pretty much all Twins.
"It was a wild night," said Mauer, who had three hits, including two doubles. "Guys were having good at-bats and taking advantage of mistakes on both sides. It was a kind of a wild start to the game, but at Fenway, you can put up runs in a hurry."
Ian Browne is a reporter for MLB.com. Read his blog, Brownie Points, and follow him on Twitter @IanMBrowne. This story was not subject to the approval of Major League Baseball or its clubs.