Romero, bullpen unable to contain Rays' bats
Lefty allows three runs in one-third of inning; next start unknown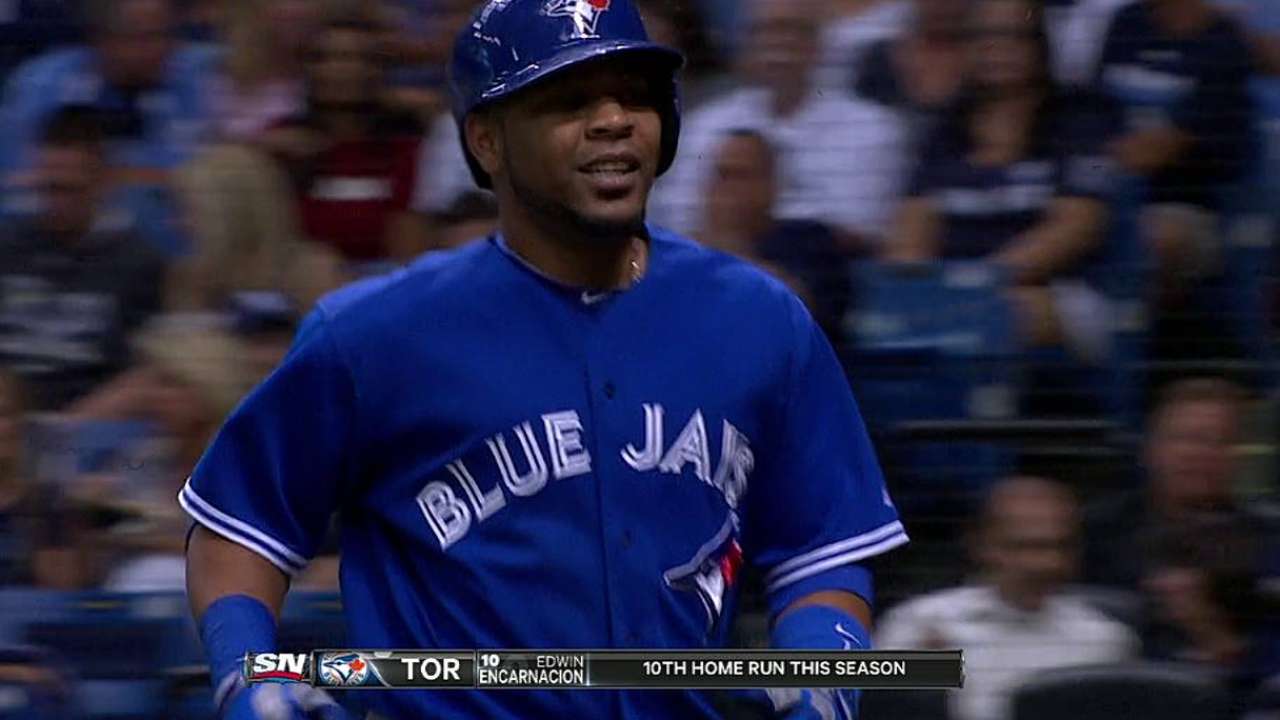 ST. PETERSBURG -- Ricky Romero's second go-around in the Major Leagues is off to a rough start as the former ace continues to search for reasons behind his prolonged struggles.
Toronto's left-hander made his second outing of the season on Wednesday night, but instead of taking one step forward, he took two steps back and while doing so, wasn't exactly given a lot of freedom by manager John Gibbons.
Romero surrendered three runs and was pulled with the bases loaded and one out in the first inning en route to a 10-4 loss to Tampa Bay as the Blue Jays' season-high three-game winning streak came to an end at Tropicana Field.
"Obviously you're in front of a lot of people and everyone expects so much out of you, and so do I," a visibly disappointed Romero said.
"I'm a competitor, I work hard and I put so much effort, so much work into everything that I've done and I don't see it as a step back, but obviously the statistics don't show that. But you hold your head high and continue to work."
Romero's final pitching line was ugly, and things got out of hand in a hurry, but the outcome could have been a lot better under different circumstances. He surrendered four hits, but none were particularly well hit and a couple likely could have been turned into double plays if not for being well placed around the infield.
The problem is that all of the balls seemed to find holes and Romero didn't do himself any favors by adding to the baserunners with a pair of walks. It was a disappointing outcome and once again Romero's confidence will come into question because of the quick hook.
Gibbons went to the bullpen just seven batters into the game. The move came just two days after the Blue Jays allowed left-hander Mark Buehrle to remain in the game despite surrendering seven runs in the second inning of his start.
"You consider all of that stuff," Gibbons said when asked if the quick hook could have an impact on Romero's confidence. "But I've got a responsibility to 25 guys on that field. They're trying to win the game."
The one-third of an inning marked the shortest outing of Romero's career. His previous low came on Sept. 2, 2012, when he allowed seven runs on eight hits and a walk in one inning against the Rays. Romero has lost 15 of his past 16 decisions dating back to 2012 and owns a 7.60 ERA over that span.
The poor start likely will generate some criticism of the Blue Jays' front office after the club decided to bring Romero back despite making just one start in the Minors. Romero spent most of April working on his new mechanics at extended spring camp, and his lone appearance in a real game came during a seven-inning performance with Class A Dunedin.
Critics will suggest that the Blue Jays acted prematurely, but the native of East Los Angeles has made a point of saying that he never really belonged in the Minors in the first place.
"This is where I belong and I'll continue to say that," said Romero, who has a career mark of 51-45 with a 4.14 ERA. "I couldn't care less what anyone thinks. I can't forget what I've done.
"My track record isn't very big, but I can't forget what I've done the past four years, either. It's just one of those things you wish you had the answer to, but you have to just keep going out there and learning about yourself."
Right-hander Edgar Gonzalez entered after Romero and managed to get out of the first without any further damage, but the rest of his outing was subpar. He surrendered homers to Evan Longoria and Kelly Johnson and was charged with five runs on six hits in 4 2/3 innings.
Despite the lopsided final score, Toronto actually jumped out to a lead in the top of the first when Edwin Encarnacion hit a two-run homer off Rays starter Matt Moore. Encarnacion sent a 2-2 offering over the wall in center field for his team-leading 10th home run of the season and his 23rd RBI.
Moore settled down despite some erratic control. He allowed just the two runs on six hits over five innings and improved to 6-0.
"The record looks pretty, but if you go back and look at this game it wasn't pretty," said Moore, who has a 2.14 ERA. "There was maybe two back-to-back hitters that I put some nice sequences together, but I just felt like from hitter to hitter, it was changing. I was fighting a lot of different things tonight, mostly myself."
The three-game winning streak is over. but Toronto still has an opportunity to win just its second series of the season when the four-game set versus Tampa Bay comes to a close Thursday night. Reigning Cy Young Award winners R.A. Dickey and David Price will square off at Tropicana Field.
Romero -- who threw only 29 pitches Wednesday -- already has volunteered to pitch out of the bullpen if needed. After that, it's back to the mound where he'll continue working toward his next start, which has yet to be officially scheduled by the club.
Gregor Chisholm is a reporter for MLB.com. Read his blog, North of the Border, and follow him on Twitter @gregorMLB. This story was not subject to the approval of Major League Baseball or its clubs.