Moore moves to 6-0; Maddon notches win No. 600
Longoria, Johnson go deep as Rays rebound to blow out Blue Jays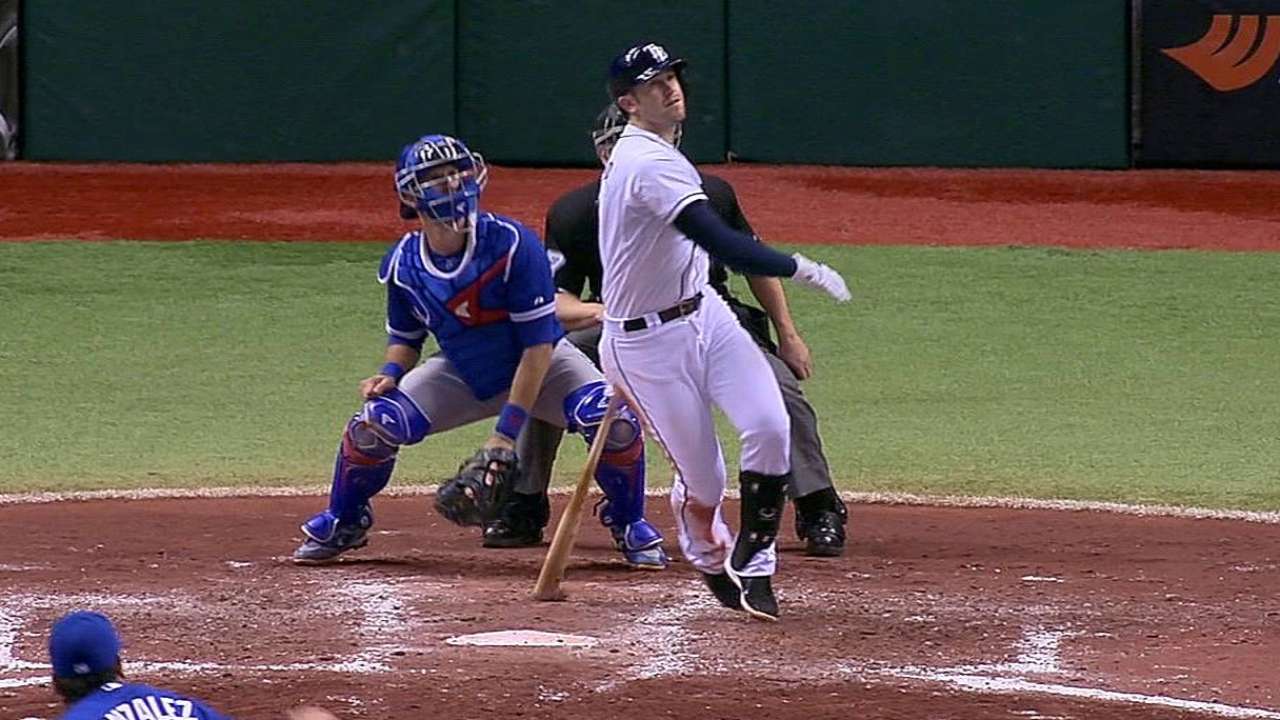 ST. PETERSBURG -- Unlike the previous two nights, the Rays took a lead Wednesday night and held it.
Tampa Bay's hitters never let up throughout a 10-4 win over Toronto, snapping a two-game skid with 11,075 watching at Tropicana Field.
"The last couple of nights have been difficult," Rays manager Joe Maddon said. "I'm really proud of our guys, the way we continue to bounce back."
The Rays moved to 15-18 and 1-2 on the homestand. In the process, Maddon earned his 600th career victory -- though he watched the final 3 1/2 innings from the clubhouse after receiving his second ejection in as many nights.
Monday and Tuesday night's games featured Tampa Bay blowing leads of 7-0 and 4-1, respectively, in gut-wrenching losses. In each of those losses, the Rays scored all of their runs in one early frame. On Wednesday night, the Rays cranked up their offense early and continued to pound the Blue Jays' pitching staff.
"A tough last two days, I think that we've played well in general," said Kelly Johnson, who had three of Tampa Bay's 13 hits. "I think there's been times where things went their way, but that's the way it goes. So I'm obviously happy we have a chance to split and move on."
Toronto grabbed an early lead when Edwin Encarnacion tagged Matt Moore for a two-run homer in the first. But that would be all the Blue Jays could muster against the left-hander, who pitched five innings to move to 6-0. The Rays improved to 7-0 in games started by Moore.
Maddon opted to pull Moore before the sixth after the 23-year-old left-hander reached 104 pitches and had to work out of a bases-loaded jam in the fifth.
Tampa Bay held a 6-2 lead heading into the fifth, but based on the way the previous two nights had gone -- and the whole season for that matter -- a healthy skepticism about holding that lead was well founded. Once Moore walked Rajai Davis to load the bases, Mark DeRosa stepped to the plate. Moore rose to the occasion and struck him out swinging.
"Obviously [DeRosa] is a good contact hitter, he went yard in the first game, tough out," Moore said. "It's not a comfortable feeling to be in that situation. We got him to chase out of the zone. But at the same time, I've got to figure out a way to not get into that situation."
Maddon cited Moore's struggle to find consistency with his fastball command as a determining factor in his early exit. Of his 104 pitches, just 56 were strikes.
Tampa Bay cranked up the offense in the first with RBI singles by Evan Longoria, James Loney and Luke Scott to take a 3-2 lead and chase Blue Jays starter Ricky Romero, who recorded just one out. That inning also featured three bases-loaded hits, which brought a refreshing change, since the Rays entered Wednesday night having gone 2-for-17 with two walks with the bases loaded.
Johnson doubled with one out in the second and scored when Ben Zobrist singled to left. Longoria added his eighth homer, a two-run shot in the fourth, and Johnson's two-run homer in the sixth highlighted a four-run inning that built a 10-2 lead.
All told, the top of the Rays' lineup, which consisted of Desmond Jennings, Johnson, Zobrist, Longoria and Loney, went 10-for-19 with two home runs and eight RBIs.
Jamey Wright allowed two runs in 1 2/3 innings of relief and Cesar Ramos finished things out with 2 1/3 scoreless frames, which ranked as the longest appearance by a Rays reliever this season.
Maddon is 600-567 (.514) since he took over the managerial reins in 2006. He went 127-197 (.392) in his first two seasons and 473-370 (.561) since the start of 2008.
Reaching 600 wins "means you have good players, you have a great organization, and you happen to be the steward at that moment," Maddon said. "And then you get credit for other people's work and that's what that means."
While all of the wins under his watch have been meaningful, Maddon seemed to savor Wednesday night's for reasons other than reaching a milestone.
"It's been kind of difficult lately," Maddon said. "The two losses in Kansas City were not fun, even the loss in Denver was not fun, and the two losses here. None of them have been fun. I believe we came to play every day after those tough losses. I don't think we mailed anything in after those tough losses, and that's what I really appreciate about this group."
Bill Chastain is a reporter for MLB.com. This story was not subject to the approval of Major League Baseball or its clubs.