Solid in return, Peavy gets plenty from bats
De Aza's leadoff blast sparks healthy offensive support against Mets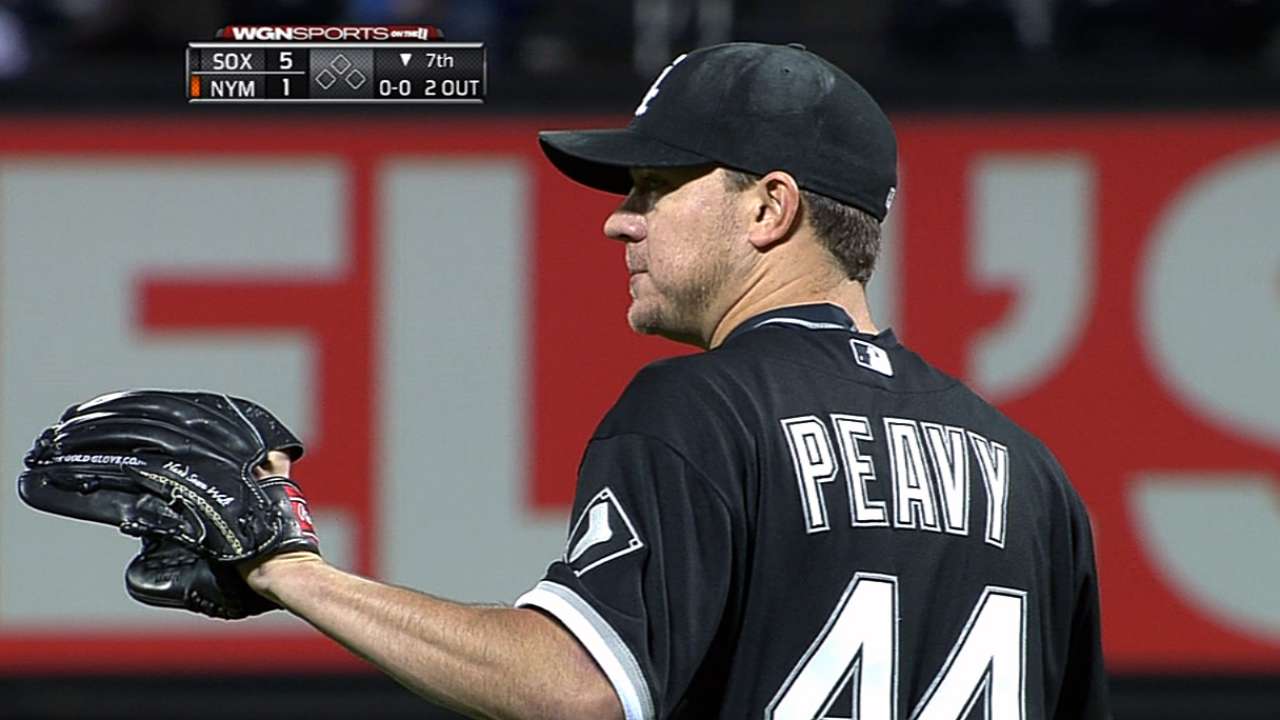 NEW YORK -- All it took was a pregame warmup in the visitors' bullpen Wednesday at Citi Field for Jake Peavy to know that his back was loosened up and ready to go.
As Peavy got into the game against the Mets, though, the White Sox right-hander realized something was off.
But judging by the way he pitched in the White Sox 6-3 win over the Mets, Peavy found a way to get around this problem.
"After the bullpen, just no feel," Peavy said. "I didn't have a lot of feel for really anything. Command-wise, I wasn't sharp."
That critical assessment probably wouldn't get many seconds from the Mets, who managed one run and three hits off Peavy, who struck out six and walked two. Peavy's pitch count did reach 114 by two outs into the seventh inning, a byproduct of some heavy counts early.
"Sometimes when you're facing good pitchers, you're not going to get a lot of good pitches to hit," said Mets manager Terry Collins, referring to his offense's shortcomings against Peavy. "We had an opportunity earlier in the game to punch a run across and just keep it close. We're not adding on. That's the thing that hurts us."
"I found a way to get through a lineup that was dangerous," Peavy said. "We made enough good pitches when we needed to get out of it, and there was some great defensive plays."
One of those highlight reel-quality defensive plays came from Dewayne Wise, after Lucas Duda matched Alejandro De Aza's sixth career leadoff homer with a homer to start the second. Mike Baxter reached via a one-out walk two batters after Duda and Ike Davis followed with a blast to center that looked as if it might clear the 408 mark on the fence.
Wise raced backed, turned a couple of times and made an over-the-shoulder grab for the second out. The Mets didn't score in that frame, and the same was true in the fourth, after David Wright reached via a leadoff walk and Duda took a called third strike.
John Buck followed with a hard grounder in the hole between shortstop and third base, which Alexei Ramirez corralled with a diving stop. He made a perfect throw from his knees to second baseman Tyler Greene, who completed the now-routine double play.
Instead of first and second, one out and Peavy protecting what was then a 4-1 lead, the inning was over. And if any doubts lived on concerning Peavy's back spasms, which caused him to miss last Thursday's scheduled start in Texas, they were erased by a volatile Peavy double fist pump and a point toward Ramirez after the play, showing he was feeling no pain.
"If you don't play defense, you're going to lose games, and tonight we played pretty good defense," White Sox manager Robin Ventura said. "Alexei's covering a lot of ground, even Wise is covering a lot of ground. It's important to us. If we don't do it, we're not as good of a team."
"It's what we did last year," Peavy said. "We made the plays we were supposed to make, made the outstanding plays from time to time and got some timely hitting."
This effort against the Mets was Peavy's first start since beating the Rays on April 26 and marked the White Sox 900th quality start since 2003, the most in the Majors.
While Peavy was dealing, the White Sox offense was notching six runs on 13 hits against Jeremy Hefner and four relievers. Those totals might not exactly indicate an outburst, but it's quite a high level of production for a team that became the third in Major League modern history to have just one baserunner in an extra-inning game on Tuesday against Matt Harvey and Bobby Parnell.
A three-run third gave Peavy pretty much all the support he needed. De Aza and Ramirez singled, and Alex Rios doubled home a run. Conor Gillaspie followed with a two-run double blooped to center, giving the White Sox four straight hits and their most consecutive hits in an inning this season. Paul Konerko added an RBI single in the seventh, and Rios homered in the ninth, leaving him just a triple short of the cycle.
"You get the inning where you get multiple runs, and that's the one where you start getting a little bit better feeling, and you tack on from there," Ventura said. "Getting one early is nice, but having the three-run inning, that's the one that makes you feel good."
Wednesday marked the first 2013 Interleague victory in five tries for the White Sox, who stand at 164-124 all-time vs. the National League. They also finished this three-city road trip with a 4-4 record, completed by Jesse Crain striking out the side in the eighth and Addison Reed doing the same in the ninth.
Not too bad of a showing, considering some of the offensive shortcomings along the way.
"Big win. We needed to come back and win after what happened last night," Peavy said. "It was nice for the boys to respond. There's no better way to go on an off-day and to end a long road trip than with a win."
"We had some hits up and down the lineup," said Konerko, referring to every starter but Peavy having at least one hit. "It beats losing and getting one-hit, I can tell you that. It was one good game. It was nice to get a win and just try to build off of this and go in Friday."
Scott Merkin is a reporter for MLB.com. Read his blog, Merk's Works, and follow him on Twitter @scottmerkin. This story was not subject to the approval of Major League Baseball or its clubs.