Hefner stumbles early with little aid from Mets
Offense stumped by Peavy as White Sox rebound from Harvey's gem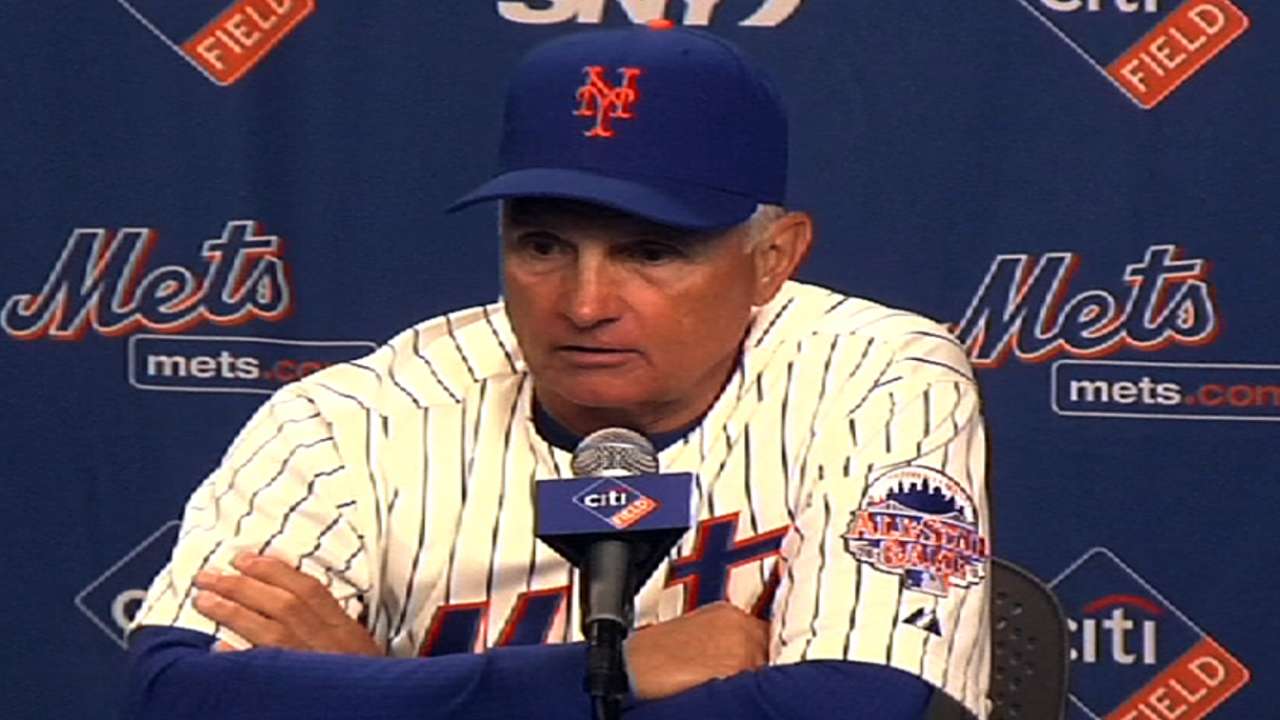 NEW YORK -- Perfection was taken off the table early for the Mets on Wednesday night.
Jeremy Hefner, following in the hard-to-fit footsteps of Matt Harvey, found out just how hard it is to keep the opposing team off the scoreboard. One day earlier, Harvey, the Mets' ace, had been able to retire the first 20 White Sox hitters, but Hefner allowed a home run to the first batter he faced.
Leadoff man Alejandro De Aza homered to give the White Sox their first lead Wednesday, and he came back later to single and score the go-ahead run. Hefner may not have been perfect -- he didn't throw a quality start -- but the Mets couldn't find much offense in a 6-3 loss.
New York has scored just 22 runs in its last nine home games, and the offense is batting .181 (51-for-282) with 83 strikeouts over that stretch. Manager Terry Collins doesn't want to make too much of his batting order's slump, and he doesn't know whether his players are pressing.
"Managers are asked a lot about the mindset of the player. You can't answer that," said Collins. "I tell the players all the time, 'The perception is such. It may not be true, but here's what it looks like.' And in those particular cases, sometimes it looks like we're pressing. Whether we are or not, again, it just looks like it. We've certainly got to relax and put better swings on the ball.
Opposing starter Jake Peavy was the main obstacle Wednesday, and he subtly controlled the game. Peavy worked into the seventh and allowed three hits, and excluding a solo homer by Lucas Duda, the right-hander allowed just one runner to reach scoring position.
That gem, on this night, served as turnabout. The White Sox reached base one time -- on an Alex Rios single -- in 10 innings Tuesday, and the Mets had just five hits of their own. New York walked twice against Peavy on Wednesday, but one of the runners was erased on a double play.
"This lineup doesn't have a whole lot of huge names in it," said Peavy after the game. "John Buck is having a heck of a year. David Wright -- we all know who he is -- and guys like Duda. Young players who can really swing the bat. We had watched enough tape coming in knowing what they are capable of. They are a lot like us. They run into some balls with guys on base, and that's how they win."
De Aza was the main difference on Wednesday, first with the bat and then with his legs.
The speedster keyed Chicago's game-breaking rally in the third inning, when he reached on a bunt single and moved to second on a hit. Rios drove home De Aza on a gap double, but the game-changing play came on a popup that dropped between three converging defenders.
The White Sox led, 2-1, when Conor Gillaspie approached the plate in the third, but they had runners at second-and-third. Gillaspie lifted a bloop to short center field that just dropped in, and he advanced to second when the ball skittered away from the defense.
That rally put Hefner and the Mets behind for good. New York's offense stirred late and made the game interesting, but the team fell to 0-6 in Hefner's starts this season. The Mets have scored a total of 10 runs with Hefner on the mound, and he's quickly growing irked by the end results.
"It's very frustrating. The bottom line though is that I'm tired of losing," said Hefner. "I need to get better and I need to make better pitches. Those cheap hits can be averted sometimes. Sometimes, they're going to happen. I could've sequenced my pitches better tonight."
Both teams traded some offense in the endgame, with the White Sox scoring one run in the seventh and ninth innings and the Mets scoring once in each of the last two frames. New York stranded two runners on base in both the eighth and the ninth, and Collins was mostly pleased with Hefner's work.
"Outside of the home run and Rios' double, they weren't exactly swinging the bats," Collins said. "They were getting hits, but they weren't hitting them very hard. I thought Jeremy was pitching OK. We just couldn't catch back up to get back in the game. You look at the end of the game. ... If we get a couple runs earlier when we had opportunities to, it's a whole different ninth inning."
The Mets struck out 12 times on Wednesday night, their 12th game of the year with a double-digit strikeout total. New York has scored 11 runs in its last six home games, and the only win in that span was Harvey's near no-hitter. The Mets, in fact, are 0-7 in games after Harvey starts.
An old baseball axiom is that no team is really as good as it seems when it's playing well, and no team is as bad as it looks when it's slumping. Justin Turner -- who made his first career appearance in the outfield Wednesday night -- said the Mets are determined to fight back from adversity.
"You can't go up there and try to get hits. You take a good at-bat and string them together," he said. "That's how you put together big innings and get some runs. When you start struggling a little bit, you start trying to do a little bit too much. You're thinking about this and thinking about that. We've just got to find a way to keep it simple, take a good at-bat and let the results take care of themselves."
Spencer Fordin is a reporter for MLB.com. This story was not subject to the approval of Major League Baseball or its clubs.