Royals trip up against O's as skid hits three
Throwing errors, wild pitch in three-run fifth end chance for series win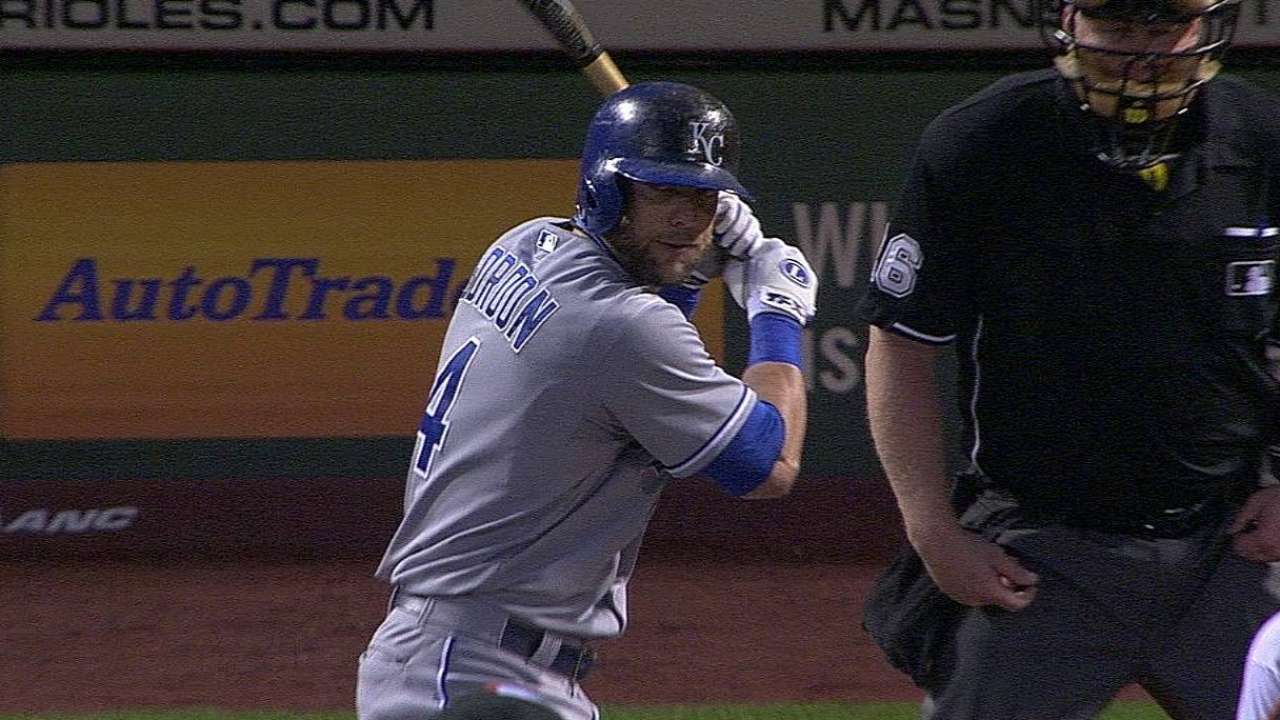 BALTIMORE -- The Royals have hit a dip on this trip.
The Baltimore Orioles dealt them a 5-3 loss on Wednesday night at Camden Yards -- marking the first time this season that the Royals have lost three straight games. They dropped the last game of the homestand to the Chicago White Sox and lost the first two games of this series.
The Orioles won their fourth game in a row, their longest winning streak this season.
The issue was decided in the Orioles' fifth inning when the Royals' defense came unglued. They made three errors and the Orioles scored three runs for a 5-1 lead.
"That's huge," the Orioles' Manny Machado said. "When we can pick up on errors like that, it's huge. That brings up the momentum for us and brings it down for them. That's baseball."
The Royals had just been feeling a bit of momentum, too. In the top half of the inning, Alex Gordon hit his second homer in two nights, a solo drive to right field off Chris Tillman. That cut the Orioles' lead to 2-1.
Then, things went sour for the Royals and their starting pitcher, Luis Mendoza.
Chris Dickerson bounced a double down the right-field line and Nate McLouth's grounder skipped off the mound to shortstop Alcides Escobar. He tried to throw out Dickerson as he churned into third base, but hit the runner for a throwing error.
"The key to that inning is, if Esky just takes the out at first, they probably just score one run," Royals manager Ned Yost said. "But he tried to make a play, keep it right there and just threw low, and hit him right in the back of the spike."
Both Escobar and third baseman Mike Moustakas thought they could've nailed Dickerson.
"I think if I'd thrown the ball good, he's out," Escobar said.
"If it's a good throw, I think we've got him," Moustakas said. "He's a great player, got a great arm. He fielded it clean, it just hit Dickerson in the foot, or wherever it hit him, and just kind of kicked off."
That was just the beginning.
"Then, we started throwing the ball around from that point," Yost said.
Yep, the ball continued to fly like an unguided missile.
McLouth stole second and Machado's single to left scored Dickerson. As Machado also stole second, catcher George Kottaras' throw went awry and McLouth was able to score from third on the error. Escobar recovered the ball and threw home, wildly, to allow Machado to advance to third. Then, Mendoza uncorked a wild pitch and Machado scored.
So the final toll was two errors by Escobar, one by Kottaras and a wild pitch by Mendoza. Two of the three runs were unearned.
"I can't believe I made a stupid error like that," Escobar said.
Which error?
"Both," he said.
Moustakas cut the gap to 5-3 with a two-run homer in the sixth, a drive to right field, just after Tillman issued a two-out walk to Lorenzo Cain. It was Moustakas' third hit of the game and his second homer of the season.
Elliot Johnson followed with a hit to right field and attempted to continue the momentum shift by trying for a double. But he was thrown out at second base.
"It was one of those where we were trying to get some momentum, Elliot broke hard out of the box and was hoping he could catch 'em asleep, and they made a good throw," Yost said.
Despite his two singles and home run, Moustakas was more concerned with his unsuccessful at-bat in the eighth inning. With two on and two out, he swung at reliever Brian Matusz's first offering and fouled out to the catcher.
"We battled back in the eighth inning and I had a chance to bring us back, and just popped up," Moustakas said.
The Orioles got their first two runs off Mendoza in the second inning, when J.J. Hardy followed Matt Wieters' single with a homer that soared just inside the left-field foul pole.
"That was the only pitch I missed," Mendoza said. "I missed the spot and he got it pretty good."
Mendoza, the Royals' No. 5 starter, worked six innings in just his fourth start. He'd been skipped over twice because of open dates.
"I thought Mendy threw the ball OK. He was much better this time out," Yost said. "He hung a curveball, middle in, to Hardy which was probably his worst pitch of the night. The more he gets on the five-man [rotation] the better he's going to be."
Mendoza was encouraged.
"It was better than my last start. I'm throwing more strikes," he said. "I'm using my sinker more and getting ground balls and quick outs. Every time, I feel better and better."
Dick Kaegel is a reporter for MLB.com. This story was not subject to the approval of Major League Baseball or its clubs.