O's power, speed best KC for fourth straight win
Hardy's two-run blast, Royals' three errors help secure series victory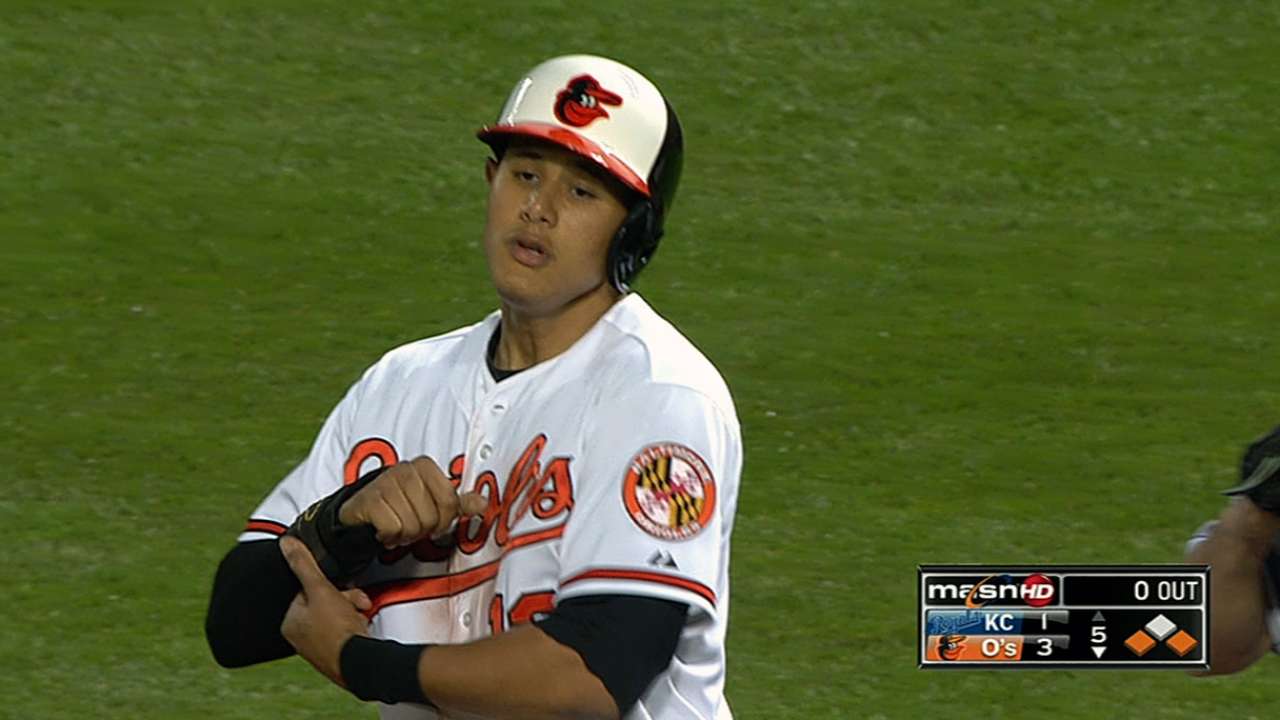 BALTIMORE -- The Orioles can bring a potent lineup to the table every night. But the Royals found out on Wednesday how problems can result when giving Baltimore's offense some extra help.
J.J. Hardy hit an early two-run homer and three Kansas City errors in a wacky three-run fifth inning helped Baltimore secure a 5-3 victory before 12,344 at Camden Yards.
The Orioles (21-13) pulled into a first-place tie with Boston (21-13) atop the American League East, as Minnesota beat the Red Sox, 15-8. Baltimore has won a season-best four in a row and five of its last six games, while securing a series win against the Royals.
"I feel like we really haven't lost a step from where we finished [in 2012] or how we finished last year," said O's closer Jim Johnson, who notched his 13th save and 34th in a row to match Randy Myers (1997) for the club record. "But I think ... guys are really starting to get a good feel for what's going on and what's expected of them. All 25 are going in the same direction."
Power often proved to be last year's calling card, but the Orioles seem to have added speed this season. Leadoff hitter Nate McLouth stole his 11th base in this game, while Manny Machado (batting second) also got a steal, both of which forced two of the three throwing errors that aided the fifth inning.
Hardy's two-run homer off starter Luis Mendoza (0-2) gave the Orioles an early 2-0 lead. Alex Gordon hit a solo homer off starter Chris Tillman (3-1) in the fifth to cut the lead in half before everything changed in the bottom half.
Chris Dickerson started it off with a double and tried to go to third when McLouth followed with a grounder to short. But Alcides Escobar's throw hit the sliding Dickerson and the error allowed everyone to reach.
"The key to that inning is if [Escobar] just takes the out at first, they probably just score one run," Royals manager Ned Yost said. "But he tried to make a play, keep it right there and just threw low, and hit him right in the back of the spike. Then, we started throwing the ball around from that point."
McLouth quickly stole second with Machado up, and the O's third baseman then drove in Dickerson with an RBI single for a 3-1 lead. Nick Markakis came up, and Machado stole second. Catcher George Kottaras' throw bounced away, and McLouth took off for home. Escobar's throw was a poor one, letting the left fielder score for a 4-1 lead and allowing Machado to get to third base.
Both Kottaras and Escobar were charged with errors on the play. Still with Markakis up, Mendoza threw a wild pitch that let Machado score for a 5-1 lead. Three errors and a wild pitch helped the Orioles post three runs.
"Any time you're playing defense and guys are threats to steal, it puts a bit more pressure on us," Hardy said. "That's what we're doing for them."
That also helped Tillman earn the win in his third straight start. The right-hander didn't have his best stuff, giving up the Gordon homer and a two-run shot to Mike Moustakas in the sixth that made it 5-3, but he lasted six innings. Tillman gave up three runs on five hits.
"You get your team deep in the ballgame, you feel good about it, whether or not you featured your best stuff," Tillman said. "You give your team a chance to win, and get deep in the game. ... I'd like to get deeper, but you feel good about it."
Troy Patton took care of the seventh with Darren O'Day (two outs) and Brian Matusz (one out on one pitch) taking care of the eighth. Johnson then got the save, matching Pittsburgh's Jason Grilli for the Major League lead.
The Orioles, who have won 108 straight games when leading after seven innings, won this game the way they've been doing it other times this season, getting help from different places. They got good pitching, defense and timely hitting -- plus some help from the Royals.
But Baltimore's speed is starting to become a real weapon. The Orioles are tied for fifth in the Majors in homers (40), but they're also tied for sixth overall with 24 steals.
"I think we've run the bases well the last couple of nights, made some things happen there," manager Buck Showalter said. "[We're] trying to take advantage of what's there and what's not."
Jeff Seidel is a contributor to MLB.com. This story was not subject to the approval of Major League Baseball or its clubs.