A's endure another frustrating defeat
Controversial call, fielding miscues contribute to loss to Indians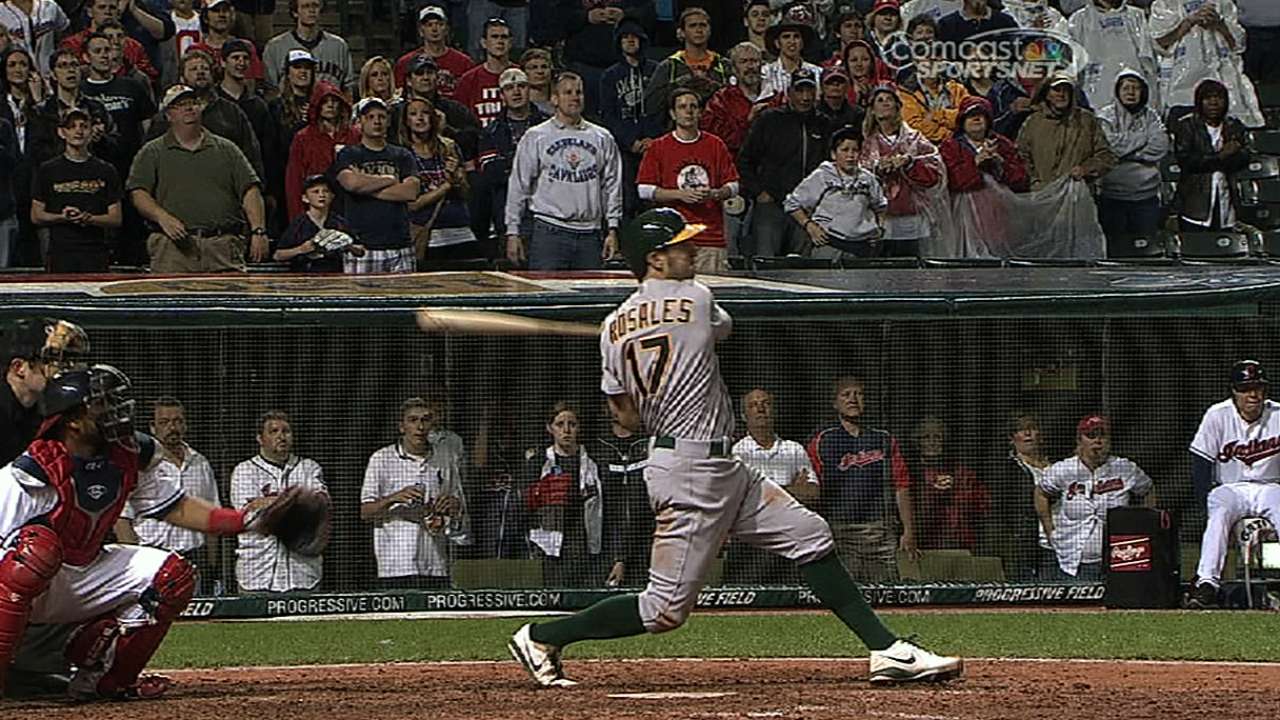 CLEVELAND -- Not much has gone right for the A's since they arrived at Progressive Field for a four-game series with the Indians. On Wednesday another frustration was added to a list that seems to grow with each day.

In the ninth inning, with his team down a run and two outs already in the books, Adam Rosales sent a high fly ball that bounced off something near the top of the wall in left-center. As far as the Indians -- and the umpires -- were concerned, that something was the wall itself. But for the A's and most people who saw the replay, it looked like the ball hit the railing just beyond the wall.

Manager Bob Melvin was ejected when he argued the final call after a video review. Rosales never made it past third base, and the A's dropped their third in a low, losing to the Indians, 4-3.

"Inconclusive" is what Melvin heard from the umpires. To only four people in the ballpark, as far as he was concerned.

"Everybody else said it was a home run, including their announcers when I came in here later," Melvin said. "I don't get it. I don't know what the explanation would be when everybody else in the ballpark knew it was a home run. I went in and looked at it later. Clearly, it hit the railing behind [the wall]. I'm at a loss, a complete loss."

With the defeat, Oakland's record in the past 19 games is 6-13.

Speaking of balls that appeared to leave the yard, there were a few that did and earned the umpires' recognition. Working with a one-run lead in the sixth inning, starter A.J. Griffin (3-3) surrendered solo shots to Nick Swisher and Carlos Santana, and the A's never went back on top.

The hit by Rosales should have forced a bottom of the ninth, but second-base umpire Angel Hernandez and the rest of the crew had other thoughts.

"It wasn't evident on the TV we had [that] it was a home run," said Hernandez, who tossed Melvin. "I don't know what kind of replay you had, but you can't reverse a call unless there is 100 percent evidence, and there wasn't 100 percent evidence."

As far as Melvin is concerned, 100 percent certainty shouldn't have been that hard to come by.

"A homer is a homer, even if it's an inch, and that was clearly farther than that," he said. "If it hit the pad, it would have just hit the pad and come down softly. Clearly, there was a ricochet."

Indians manager Terry Francona watched the ball, too, but he had a different reaction to its bounce.

"I thought it hit the padding because of the way it came back," Francona said. "We have probably the worst view just about of anybody, but you kind of look at the way it comes back. I was hopeful that it hit the padding. I took kind of a big sigh of relief when it stayed in, and then they went and checked. The inning wasn't over, but at least we're still ahead."

Before the controversy, the A's offense -- which had been shut out a night earlier -- threw a substantial number on the board in the fourth inning against Indians starter Justin Masterson (5-2). After Seth Smith and Jed Lowrie led off with singles, one run scored when Brandon Moss laced a ball to right field. Two more scored with Daric Barton's single up the middle.

In one inning, Oakland equaled the output it had managed over the first two games of the series.

But three runs weren't enough. The A's needed one more, and they thought they had it.

"We didn't agree with it," Rosales said. "I appreciate Bob Melvin standing up for the correct call. We know how important it is every game. We found that out last year, with how important every game is. It's tough.

"It would've been nice to tie that game up."

Griffin sailed through the first four innings, but his control left him for a bit in the fifth, when he issued walks to Santana and Ryan Raburn. Later in the frame, two runs scored on a grounder to second by Michael Brantley.

The first run was earned but the second was not, as it resulted from an errant throw from Rosales at short, who was going for an inning-ending double play.

For the second night in a row, sloppy defense played a part in a key run for Cleveland.

Griffin gave up six hits over 6 2/3 innings. Three of his four runs were earned. The righty walked two and struck out four while watching his ERA rise to 3.83.

Not one A's pitcher has reached four wins this season. Bartolo Colón will have a chance in the series finale on Thursday with his team facing a four-game sweep.

"It's pretty frustrating," Griffin said. "Everyone's pretty frustrated right now. Well, I can't speak for everyone, but I'm pretty frustrated right now."
Mark Emery is an associate reporter for MLB.com. This story was not subject to the approval of Major League Baseball or its clubs.