Marquis dominates as Padres win fourth straight
Right-hander strong through eight, Alonso drives in lone run on sac fly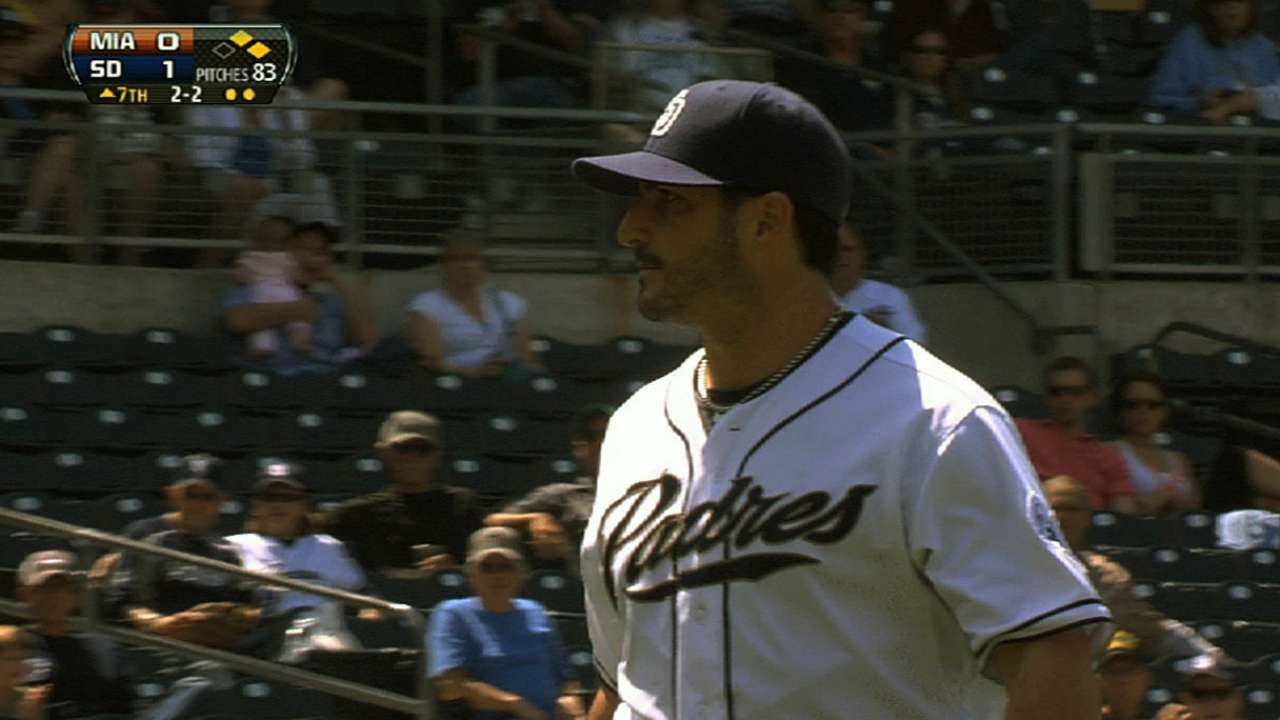 SAN DIEGO -- What was intended as words of endearment sort of sounded like a slap in the face, though that's not at all where Padres rookie Jedd Gyorko was going when he offered a comment on the pitching of teammate Jason Marquis.
"I don't think he throws anything straight," Gyorko said.
It's probably a good thing he doesn't, otherwise the Padres might have had a difficult time pulling off a three-game sweep of the Marlins on Wednesday, as Marquis tossed eight innings in a 1-0 win before a crowd of 16,730 at Petco Park.
Neither dominant or dazzling, Marquis (4-2) used his sinker-slider combination with the occasional split-finger fastball to befuddle the Marlins (10-25), who managed one run in the three games as the Padres (16-18) won for the 11th time in their last 14 games.
But what did you really mean, Jedd?
"He's got a lot of action on his pitches, so it's kind of fun to watch him," Gyorko said. "He doesn't throw a ball over 90 mph but he can still carve up a lineup."
The same can be said of the Padres' pitching staff, which is a sharp contrast to where the team was just three weeks ago, when short starts were far too prevalent. But now it's the opposite.
The Padres have a collective team ERA of 3.19 during this blissful 14-game stretch. Only twice in the last seven games have the Padres allowed more than two runs.
"I thought the starting pitching has stepped up," said Padres manager Bud Black. "This series … they all pitched well. The pitching sort of set the tone and the defense was outstanding."
Such was the case Wednesday, as right fielder Will Venable made two diving catches. Third baseman Chase Headley made a difficult bare-handed play on a ball topped toward him, and Marquis got into the act when he started an inning-ending, 1-2-3 double play with the bases loaded in the third.
"Starting pitching will get stressed at least once, sometimes twice in a game," Black said.
In the seventh, with Marquis nearing the finish line, Justin Ruggiano and Greg Dobbs reached base on consecutive two-out singles. At the plate was rookie Derek Dietrich, playing in his first big league game. Dietrich singled in his first at-bat in the third inning.
Black went out to the mound, though, as it turned out, he let everyone else do most of the talking.
"He's a young kid, his first day in the Majors," Black said. "I just wanted to go with Jason's strengths. Jason and [catcher Nick Hundley] did all the talking. I let them dictate the conversation."
With the count 2-2 and having just missed with a split-finger, Marquis went back to his changeup and the ball just barely got to the plate, all 77 mph. Dietrich swung through it to end the inning.
"I felt like he got stronger and he started to find his stuff as the game went on," Dietrich said. "That two-seamer was working for him. He just made some good pitches. I was looking for him to get the ball up, and credit to him, he made the pitches when he needed to."
Marquis breezed through the eighth inning and Huston Street pitched a perfect ninth for his eighth save of the season, sending the Padres on the road on a winning note.
An argument can be made that the Padres weren't nearly as bad as their 5-15 start reflected. But the same holds true now, as they're probably not as good as this 11-3 run suggests. But to be sure, this feels a lot better than where they were three weeks into a long season.
"We're going to see where we are each game moving forward," Black said.
The Padres finished with four hits, and Marlins pitcher Ricky Nolasco (2-4) allowed one run on four hits and one walk over seven innings. He struck out nine.
In the sixth, Venable and Headley, who has a 13-game hitting streak, singled with one out. Carlos Quentin coaxed a walk from Nolasco and Venable scored the only run of the game on a sacrifice fly by Yonder Alonso.
"We saw a little bit of everything," Alonso said of a 5-1 homestand against the D-backs and the Marlins. "We were hitting the ball well, good defense, but the big thing was pitching. It was a lot of fun."
Corey Brock is a reporter for MLB.com. Keep track of @FollowThePadres on Twitter. This story was not subject to the approval of Major League Baseball or its clubs.