Nolasco gets no run support in loss to Padres
Right-hander strikes out nine, Dietrich singles in Major League debut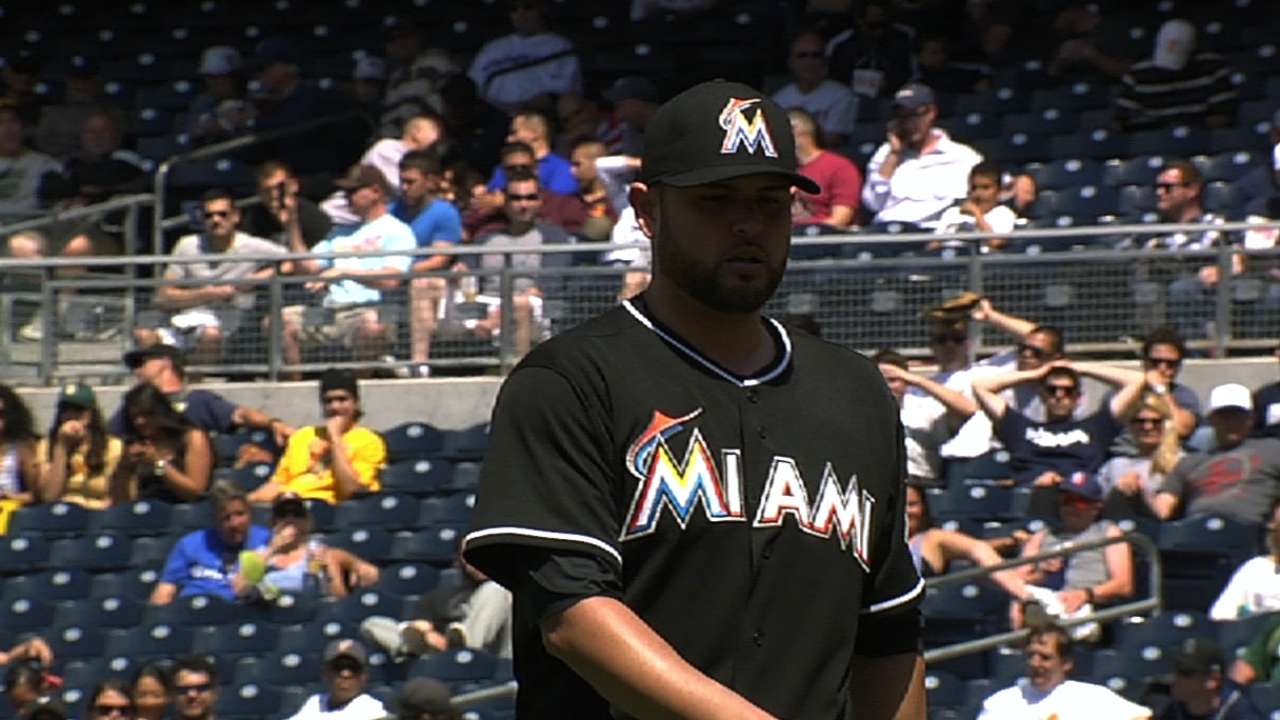 SAN DIEGO -- Ricky Nolasco did his part to set the tone, striking out nine in seven strong innings. But it wasn't enough to energize the Marlins' efforts to avoid being swept.
As effective as Nolasco was, Jason Marquis was unyielding against a sluggish Miami offense.
Marquis threw eight innings, and Yonder Alonso's sacrifice fly in the sixth was the difference in the Padres' 1-0 victory on Wednesday afternoon in front of 16,730 at Petco Park.
"The effort is there," Nolasco said. "We're a month-and-a-half into this now. We just have to get it going. The whole thing of, 'It's going to come.' We've got to get it going now. We're losing too many games."
For the second time in the three-game set, the Marlins were blanked, and they managed only one run in the series.
"It's disappointing," Miami manager Mike Redmond said. "Believe me, I know every guy in that room is trying to get hits and score runs. Nobody wants to get out. Nobody is trying to get out. Right now, we're just in a funk. And that can change, too."
Shut out for the sixth time this season, the Marlins had posted a season-high 14 runs on Sunday at Philadelphia.
"We pretty much got shut down," Redmond said. "After coming here from a series with the Phillies where I thought we were turning the corner, we were swinging the bats well, it is definitely disappointing. I thought we pitched well. Ricky did a great job again today, especially in a game we were trying to win and not get swept. We had our one shot, and we couldn't get that hit and score runs."
Nolasco had little to show from one of his finest outings in years. The right-hander struck out nine, his highest total since fanning 11 Nationals on May 6, 2011.
Nolasco and Marquis kept the game scoreless through five, but in the sixth, the Padres broke through on Alonso's sac fly to left.
Will Venable got the inning going with a one-out single. Chase Headley singled and Carlos Quentin battled back from a two-strike count to draw a walk that loaded the bases for Alonso.
"It's frustrating," Nolasco said. "But I put myself in a bad situation there. I lost us the game by walking Carlos Quentin. An 0-2 count, and I can't put him away. Ended up walking him.
"That was the game right there. If it's anybody's fault, it's mine. If I get that guy out, like I should in that situation, we go to extra innings. I just let myself down and the team on that one."
With an effective slider, Nolasco was able to keep the Padres off balance. The right-hander feels he is getting closer to the way he pitched in 2009, when he struck out 195 batters.
"I've been making some adjustments between starts, and I'm getting closer and closer to where I used to be," Nolasco said. "It's time to turn it up on my behalf. I've got to dig deep. I've got to strike out guys like I used to."
The game marked the MLB debut of Derek Dietrich, the 23-year-old who was called up from Double-A Jacksonville after Chris Valaika broke his left wrist Tuesday night.
After playing 13 innings at Jacksonville on Tuesday, Dietrich was on a plane at 6 a.m. ET, and he arrived in San Diego in time to start at second base.
In the first inning, he was immediately tested, as Everth Cabrera laced a hard liner right at Dietrich, who made the play. Dietrich wasted little time collecting his first big league hit, a sharp single to right field in his first at-bat in the third.
Dietrich's single started a rally, as Miami loaded the bases with one out. But Marquis got out of it, helping himself with a terrific play to start an inning-ending, 1-2-3 double play.
Adeiny Hechavarria ripped a hard grounder up the middle that Marquis deflected, collected and threw home for the force. Catcher Nick Hundley completed the double play with a throw down to first.
Marquis retired 12 straight before Justin Ruggiano singled with two outs in the seventh. Greg Dobbs' single put runners and first and second, but Marquis ended the threat by striking out Dietrich.
"He's a young kid, his first day in the Majors," Padres manager Bud Black said. "I just wanted to go with Jason's strengths. Jason and [catcher Nick Hundley] did all the talking. I let them dictate the conversation."
Dietrich chalks up the showdown as a learning experience.
"I felt like he got stronger and he started to find his stuff as the game went on," Dietrich said. "I was looking for him to get the ball up, and credit to him, he made the pitches when he needed to. Credit to him. I'm sure I'll be in that situation again soon, and looking to get the job done."
Joe Frisaro is a reporter for MLB.com. He writes a blog, called The Fish Pond. Follow him on Twitter @JoeFrisaro. This story was not subject to the approval of Major League Baseball or its clubs.