Giants recover from Phillies' rally, win in 10th
Zito turns in strong effort before Romo's blown save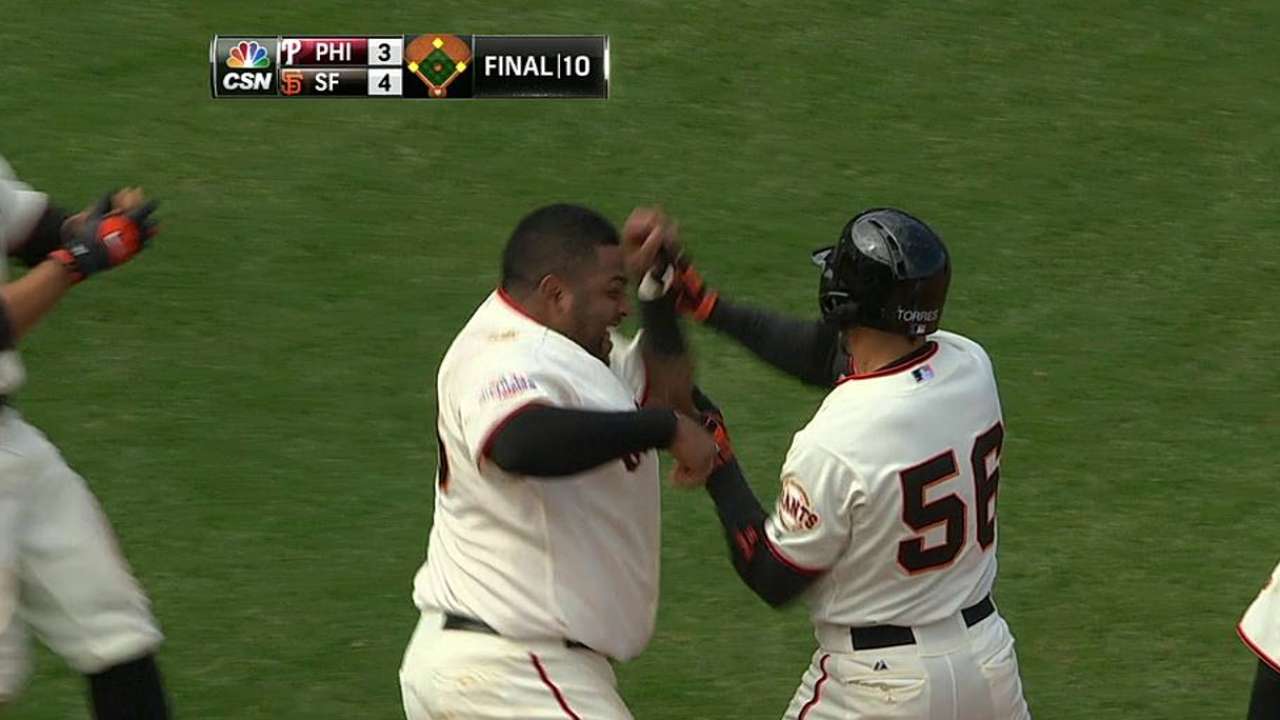 SAN FRANCISCO -- Maybe the Giants should take their act to Las Vegas, performing thrill acts for dinner-theater audiences.
Perhaps that's a silly notion. But manager Bruce Bochy innocently conjured that idea with his remarks following the Giants' latest suspenseful victory, a 4-3, 10-inning decision Wednesday over the Philadelphia Phillies that ended with Andres Torres' two-out RBI single.
"I'm used to it. It's our way. You go back to last year's postseason," Bochy said, referring to the Giants' record-equaling run of six consecutive victories in elimination games. "It's like these guys are entertainers. I enjoyed the game. It's an exciting game for everyone."
Excitement is routine for the Giants. They recorded their third walk-off victory in this homestand's first six games and fifth of the season. Of the 34 games they've played, 15 were one-run decisions -- they're 10-5 in those outings -- and seven ended in two-run margins. They're 3-3 in extra-inning games.
"I think guys have a feeling that good things are going to happen," said catcher Buster Posey, who lined a pinch-hit single to open the 10th before coming around to score the winning run. "You have success, the more confidence you'll have."
The Phillies tried to diminish that faith by scoring twice in the ninth off Sergio Romo to erase San Francisco's 3-1 lead. Romo blew only his second save opportunity in 14 chances. But, as Bochy pointed out, the closer did well to strand the potential go-ahead run at third base and keep the score tied.
Javier Lopez blanked Philadelphia in the 10th on 10 pitches to set up the Giants' rally, which began with Posey's hit off Antonio Bastardo. Posey advanced to second base on Joaquin Arias' sacrifice bunt and took third on Bastardo's wild pitch. Bastardo walked Brandon Crawford before striking out Guillermo Quiroz. Up came Torres, who lined the first pitch cleanly on a hop into right field for his fourth career walk-off hit.
"I want to be aggressive," Torres said, describing his approach in that situation. "I was sitting on one of [Bastardo's] sliders, but he threw me a fastball."
Bastardo's wild pitch enabled Posey to demonstrate his Most Valuable Player-level skill. It was a ball in the dirt that catcher Carlos Ruiz blocked and kept in front of him. But he couldn't quite grab the ball in time to throw out Posey, who beat Ruiz's peg with a headfirst slide.
Without Posey's 90-foot advance, said Bochy, "I don't know if he scores on [Torres'] hit. It was a great read. For that to work, you have to have some anticipation and get a good break off of second base."
Posey calculated the odds.
"At that point in the game, I felt like it was worth the chance to take that risk," he said. "You kind of see it and go."
Philadelphia's rally denied a victory to Giants starter Barry Zito, who yielded one run and four hits while working one batter into the eighth inning. Significantly, he walked none.
"I just let them get themselves out," Zito said after fashioning the Giants' third quality start in 11 games. "It's important to get them swinging the bat and not let them get the free pass. I wanted to make them earn it."
Zito lapsed only when he surrendered a fourth-inning homer to Kevin Frandsen, the former Giant who happens to be a buddy of his.
"Obviously, you don't ever want to give up a home run," Zito said. "But if I'm going to give one up, I'd rather it be my friend than somebody I don't know or don't really care about."
The .103-hitting Zito also stroked a run-scoring single in the sixth inning, following Hunter Pence's second-inning homer and Marco Scutaro's fifth-inning RBI bloop single to put the Giants ahead, 3-1. Zito surprisingly pulled Jonathan Pettibone's pitch on the ground sharply into right field to generate his 11th RBI in 322 career at-bats.
"I got a fastball in and tried to pull my hands in," said Zito, sounding like an accomplished hitter. "I don't try to pull the ball too often, but I was able to have a quicker bat through the zone right there."
It was just another contribution to the Giants' winning act.
Chris Haft is a reporter for MLB.com. This story was not subject to the approval of Major League Baseball or its clubs.