Phillies fight back before losing in extras
Rollins' double kicks off two-run, game-tying rally in ninth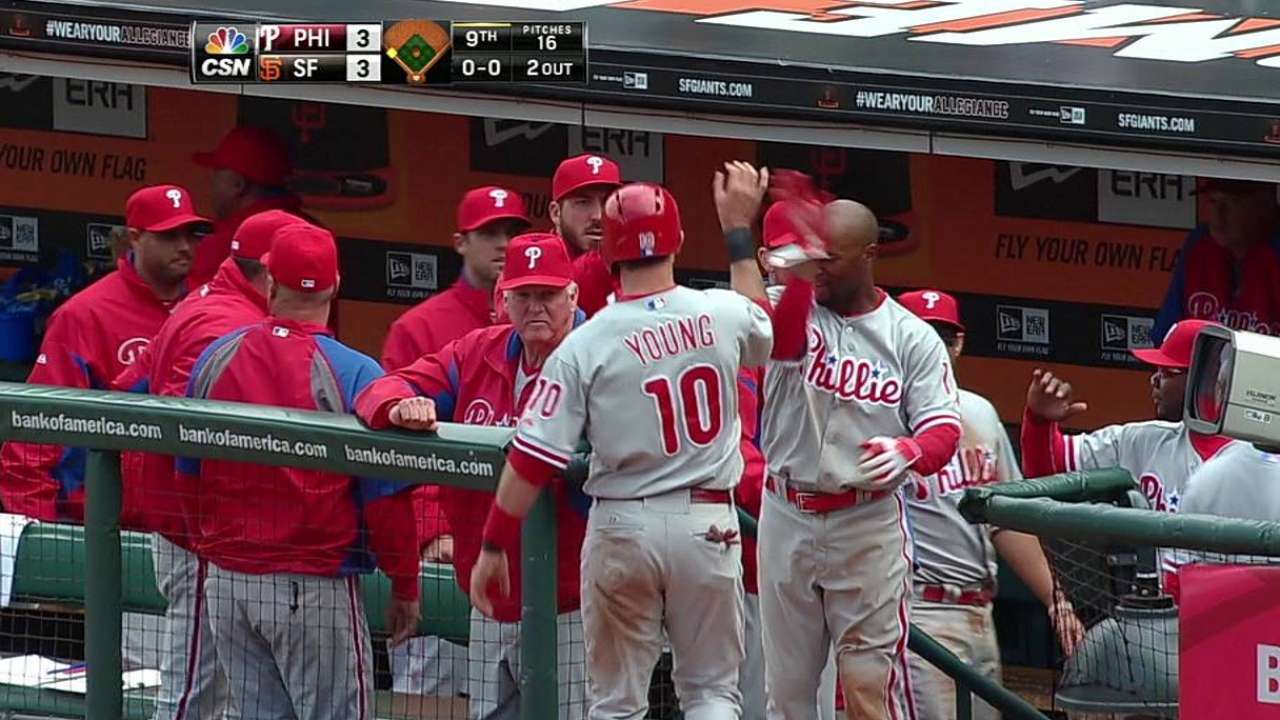 SAN FRANCISCO -- If Roy Halladay pitches again this season, he hopes to pitch for more than his just health.
He hopes to pitch for a postseason berth, but for that to happen, the Phillies need to win in his absence. They had a chance Wednesday in a 4-3 loss to the Giants in 10 innings at AT&T Park. The Phillies scored two runs in the ninth to tie the game, but the Giants took care of business in the 10th. It would have been the Phillies' first sweep of a three-game series in San Francisco since May 18-20, 1984.
"We had a chance to put them away," Jimmy Rollins said. "We came back in the ninth and gave ourselves a shot to actually win it. The way we wanted to play it is what matters most. We can stand tall on that and hopefully take that to Arizona and throughout."
The week had to be considered a success. The Indians embarrassed the Phillies in a two-game series last week at Progressive Field, which had Cliff Lee talking about a lack of pride, and Philadelphia split a four-game series against the lowly Marlins over the weekend at Citizens Bank Park, which had the Phillies hearing boos from the hometown crowd. But three well-played games in San Francisco against the defending World Series champions had the Phillies heartened as they boarded an evening flight for Phoenix, where they open a four-game series Thursday against the D-backs.
"I like our fight," manager Charlie Manuel said. "We've got plenty of fight. I don't know what the big deal is. I'm not a guy that thinks we got time and all of that, but we'll be all right. We always have been, haven't we? Really. Believe me. I believe in them. We have a lot of guys who believe in themselves, and that's what counts. Keep watching us."
Maybe people should keep watching. The Phillies are 16-19 following the loss. The Giants were 18-17 at this point last season. The American League champion Tigers were 17-18.
Maybe the Phillies can get on a roll like they did.
Maybe this was the series they needed.
Of course, the Phillies felt the same way following a three-game sweep against the Mets two weekends ago only to go 2-4 against Cleveland and Miami.
"I think these three games we played good baseball," Chase Utley said. "We fought. We played solid ball. We just didn't come out on top today. Our goal is to play like that every game, regardless of who we're playing or what the standings are. That's our goal."
Giants pinch-hitter Buster Posey singled to center against Phillies left-hander Antonio Bastardo to start the 10th. He advanced to second on a sacrifice bunt, reached third on a wild pitch and scored the winning run on Andres Torres' two-out single to right.
The Phillies trailed 3-1 in the ninth, when Rollins got things started with a double into the right-field corner against Giants closer Sergio Romo. Rollins advanced to third on Kevin Frandsen's flyout. Michael Young walked to put runners at the corners with one out.
Utley singled to center to score Rollins to make it 3-2, just the third time in 19 appearances this season Romo had allowed a run. Young advanced to third and Utley advanced to second on the throw to third. Delmon Young followed with a sacrifice fly to right field to score Michael Young to tie the game.
Phillies right-hander Jonathan Pettibone allowed seven hits, three runs, four walks and struck out one in 5 2/3 innings as the Phillies lost for the first time in his four starts. He has a 3.63 ERA, which is encouraging as Halladay is on the DL for months. The Phillies need their remaining starters to pick up the slack, regardless of how long Halladay is out.
"Kind of each time out, you get more and more comfortable," Pettibone said. "Your confidence gets up each time out. You just kind of build off that. From there, I don't really know what's going to happen. All you can do is focus start to start and go from there."
The Phillies will play the next few months without Halladay, who led them to the postseason in 2010-11. Halladay reiterated before the game how he wants to come back and win a World Series. To have a shot, the Phillies have to prove this week was not an aberration and continue to win.
"It's no secret, we all know how hard Roy works and what he means to this team," Utley said. "Clearly, we're not only playing for ourselves, but we're playing for him as well."
Todd Zolecki is a reporter for MLB.com. This story was not subject to the approval of Major League Baseball or its clubs.