Close game doesn't go Cubs' way
Chicago hits into four rally-killing DPs to split set with St. Louis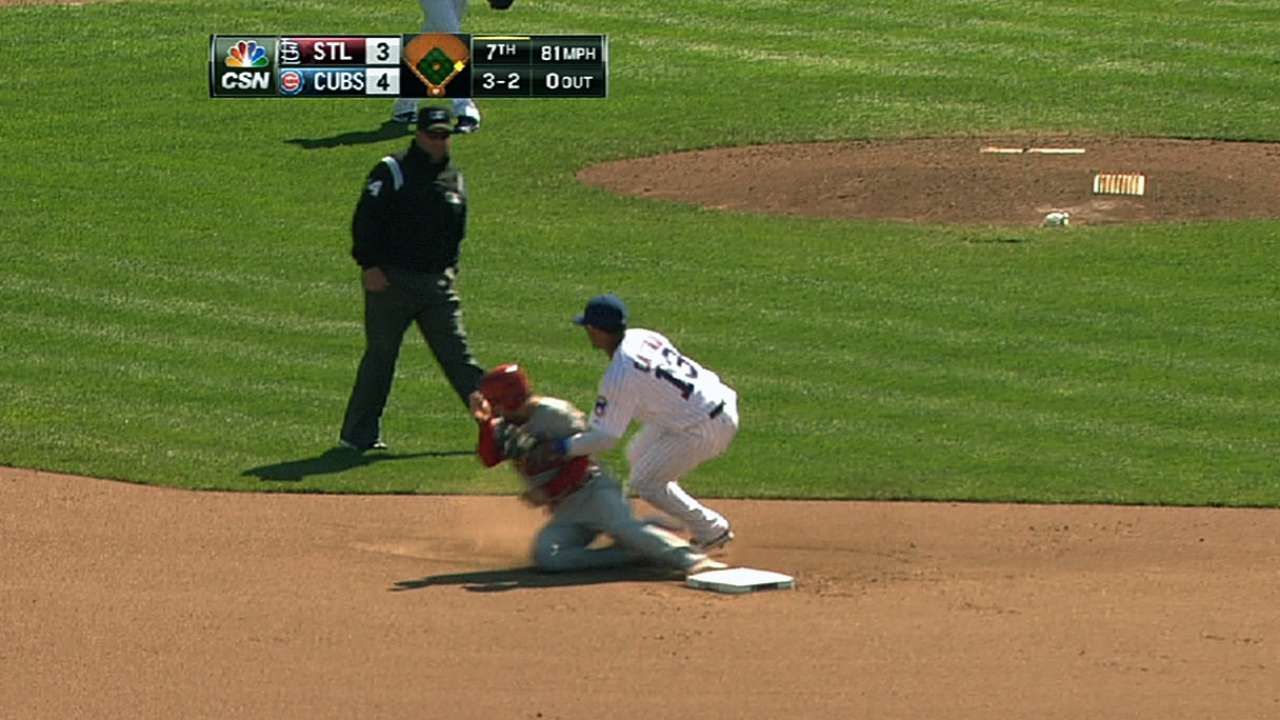 CHICAGO -- Another day, another close game for the Cubs.
"Another one-run game ... We're close, right there," Cubs starter Carlos Villanueva said.
Carlos Beltran hit a pair of RBI singles and Jon Jay drove in two runs, including a go-ahead RBI single in the eighth, to lift the Cardinals to a 5-4 victory on Wednesday over the Cubs, who hit into four double plays, and split the two-game series.
The Cubs now have had 28 of their 34 games decided by three runs or fewer, and the team is 10-18 in those games. Chicago is 5-8 in one-run games.
"It kind of speaks well for our team," Cubs reliever James Russell said of the tight games. "We don't give up, and we're always in the game. If breaks fall our way, then we win a lot more games than we have right now."
The loss wasted the fifth quality start by Villanueva. This was the 21st quality start by a Cubs pitcher, and they have compiled a 2.01 ERA but have won only eight of the games. Only the Cardinals (24) and Phillies (22) have more quality starts, and St. Louis has 15 wins and Philadelphia has 11.
"[Villanueva] did a nice job and got out of some jams and made the pitches when he had to," Cubs manager Dale Sveum said. "He got the outs when he had to and left it up to [Russell], who has been the most reliable guy for two years to get a left-hander out."
Russell ran into trouble in the seventh. St. Louis trailed, 4-3, when Matt Carpenter doubled off Russell and reached third on an error by Nate Schierholtz, who had trouble picking up Carpenter's ball. Then Beltran delivered the game-tying RBI single.
"If I make a better pitch to Carpenter, I'm not in that situation," Russell said. "I hung a curveball to him and he hit my mistake, and that's what good hitters do. He made me pay for it."
Beltran's hit snapped Russell's season-opening scoreless streak at 13 innings, spanning 17 games.
"For some reason, the lefties they have over there, they hit left-handers pretty well," Russell said of the Cardinals. "I've just got to find some different things to do against them.
"You'll have those days when broken-bat hits fall in, and you'll have days when guys will smoke balls and they're hit right at somebody," he said. "Right now, I was on the other end of it, but it is what it is."
In the St. Louis eighth against Michael Bowden, Yadier Molina singled and moved up on a wild pitch before scoring on Jay's single to center. Chicago now has lost 10 games in which it had a lead, tied with the D-backs for the most in the National League.
The Cubs seem to have their starting pitching figured out and have settled on Kevin Gregg as the closer. It's those middle innings that are a little tricky.
"We just can't seem to shut anybody down in that sixth, seventh inning right now," Sveum said. "We're getting two strikes on people. We just can't make a pitch when we have to."
The Cubs erased the Cardinals' 1-0 lead in the first when Luis Valbuena singled in the first and reached third on Anthony Rizzo's double, then dashed home on an error as Beltran had trouble fielding the ball.
The Cardinals made it 2-1 in the fourth on Jay's sacrifice fly, but the Cubs answered in their half. Valbuena walked and Rizzo singled, and both scored on Schierholtz's double down the right-field line. One out later, Dioner Navarro bounced a grounder to Carpenter, who threw home, but Molina didn't step on the plate, and then threw to first. Schierholtz scored on the play to help the Cubs go ahead. Schierholtz now has 17 RBIs after totaling 21 in 114 games last season.
The tight games do cause some frustration.
"Mentally, you always have to have that mentality as a starter that it's a 0-0 game," Villanueva said. "When you get in trouble sometimes is when it's 4-0, 5-0, and you start cruising in your mind and let a team come back quick.
"The way I see it, when we score runs, we should have a shutdown inning the next inning, bring the boys in quick and keep putting zeros up there. If you have quick innings, quick tempo, the infielders, the outfield, they appreciate that. They want to come in and hit. My job is to get them in as soon as I can. One-run games are obviously more stressful. When you win those games, it's a lot more satisfying as well."
The Cubs and Cardinals both have stellar starting pitching this season. The difference has been that the Cubs are batting .189 with runners in scoring position, worst in the Majors.
"I know what our offense is capable of," Villanueva said. "We've got Rizzo and Nate swinging the bat -- maybe it's just more opportune hitting. You can see the boys coming alive now, the weather is warming up a little bit. We're right there. A couple chances there and they made some pitches, too, so you have to tip your cap. We're close. Just keep chipping away."
The Cubs stopped themselves when they grounded into four double plays for the first time since April 17, 2012, in Miami.
"You expect that going in with Jake [Westbrook], and fortunately, we were able to bring in a couple guys out of the bullpen to do the same," Cardinals manager Mike Matheny said. "A lot of credit goes to our middle-[infield] guys and all our infielders for making the plays."
This weekend, the Cubs should get Kyuji Fujikawa back in the bullpen. They need a boost.
"We've been pretty [darn] good throughout the year," Russell said of the relievers. "Everybody has all the confidence in the world, and I feel like our staff has confidence in us also."
That's exactly what Villanueva said.
"[Russell] has been perfect up to that point, and I have all the confidence in the world in him," Villanueva said. "It happened. You ask any of us, and we never want to come out of a game, even though we should come out. It was a good game, but we came up a little short."
Again.
Carrie Muskat is a reporter for MLB.com. She writes a blog, Muskat Ramblings, and you can follow her on Twitter @CarrieMuskat. This story was not subject to the approval of Major League Baseball or its clubs.