Zimmermann tops Tigers, first in NL to six wins
Righty allows one run over seven; Harper drives in two with HR, sac fly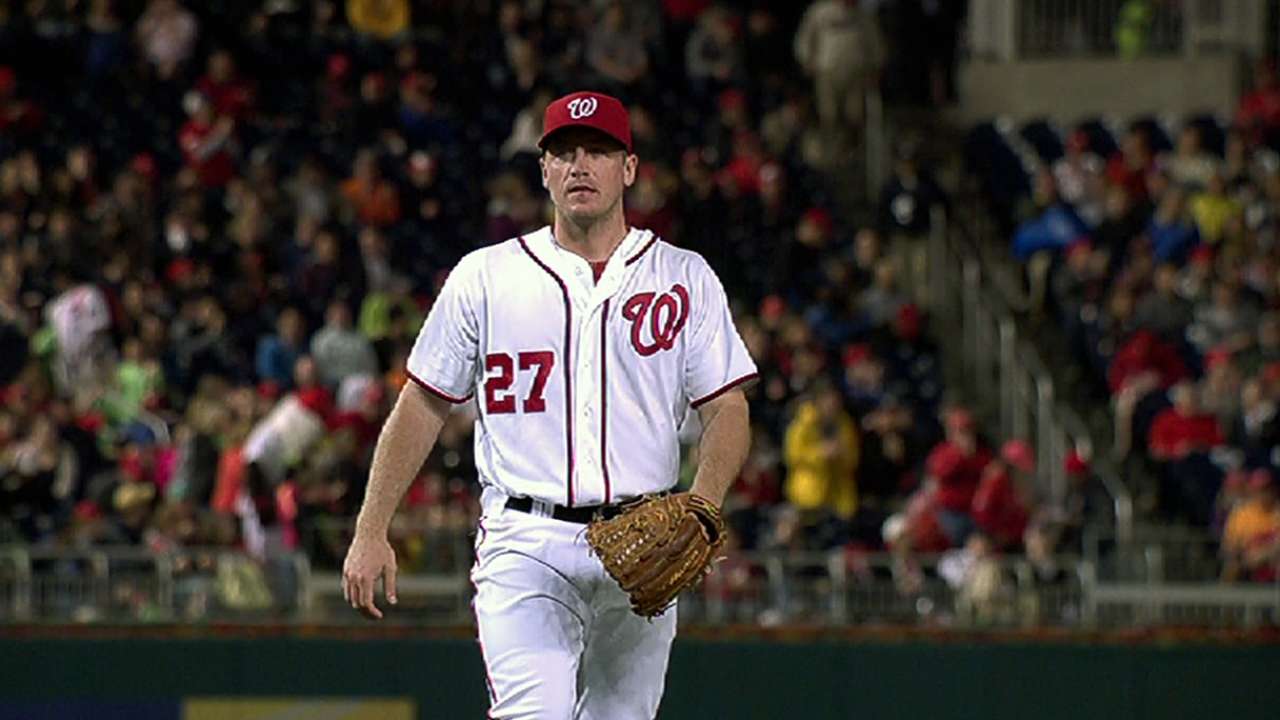 WASHINGTON -- Right-hander Jordan Zimmermann showed once again why he has been the Nationals' best pitcher this year, leading his club to a 3-1 victory over the Tigers at Nationals Park on Wednesday night. Washington has won three consecutive games and improved its record to 18-15.
Zimmermann pitched seven innings, allowed one run on seven hits, struck out seven batters and walked two to become the first six-game winner in the National League.
Zimmermann acknowledged that he wasn't at his best, because he had extra rest due to the rainout on Tuesday in addition to the 57-minute rain delay at the start on Wednesday. He was ready for a 7:05 p.m. ET start.
"It was a good outing. I didn't feel as good as I have in the past," Zimmermann said. "The curveball wasn't very good and the changeup wasn't good. The slider was really good. I had a really good fastball. We pretty much stuck with those two pitches."
Detroit scored first in the third inning. With a runner on second, Miguel Cabrera singled to left field, driving in Torii Hunter. The run snapped a 20-inning scoreless streak for Zimmermann.
"They have one of the best lineups in baseball. You have to be careful with every one of their hitters," Zimmermann said. "The plan tonight was not let [Prince] Fielder and Cabrera beat me. The ball through the hole [by Cabrera], that was a good pitch, up and in. He is a great hitter, and you are going to give up hits like that once in a while."
Manager Davey Johnson could tell that Zimmermann was pumped up for the game against the Tigers.
"I don't think I've seen him throw that hard all the way through the seventh. He was getting it up there," Johnson said.
Teammates are impressed by how Zimmermann has performed this year. He is in the top 10 in almost every pitching category in the league.
"Jordan is fun to watch. He attacks guys. I think this year, he's just smarter, more mature," Tyler Clippard said. "This year, more than any other year, he is throwing a lot more breaking balls for strikes. He is throwing their timing off. On top of that, he is locating. With all of that going for him, he is doing a tremendous job. Hope he keeps it going."
Teammate Adam LaRoche noticed how opposing players are amazed at the way Zimmermann was throwing. LaRoche can tell when an opponent doesn't have a comfortable at-bat.
"When you have the other teams coming down talking about how nasty he is ... it's a pretty good sign," LaRoche said. "You have other lineups talking about him during the game."
Tigers catcher Alex Avila said Zimmermann is tough to square up as an opposing hitter at the plate.
"He's been pitching good all year," Avila said. "He's got really, really good stuff. … He's got a good fastball, a cut slider he throws 88-89 [mph] that's pretty tough, and a good curveball and a change. He's pretty good."
Washington tied the score in the bottom of the third against right-hander Anibal Sanchez. Denard Span started the inning with a triple to right field and later scored on a sacrifice fly by Bryce Harper.
The Nationals scored the go-ahead run in the bottom of the fourth inning. They had runners on first and second with one out when Kurt Suzuki hit a fly ball to Hunter in right field. Hunter made the catch and threw to Cabrera at third base in an attempt to catch a tagging Adam LaRoche. The ball appeared to hit LaRoche and deflected into the camera well next to the third-base dugout, allowing LaRoche to score for a 2-1 Nationals lead.
Harper gave Washington a two-run lead in the fifth inning with a monster home run over the right-field wall.
"That was very impressive. It was a 0-0 curveball, a pitch he hadn't seen yet in the game," Avila said. "It was a good 0-0 pitch, a good offspeed pitch. A lot of guys just take that pitch, or if they do swing, they don't hit it out of the park, normally. That was pretty impressive."
After Zimmermann left the game, Clippard and Rafael Soriano blanked the Tigers the rest of the way, with Soriano picking up his 11th save of the season. Clippard needed 34 pitches to prevent the Tigers from scoring in the eighth inning.
Clippard didn't have any problems getting Cabrera and Fielder, but he walked Andy Dirks and Jhonny Peralta. The inning finally ended when he struck out Avila to end the threat.
"You are digging deep, for sure. I know I was tonight," Clippard said. "At the end of the day, it's pressing the reset button after every pitch and trying to execute, making your pitches and try to forget everything that happened before that. That's what I was really trying to do tonight. It was obviously a long inning for me. I was fortunate to get through it."
Bill Ladson is a reporter for MLB.com and writes an MLBlog, All Nats All the time. He also could be found on Twitter @WashingNats. This story was not subject to the approval of Major League Baseball or its clubs.