Sanchez on short end of duel against Nationals
Righty allows three runs (two earned) over six, but bats lack punch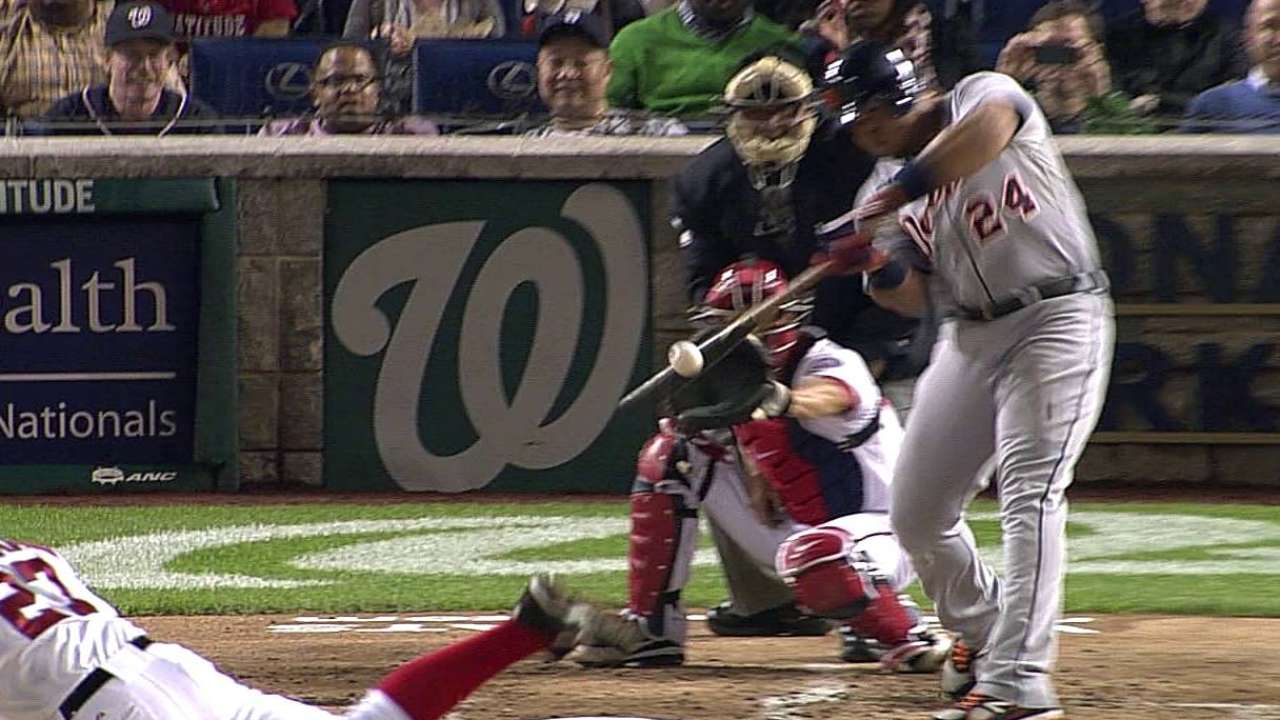 WASHINGTON -- Forget any idea that the Tigers were getting off easy by not facing Stephen Strasburg in this two-game series against the Nationals. They arguably got the Nationals' current ace on Wednesday.
When the weather finally cleared for the Tigers to play ball, Jordan Zimmermann made them look like they were still off. With seven innings of one-run ball, he not only cooled off Detroit's lineup in a 3-1 Tigers loss, he was able to make Anibal Sanchez look beatable, which Washington had never done when Sanchez wore a Marlins uniform.
"Right now, he's throwing the ball well," Sanchez said, "and I'm glad for that, because I know how he's worked. I'm glad for him."
Sanchez could justifiably be frustrated watching another quality start go unrewarded. The only frustration he flashed was at himself for a defensive play in the fourth inning. He had no frustration over Zimmermann, because he has seen him do that before.
"He's thrown well for a while," Sanchez said. "Being behind Strasburg is another story, but he threw well last year, too."
It wasn't exactly a revelation for most of the Tigers, who saw him toss six shutout innings against them in Spring Training. At that point, though, it was mid-March, and he was rounding into form. He's there now.
"You have to give the guy credit," manager Jim Leyland said. "He's been one of the hotter pitchers in baseball. He pitched very well. And I thought we had some good at-bats off of him."
If back-to-back off-days -- one of them scheduled, the other forced by weather -- and Wednesday rains that washed out batting practice and delayed the start by 57 minutes weren't enough to cool off Detroit's lineup after 37 runs over four straight wins in Houston, Zimmermann was. Washington's other gifted young right-hander had held the Reds and Braves to just three hits over 17 scoreless innings in his previous two starts.
When Torii Hunter doubled and scored on a Miguel Cabrera single through the middle to complete a two-out rally in the third, it ended a 20-inning scoreless streak for Zimmermann dating back to mid-April. It was all the Tigers would muster.
Detroit had just two other runners in scoring position against Zimmermann (6-1). One came on Prince Fielder's second-inning double, and the Tigers' struggle to plate him arguably came back to haunt them. The other came on back-to-back two-out singles in the sixth that brought up Alex Avila, whose go-ahead home run Friday in Houston made him a hero.
Avila had worked out of an 0-2 hole to draw a walk in the second. This time, Zimmermann sent him down on three pitches -- a fastball on the outside corner, a slider down and in that sent him swinging, and another slider for a called third strike.
"He's been pitching good all year," Avila said. "He's got really, really good stuff. He's a tough guy to square up."
Those two pitches, Zimmermann said, were his go-to offerings.
"It was a good outing. I didn't feel as good as I have in the past," he said. "The curveball wasn't very good and the changeup wasn't good. The slider was really good. I had a really good fastball. We pretty much stuck with those two pitches."
It was good enough to set up a low-scoring duel for Sanchez, 8-0 with a 1.97 ERA for his career against the Nationals entering the night. In this one, two plays near the bottom of the order hurt him.
The first was a dribbler to short by Kurt Suzuki for an infield single to cap a 10-pitch at-bat, loading the bases with two outs in the second inning. Sanchez escaped the jam by striking out Zimmermann, but it meant he had to face the top of the order in the third when he finally got the lead, rather than the pitcher's spot.
At the top was longtime Tigers nemesis Denard Span, a .342 (93-for-272) hitter against Detroit over five seasons with the Twins. His leadoff triple left Bryce Harper with a sacrifice fly opportunity two batters later.
It's rarely an American League problem with the designated hitter. It's a National League conundrum.
"It definitely changes the inning, that's for sure," Avila said. "But what are you going to do? We've had a few of those this year. It was a good pitch and [Suzuki] hit it in a perfect spot."
Sanchez had Zimmermann on deck again in the fourth when Suzuki hit a fly ball to Hunter in right. Hunter caught it and tried for the third out when he saw Adam LaRoche tagging from second base, but his throw glanced off LaRoche's hand and skipped wide of third baseman Cabrera, allowing LaRoche to score an unearned run for a 2-1 Washington lead.
Sanchez regrouped to strike out Zimmermann, but the slam of his fist into his glove on his way into the dugout showed he was still thinking about the run. It was the first error by a Tigers outfielder this season, but Sanchez -- who was backing up third base on the play -- took some responsibility for it.
"I'm frustrated, because I needed to cover that one," he said. "That run, for me, I think is my fault, because I wasn't behind third base enough to get that ball. But that's part of the game."
He was less frustrated over the first-pitch breaking ball that Harper jumped on in the fifth for his 10th home run of the season, and the first homer allowed by Sanchez this year.
"This guy's hitting pretty good," Sanchez said. "He's a strong guy. I tip my hat on that pitch."
Sanchez (3-3) finished with his sixth consecutive quality start, allowing two earned runs over six innings, yet suffered his third loss in his last four games.
Back-to-back two-out walks in the eighth gave Avila a second chance to take him off the hook, but Tyler Clippard sent Avila down swinging at a high fastball to end the threat, and Nationals closer Rafael Soriano retired the Tigers in order in the ninth.
Jason Beck is a reporter for MLB.com. Read Beck's Blog and follow him on Twitter @beckjason. This story was not subject to the approval of Major League Baseball or its clubs.