Sanabia unable to find form as Marlins' bats go quiet
San Diego native's Petco Park debut cut short as Miami injuries mount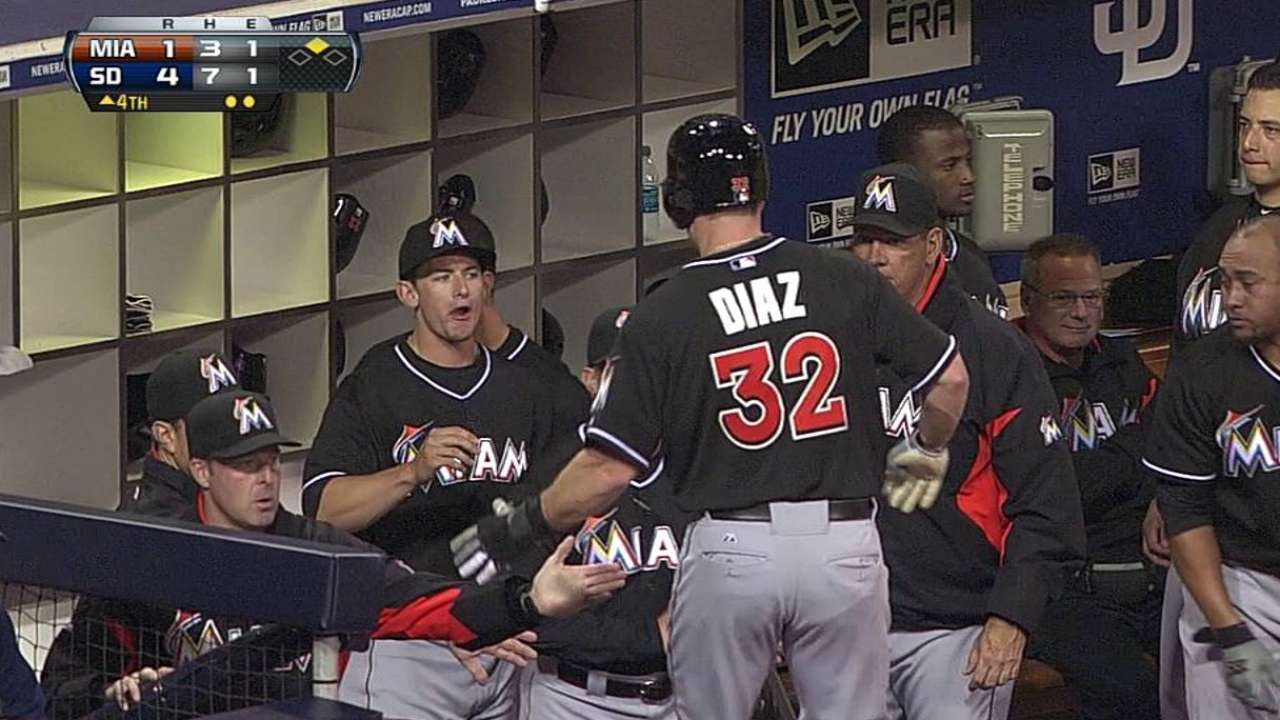 SAN DIEGO -- Alex Sanabia's homecoming was sideswiped by an aggressive Padres lineup and an injury.
A San Diego native, Sanabia's night never got on track.
Will Venable belted a two-run homer off Sanabia, and the Padres' Eric Stults allowed one run in 6 1/3 innings to lift San Diego to a 5-1 victory over the Marlins on Tuesday night in front of 16,263 at Petco Park.
The Padres secured a series win by taking the first two in the series, and the Marlins fell to 2-4 on their 10-game road trip. Now, they may be down a starting pitcher.
Sanabia was lifted after 4 1/3 innings due to tightness in his right groin. On his 76th and final pitch, he struck out Yonder Alonso. Immediately after throwing the pitch, he reached to his right side. Pitching coach Chuck Hernandez and assistant trainer Mike Kozak headed to the mound, and Ryan Webb was called in to relieve.
Sanabia is optimistic that the tightness is minor, and he will be ready to go. He will be further evaluated on Wednesday.
"It's a little pull, nothing serious," Sanabia said. "I should be fine to go for my next start."
Overall, it was a rough start for the right-hander who grew up 15 minutes away from the ballpark, and he had more than 30 family members and friends on hand.
"I left pitches up in the zone, and what not," Sanabia said. "It happens. It was just one of those days. Obviously, if you leave the ball up, it's going to get hit. Just something to work on in my next bullpen."
The setback to Sanabia was the first concern for the Marlins on the night. A bigger issue arose in the eighth inning when second baseman Chris Valaika sustained a fracture to his left wrist while covering second base on Alonso's stolen base.
An X-ray revealed a break to the tip of his radius bone, and he will be examined in a few days in Miami by Marlins physician, Lee Kaplan.
A Los Angeles-area native, Valaika is starting at second base because Donovan Solano was placed on the disabled list on Tuesday with a left intercostal strain.
On Friday, the Marlins face the Dodgers in Los Angeles, and Valaika had been looking forward to going home.
"That's the game. It is what it is," Valaika said. "I tried to stay in there with that ball. Things happen."
After the painful loss, Marlins manager Mike Redmond and president of baseball operations Larry Beinfest met for an extended period of time and didn't address the media.
The clubhouse was especially somber as players continue to push forward in the face of adversity. Chris Coghlan, an infielder in the Minor Leagues, has been in the outfield since his 2009 National League Rookie of the Year season.
After Valaika went down, Coghlan played second base for the first time in the big leagues since his debut on May 8, 2009.
"This is my fifth year here," Coghlan said. "It seems like each year, more and more keep going down. It's weird. Hopefully that breaks and we don't have that.
"This is what happens in the game. Everybody writes it up and wants to say, 'This roster looks great. They're going to win it.' It's like people have no idea how there is so much that you can't control in this game. And in 162 games, it's tough to stay healthy. And the teams that stay healthy are usually the ones that are there at the end. It's another opportunity for someone else to step up."
The bullpen kept the Padres from adding on, but the Marlins weren't able to do much off Stults, who scattered seven hits and walked two.
In relief of Sanabia, Webb threw 1 2/3 scoreless innings with three strikeouts.
"You've got to be on your toes, there are really no defined roles when you're not winning ballgames," Webb said. "You have to be ready at any point. It's kind of based on who's pitched the day before, or who threw how many innings. You've got to be ready and go out there and compete when it's your inning to go."
After being shut out on Monday, the Marlins were held scoreless for 12 straight innings at San Diego before they finally pushed across a run in the fourth inning on Marcell Ozuna's RBI double.
Matt Diaz doubled to right field to open the inning, and he moved to third on Placido Polanco's grounder to second. With two outs, Ozuna floated a soft liner into short right field.
For the second straight night, a first-inning error resulted in an unearned run. Sanabia put himself in a bind by walking Everth Cabrera to open the inning. With one out, Chase Headley singled to right field, extending his hitting streak to 12 games.
On the play, the Padres were respecting the arm of Ozuna in right, and Cabrera was holding up. But while charging, Ozuna didn't come up cleanly with the ball. Cabrera moved to third on the error, and he scored on Alonso's sacrifice fly.
In the second inning, Venable's two-run homer highlighted a three-run inning. After Jedd Gyorko singled, Venable unloaded a towering shot to right field. Initially, Ozuna appeared primed to make a play. The right fielder settled in a spot, and then lost the ball in the lights. Venable hesitated, wondering if Ozuna had a play.
Ozuna stood looking upwards, and he signaled as if he couldn't find the ball, which landed in the right-field stands.
"I followed the ball," Padres manager Bud Black said. "They were both in my sight line -- the ball and the outfielder -- so I knew right away he didn't see it. I thought off the bat it was going to be a home run. I knew we were in pretty good shape when he had his hands in the air, and he didn't see the ball. I knew one way or the other it was going to be a good result."
Joe Frisaro is a reporter for MLB.com. He writes a blog, called The Fish Pond. Follow him on Twitter @JoeFrisaro. This story was not subject to the approval of Major League Baseball or its clubs.