Kuroda's one mistake at Colorado one too many
Sixth-inning home run costly; four stolen bases for naught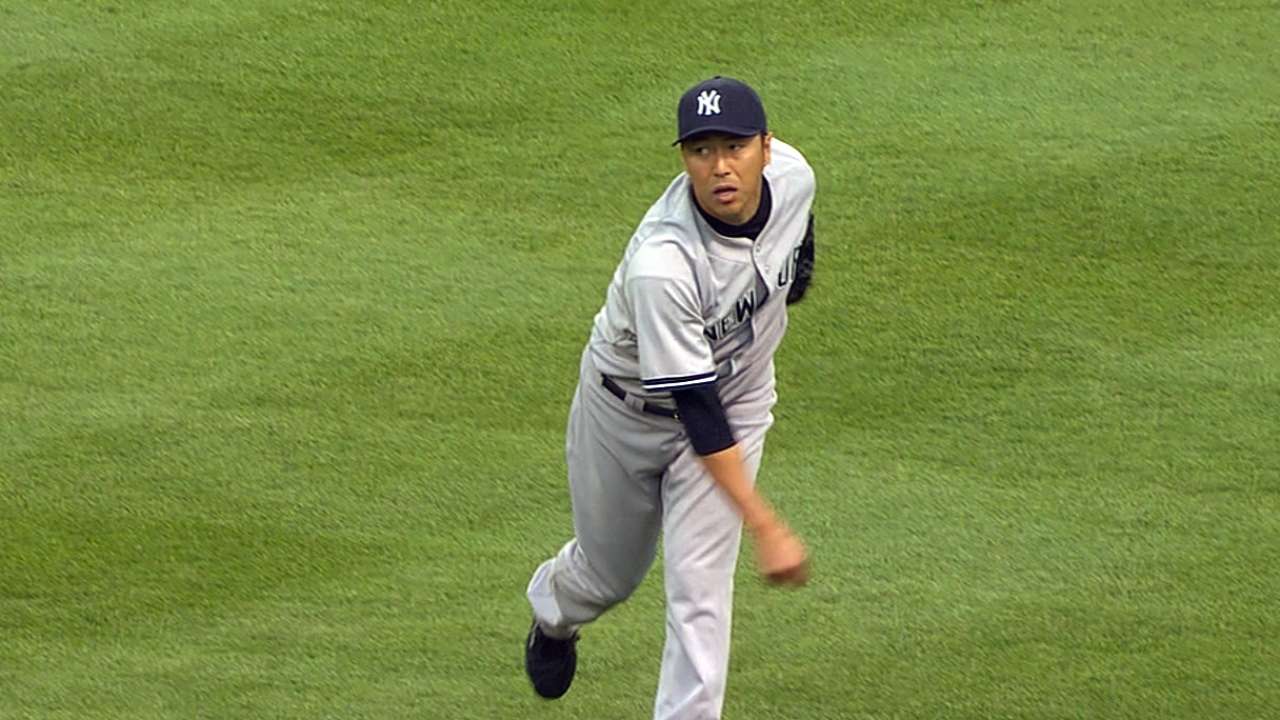 DENVER -- Yankees manager Joe Girardi played for the Rockies in 1995, the year Coors Field opened. Before Tuesday night's 2-0 loss, he recalled an abundance of 11-10 games that have become far less frequent since a humidor was installed in 2002.
Girardi cited the Rockies' 3.86 ERA at home entering Tuesday -- virtually identical to their 3.88 road ERA -- as statistical evidence that Coors Field now plays differently. Hours later, Girardi had firsthand proof as the Rockies took the series opener.
The humidor notwithstanding, a taut pitchers' duel is still a rarity here. But Hiroki Kuroda and Rockies left-hander Jorge De La Rosa matched zeros in a steady rain that was hard at times until Carlos Gonzalez hit a two-run homer in the sixth following a single by Josh Rutledge with two outs.
"He made one mistake to Gonzo," Girardi said of Kuroda. "He made him pay for it. He got two quick outs that inning, and Rutledge hit it a little bit off the end for the base hit. He got to a 3-2 count, and he made one mistake. It cost him the game."
Kuroda, who worked seven innings, had allowed two homers in 36 innings through his first six starts of the season. He yielded two hits and had retired nine straight batters before Rutledge's single. Gonzalez followed with his seventh home run, driving Kuroda's 3-2 fastball into the Rockies' bullpen in right-center. Michael Cuddyer and Todd Helton followed with singles, but Nolan Arenado lined out to right to end the inning.
Kuroda struck out Gonzalez swinging in the fourth and said through a translator that he tried to duplicate that pitch with the count full in the sixth.
Gonzalez said, "The at-bat before, he threw me a fastball with two strikes and it went by me. His delivery is so sneaky; it's tough to pick up. But I was expecting a fastball, and he came with it. On a 2-2 count, I had fouled off another fastball, so I was waiting for it."
Kuroda said: "I was trying to go inside, up and in with a four-seam fastball. There was part of me that didn't want to walk him in that situation."
Instead, the fastball ended up belt-high, a mistake for which Kuroda paid dearly, since the Yankees were held to four hits, all singles. Three came against De La Rosa, who pitched six innings.
"We didn't do much against him," said cleanup hitter Vernon Wells, who went 0-for-4, "so he was able to change speeds. There weren't too many opportunities that we had. He pitched well, and it's hard to win games when you get four hits and don't put any runs on the board."
The Yankees had gone 8-3 against left-handed starters this season and were tied with the Atlanta Braves for the best record in the Majors against southpaws this season.
This was Kuroda's 11th career start against the Rockies but his first while with the Yankees. The right-hander had allowed at least one run during the first inning in three of his previous six starts this season but sailed through the first on Tuesday, aided by catcher Chris Stewart. After Rutledge singled with one out, Stewart picked him off.
De La Rosa got 11 outs on ground balls before being lifted for a pinch-hitter in the sixth. The lefty threw 95 pitches, one shy of his season high, and the Yankees stole four bases against him and backup catcher Yorvit Torrealba, who's regularly behind the plate when De La Rosa starts and had thrown out one of five runners attempting to steal before Tuesday.
"We thought we could run a little bit tonight, and we did," Girardi said. "Whenever we're going to do it, we're going to try and do it. Unfortunately, it didn't work out where we got any runs."
For the third time in the game, the Yankees advanced a runner to third with two outs in the fifth. De La Rosa got Ichiro Suzuki to ground slowly to third to end that inning, with Helton, the first baseman, scooping a low throw Arenado made on the run from third.
A Yankees baserunner also reached third with two outs in both the first and third innings. But Wells flied to left to end the first, and Jayson Nix took a called third strike to end the third after Suzuki singled and then stole second and third, the latter while standing up. The Yankees ended up 0-for-5 with runners in scoring position, all of those situations occurring in the first five innings against De La Rosa.
"I think they were all two outs with runners in scoring position opportunities," Wells said. "So he didn't give us any easy RBI opportunities. When he did find himself in trouble, he made pitches, so give him credit."
De La Rosa last started against the Yankees in July 2007 while with the Royals. This was his fourth appearance and third start against them, and he has yet to yield an earned run to New York in 17 innings as a starter.
"Jorge gave up three singles -- that's a big-time performance," Rockies manager Walt Weiss said. "It's nice to see one of our starters go out there and pitch like he did. If we get good starting pitching like we have for the most part this year, we're going to win games."
Jack Etkin is a contributor to MLB.com. This story was not subject to the approval of Major League Baseball or its clubs.