CarGo's homer the difference against Yanks
Narrow win pulls Rockies ahead of Giants for NL West lead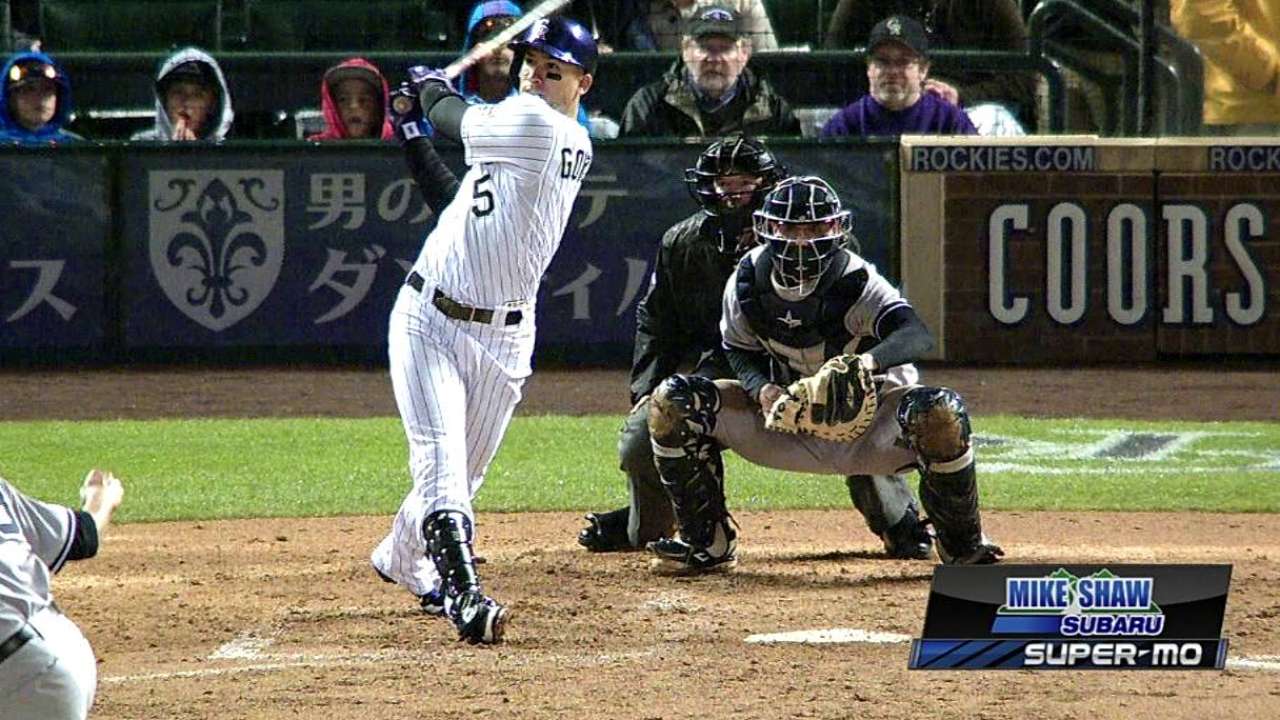 DENVER -- After grinning and bearing the snow during the last homestand, Rockies left fielder Carlos Gonzalez couldn't believe rain hit in the second inning of Tuesday night's game against the Yankees at Coors Field, continuing until the final innings.
"I won't lie -- I was a little angry the whole game," Gonzalez said. "We've been playing in a lot of bad weather, in a lot of bad situations, but we've still got to go out there and do our best."
Gonzalez unleashed his anger by clubbing a high-and-inside, full-count fastball from Hiroki Kuroda into the bullpen in right-center for a two-run homer in the sixth inning -- the only runs in a 2-0 Rockies victory in front of 41,595.
Gonzalez's seventh homer of the season leapfrogged the Rockies over the Giants and into first place in the National League West by a half-game. The game marked the Rockies' first shutout of the season, led by six three-hit innings from lefty starter Jorge De la Rosa (3-3). It also brought the Rockies to 2-2 during their first Interleague homestand, which has two games with the Yankees remaining.
Before the deciding homer, Kuroda (4-2) had left Gonzalez and the Rockies' hitters all wet.
Gonzalez had gone 0-for-2, including a swinging strikeout on a fastball to open the fourth inning. With two outs in the sixth, Josh Rutledge singled to give Gonzalez his chance.
Tired of the weather, motivated by the knowledge that De La Rosa was through pitching and could use some runs and armed with knowledge gained from his previous at-bat, Gonzalez turned out to be in a good position to win the game.
"The at-bat before, he threw me a fastball with two strikes and it went by me," Gonzalez said. "His delivery is so sneaky; it's tough to pick up. But I was expecting a fastball, and he came with it. On a 2-2 count, I had fouled off another fastball, so I was waiting for it.
"It was a good pitch, still -- middle-in. I was able to put the ball in play and get it over the fence."
The homer spoiled a strong outing from Kuroda, who hadn't delivered many against the Rockies or at Coors Field. He entered with a 1-5 record and a 5.52 ERA in 10 career starts against Colorado and 1-2 with a 6.85 ERA at Coors Field lifetime. On Tuesday, Kuroda gave up seven hits and threw seven strong innings, but Gonzalez -- who entered with a .400 average against the right-hander -- revived Kuroda's old nightmare.
"In a 0-0 situation, it was a situation where I wanted to avoid a home run," Kuroda said. "At the same time, I didn't want to give them a big inning."
There would be no Derek Jeter and no Alex Rodriguez, no Curtis Granderson or Mark Teixeira. But as is the case whenever the Yankees make their occasional visit, the crowd was lively and the game felt important.
Besides, after his club dropped two of three at home to the Rays and held star shortstop Troy Tulowitzki out of the lineup for the second time in four games because of left groin inflammation, manager Walt Weiss badly wanted a victory, regardless of the opponent.
"It's always a good atmosphere when the Yankees are around, but we want to click off as many W's as we can," Weiss said. "It's nice after losing the last series to come back and win this game tonight."
It was a return to form for De La Rosa, who was tagged for six runs and 11 hits in just four innings during a loss to the Dodgers in his last start. The Dodgers were so attuned to the left-hander's plan that De La Rosa asked teammates if he was tipping his pitches. They said no. It could simply be that the Dodgers have historically given him trouble.
It was a different shade of blue on Tuesday, and a different De La Rosa.
"With L.A., I think I was twisting to third base, but I made that adjustment with [pitching coach] Jimmy [Wright], and it worked tonight," said De La Rosa,who struck out two Yankees and is 3-0 without having allowed an earned run in 17 career innings as a starter against the Yankees.
Weiss, who is keeping an eye on De La Rosa because the lefty missed most of last season and more than half of 2011 due to elbow surgery, removed his starter after 95 pitches. Relievers Matt Belisle (one inning, one walk), Rex Brothers (one clean inning) and Rafael Betancourt (9-for-9 in save chances after a one-hit, two-strikeout ninth) handled the rest.
The game was the Rockies' first shutout win at Coors Field since a 6-0 victory over the Cubs last Sept. 26. The last shutout at Coors Field was last Sept. 29, a 3-0 win by Dodgers.
"Jorge gave up three singles -- that's a big-time performance," Weiss said. "It's nice to see one of our starters go out there and pitch like he did. If we get good starting pitching like we have for the most part this year, we're going to win games."
Thomas Harding is a reporter for MLB.com. Read his blog, Hardball in the Rockies, and follow him on Twitter @harding_at_mlb. This story was not subject to the approval of Major League Baseball or its clubs.