Brewers snap skid on strength of five-run first
Gomez, Betancourt provide 1-2 punch with combined four RBIs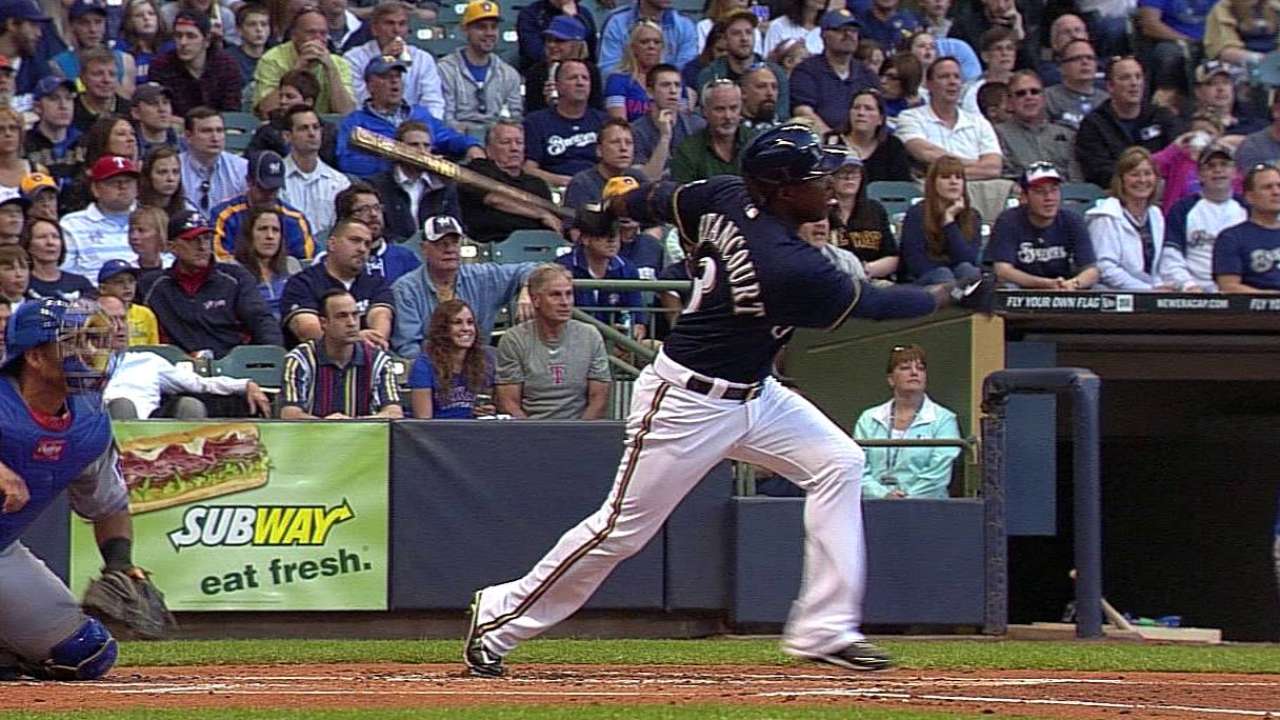 MILWAUKEE -- One-fifth of the Brewers' season will be in the books when the Rangers leave town Wednesday night. Did anyone peg Carlos Gomez and Yuniesky Betancourt to be the team's two most productive hitters at this point of the season?
A 6-3 victory over Texas on Tuesday was sealed in a five-run first inning, with Gomez delivering a two-run double and scoring on Betancourt's two-run home run. It was enough offense for starter Wily Peralta and three relievers to snap Milwaukee's five-game losing streak and ease the pain inflicted by a weekend sweep at the hands of St. Louis.
"If you have Yuni and Gomey driving in runs and doing the things they're doing, where they're hitting in the batting order," Brewers manager Ron Roenicke said, "we should be really good."
Ryan Braun also drove in a run in the decisive first against Rangers right-hander Justin Grimm and is tied with Betancourt for the team lead in RBIs, with 24. But it's Betancourt who finds himself leading the club in long balls after smacking No. 8 on Tuesday night, and everyone trails Gomez's National League-leading .364 batting average.
The question now is whether the Brewers' free-swinging leaders can keep it up.
"I think the at-bats can stay consistent if [Gomez] keeps going with what he's doing," Roenicke said. "Yuni, to keep driving the ball like he's doing, it's impressive. But he's squaring up a lot of baseballs. [Rangers third baseman Adrian] Beltre made a nice play on him down the line that we could have got another run on. But [Betancourt], he's different. He's seeing the ball different. I know he's still not walking."
Lately, Betancourt has been trotting. All of his home runs have come since April 16.
His career high for home runs was 16, in 588 at-bats for the Royals in 2010. Will he break that personal best?
"I don't know for the season, but I already have eight homers," Betancourt said. "I feel great. I feel healthy. I'll try."
Brewers third baseman Aramis Ramirez hit his first home run of an injury-shortened season in the seventh inning, a solo shot for insurance.
Tom Gorzelanny, Brandon Kintzler and Jim Henderson (seventh save) finished a badly-needed victory for a club that had just been swept in four games by the NL Central-leading Cardinals.
"After you have the rough five games and then the day off, then you come back and make five runs right away and Wily throws the ball good, it's a good start," Gomez said. "It [brings] the energy back to the team."
Gomez did endure some pain in the fifth inning, when a Grimm pitch struck the top of Gomez's left hand. Gomez took off for first base, but plate umpire Laz Diaz ruled the baseball had struck Gomez's bat and called the batter back to the plate for what turned into a strike-him-out, throw-him-out double play.
"They say it's a foul ball, but I've got a big bruise," Gomez said.
He shrugged, and referred to a moment earlier in the homestand when he got away with a hit by pitch on a ball that actually did strike his bat.
"You have to take it like a man," Gomez said, adding, "It's brutal, because they take an at-bat away. I'm not joking with my at-bats."
Peralta (3-2) won for the third time in four starts after allowing three runs, two earned, on five hits in six innings. He did not walk a batter, struck out two and induced groundouts or strikeouts for 11 of his first 15 outs.
"Great sinker today," Roenicke said. "It was a great game for him. This is a really tough lineup to go through."
The Brewers' first-inning outburst represented a rarity for Rangers rookie Grimm (2-2), who had not allowed more than three earned runs in any of his four starts this season. The right-hander threw each of his first 14 pitches for strikes, and 15 of his first 16, but found himself facing an early deficit, no thanks to his defense.
After Norichika Aoki led off with an infield single and Jean Segura singled up the middle, Braun hit a drive to deep right field, where former Brewers farmhand Nelson Cruz had a play but couldn't make it. Aoki ran through third-base coach Ed Sedar's stop sign to score, but Segura appeared to read the play as an out, and turned to retreat to first with Braun already chugging to second. Segura made it back to second base, and Braun's hit went in the books as a long single.
Grimm retired the next two batters before Gomez hit a double to medium left field that eluded David Murphy -- he said he lost the baseball in the lights -- and rolled toward the warning track, allowing both Segura and Braun to score. Four pitches later, Betancourt hit a low changeup for a two-run homer and a 5-0 lead.
"He's always had power," Rangers manager Ron Washington said. "Now he's doing a good job with it."
What about Gomez, the Brewers' other big hitter?
"That guy has been coming for a long time and he's starting to find himself," Washington said. "I don't know if he's going to be a .360 hitter, but he's getting better. He can be a dangerous player because he's got speed and he plays the game hard."
Adam McCalvy is a reporter for MLB.com. Read his blog, Brew Beat, and follow him on Twitter at @AdamMcCalvy. This story was not subject to the approval of Major League Baseball or its clubs.