Five-run first too much for Rangers to overcome
Plays not made lead to big frame; club drops to 0-2 on road trip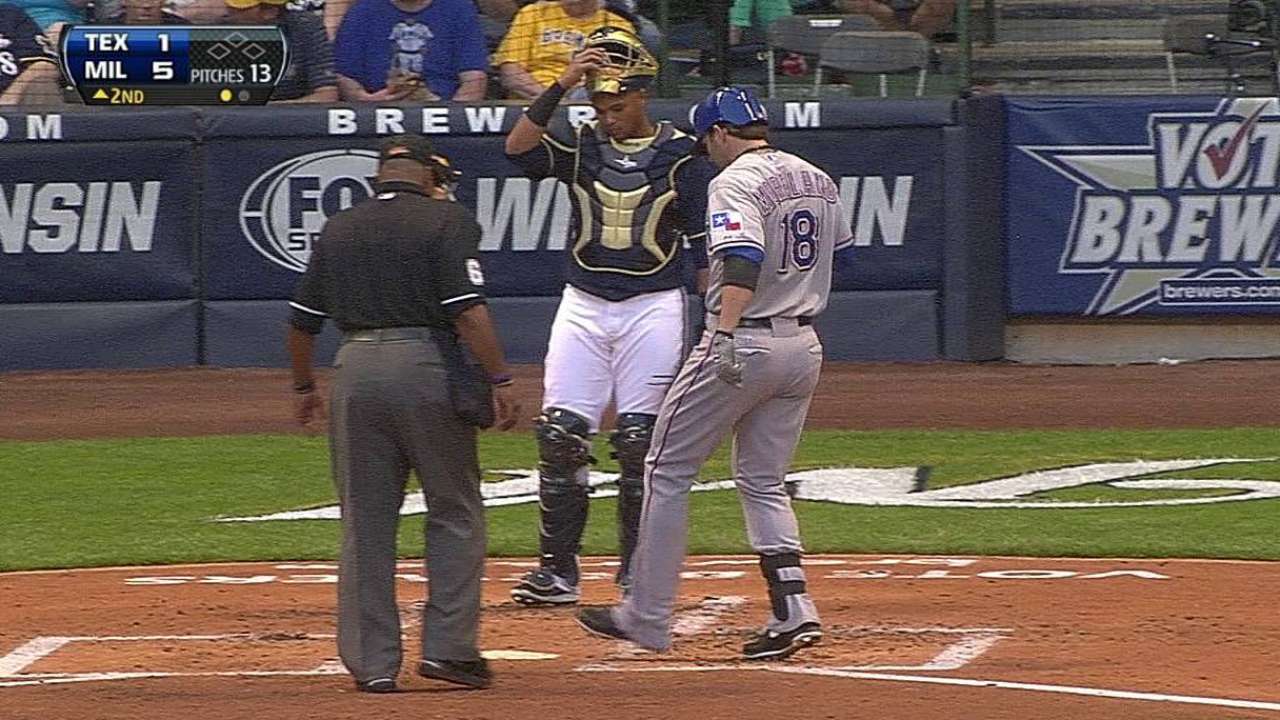 MILWAUKEE -- The Rangers' defense did not commit an error on Tuesday night, and that usually means they win the game. Texas, going into Tuesday, was 16-5 in games in which it did not commit an error.
But there were three defensive plays in the first inning that didn't get made and that led to a five-run first inning off of starter Justin Grimm. The Rangers, down 5-0 right away, couldn't come back from that and ended up losing, 6-3, to the Brewers on a crisp Wisconsin night at Miller Park.
"We almost came back, but we shouldn't have been in that hole," manager Ron Washington said. "A few plays that we didn't make ... if we had made those plays, it might have made a difference."
The Rangers, who also lost to the Cubs on Monday to begin the road trip, have lost their last four away from the Ballpark in Arlington. They are 9-9 on the road, as opposed to 11-4 at home. The Brewers had lost five straight -- all at home -- before getting off to a quick start against the Rangers.
Grimm followed up his rough first inning by throwing four scoreless and keeping the Rangers from overusing the bullpen. But he still lost his second straight and is now 2-2 with a 3.45 ERA after five starts. He also contributed to the defensive lapses that marked the opening inning.
"The ball found grass, not gloves," Grimm said. "I made a couple of good pitches and a couple of bad ones. It was a little frustrating. One inning, but I tried to stay in there and get as much out of it as I could."
Grimm's troubles began right away. Norichika Aoki led off with an infield hit and Jean Segura lined a single up the middle, putting runners on first and second. Ryan Braun then launched a drive to deep right field that appeared catchable but sailed just beyond the reach of Nelson Cruz. That brought home a run, although Segura stopped at second and Braun was held to a single because Cruz played the carom quickly.
"I saw the ball pretty well, but it carried more than I thought it would," Cruz said. "I didn't think he hit it that well. I was running, but because of the angle of the wall, I thought I was closer to the wall than I was. I jumped too soon."
That brought up Aramis Ramirez, and while he was at the plate, Grimm worked an inside pickoff move to second that caught Segura breaking for third. Segura should have been an easy out scrambling back to second. But Grimm, instead of throwing the ball to second baseman Ian Kinsler covering the bag, tossed it to shortstop Elvis Andrus, who was behind the runner. That allowed Segura to get back safely.
"That was my fault," Grimm said,
Grimm retired Ramirez on a foul pop and Rickie Weeks on a fly to left. Carlos Gomez followed with a soft line drive to left-center that David Murphy lost twice in the Miller Park background. The ball fell between him and Leonys Martin before getting past them both. Gomez ended up with a two-run double.
"I saw the ball off the bat, then I lost it, I'm not sure how," Murphy said. "I picked it up again and then I lost it again. It's just an unfortunate play."
This was the Rangers' first trip to Milwaukee since 2010, but Murphy declined to blame it on the unfamiliar background of Miller Park.
"There are times in our ballpark where I've lost balls in the background," Murphy said. "It happens a few times a year, but it really hurts when guys on base end up scoring."
Yuniesky Betancourt finished off the damage with a two-run home run, and the five-run lead was more than enough for Brewers starter Wily Peralta. He held the Rangers to two hits in the first five innings, including a home run by Mitch Moreland. The Rangers scored two in the sixth against Peralta but managed just two hits and a walk in the final three innings against the Brewers' bullpen. The Rangers were 0-for-5 with runners in scoring position.
"It was a great game for [Peralta]," Brewers manager Ron Roenicke said. "This is a really tough lineup to go through."
The Rangers' offense has had its share of rough games this season. This is the sixth time they've been held hitless with runner in scoring position, and they've lost all six. But they expect to win when they don't commit an error. It just didn't work out that way on Tuesday night at Miller Park.
T.R. Sullivan is a reporter for MLB.com. Read his blog, Postcards from Elysian Fields, and follow him on Twitter @Sullivan_Ranger. This story was not subject to the approval of Major League Baseball or its clubs.