League can't put closure on Dodgers' skid
Losing streak reaches six as D-backs get two-run homer in ninth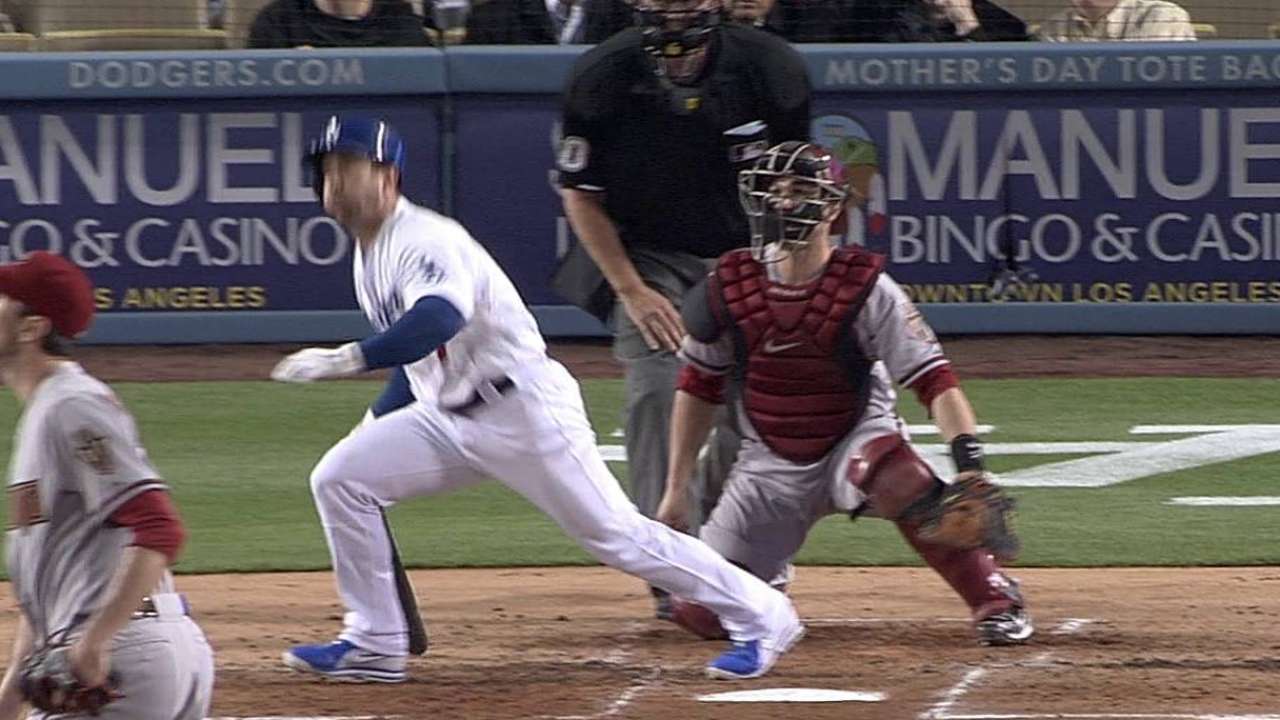 LOS ANGELES -- It might have looked like just another loss, but when the last-place Dodgers fell again to the D-backs, 5-3, on Tuesday night, it was historic.
It gave the Dodgers a second six-game losing streak this early in the season for the first time in more than a century.
The last time it happened was 1912, 101 years ago, the year that Fenway Park opened and the Titanic sank. The Dodgers went 58-95 that season. It's unknown what the payroll was in 1912, but it wasn't $230 million like this year.
"Obviously it's frustrating for this club to lose six in a row two different times," said manager Don Mattingly. "It's hard to imagine this club playing like that. You can bang your head against the wall, but I don't know. We've got to buckle up and turn it around. The guys in that locker room have had a lot of success, they had to have determination and fight to get to this level. It's tough at times, but you've just got to get past it.
"We were talking in Baltimore [when the other losing streak ended] about pushing that rock in the other direction. There's no magic formula. We have our guys and they've got to perform. You can make a move and maybe spark something, but once you get past all the smoke and mirrors, we've got to perform. We've got to play better. You can throw all kinds of things off the wall … but at the end of the day, we've got to play better and we've got to perform better."
Nick Punto is one Dodger who has performed all season, filling in all over the place because of the unprecedented medical crisis. On Tuesday night, starting at third base, he homered, doubled in another run and led off the bottom of the ninth with a walk against Arizona closer J.J. Putz, who left the game after ball four with an elbow injury. However, Heath Bell took over and stranded Punto at third base.
A member of the remarkable 2011 St. Louis Cardinals, who trailed by 10 1/2 games at one point but won the World Series as a Wild Card, Punto has seen what can happen when a team doesn't quit.
"Absolutely," he said. "The season is never over. I'll never count my team out after what we did in 2011 with the Cardinals."
Although starter Josh Beckett rebounded from a four-inning outing against Colorado with a decent six innings (three earned runs, no homers), he allowed the leadoff batter to reach base five times and he's still winless. But so is opposing starter Brandon McCarthy, who coughed up one-run leads three different times.
So at least the Dodgers kept battling, even in that final inning after closer Brandon League served up a one-out, two-run homer to Paul Goldschmidt at the end of an 11-pitch at-bat.
"There are plenty of times you don't come through, so whenever you get that opportunity and get that hit and hold on for the win, it's fun," said Goldschmidt.
The homer by Goldschmidt, who also hit one Monday night, was the dagger, but League created the mess by walking Gerardo Parra to lead off the ninth.
"Tonight, leadoff walk, I got that one out and my whole plan was just to get Goldschmidt to ground into the double play," League said. "But it's a prime example of what happens when you throw a good hitter a [bad] pitch."
In his previous outing Saturday night, League allowed a walk-off homer to his former teammate, Giants backup catcher Guillermo Quiroz.
"Mechanics are not the issue right now," League said. "I'm not all over the strike zone or out of the strike zone, whatever you want to call it. I'm just not executing when I need to execute."
League, signed to a three-year, $22.5 million contract in the winter, has a 5.40 ERA despite eight saves.
"Sure, there's concern," Mattingly said of League, although he said closers have slumps, too. "When one gets away, they seem to come in bunches.
"It seems everything we do doesn't seem to work. Carl [Crawford] hits a ball [after Punto's walk] and it hits the pitcher's glove, and instead of extending the inning, he's out. And it's a guy Carl can run on. That's the way it is right now."
The Dodgers have lost 14 of their last 17 to the D-backs and are 5-15 against National League West clubs.
Mattingly was asked why he didn't pinch-hit A.J. Ellis for the struggling Ramon Hernandez with one out and runners on first and second in the bottom of the eighth, when Hernandez flied out.
"It didn't seem like the right spot," Mattingly said.
Ken Gurnick is a reporter for MLB.com. This story was not subject to the approval of Major League Baseball or its clubs.