Wieters' three RBIs lift O's over Royals
Catcher knocks two-run double in first, go-ahead RBI double in eighth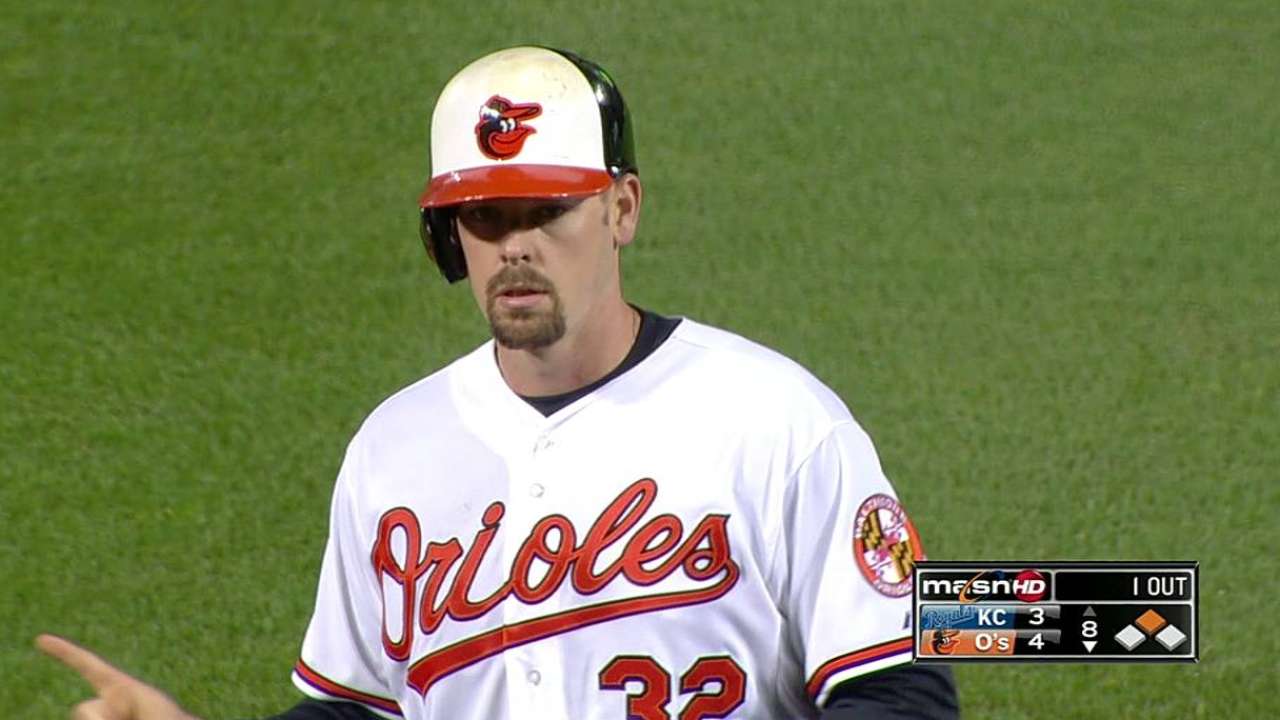 BALTIMORE -- Tommy Hunter gave Orioles fans what could be a very good piece of advice after Tuesday's series opener with the Royals.
"Nobody should ever leave the stadium, I'll tell you that much, under any circumstances," Hunter said.
The Orioles have already shown a remarkable tendency to bounce back in games this season. They did it again in this game when Matt Wieters got his second double of the night, a tie-breaking shot down the left-field line in the eighth that gave the Orioles a 4-3 victory over Kansas City before 12,921 on a rainy night at Camden Yards. The O's jumped into second place in the American League East, one game behind Boston and one game ahead of the Yankees.
Baltimore (20-13) has now won three in a row and four of its last five games. Kansas City (17-12) wiped out an early Orioles lead and tied the game in the seventh. But Wieters answered just one inning later.
"There's always some turning points in some games," said Wieters, who finished with three RBIs. "If you're able to come back on a team after they score on you, it can give you the momentum back, and vice versa when you get some runs."
The Orioles did this last Saturday against the Angels, blowing a 4-0 lead, but rebounding to pull out a 5-4 win in 10 innings. On Tuesday, the Orioles took a 3-0 lead in the first, lost it and bounced back in the eighth.
Alex Gordon tied the game at three with a two-run homer off Brian Matusz right after the game re-started following a 48-minute rain delay in the seventh. Hunter came on to finish the seventh and retire the Royals in order in the eighth, before Adam Jones started the winning rally moments later.
Jones drew a walk off Tim Collins to start the inning and later went to second on an errant pick-off throw from Luke Hochevar. Wieters was the first batter Hochevar faced, and the catcher sliced a double, which just made it into fair territory in left. Jones scored easily with the game-winning run.
"I thought [Hochevar] threw the ball well," Royals manager Ned Yost said. "That ball hit right on the line. Wieters did a nice job of just serving it down the left-field line for the game-winner."
Jones said the Orioles are a tough team that works together.
"It's 25-man team," he said. "We're a team. We all are picking up each other. Good thing is, we're resilient, and we came back the next inning and put some pressure on the Royals, and [were] able to squeak one out."
Losing the lead cost starter Wei-Yin Chen a shot at the victory. He gave up two runs on nine hits in 6 1/3 innings, leaving when the rain delay began in the seventh with one on and a 3-1 lead.
The Orioles gave Chen a 3-0 first-inning lead thanks to a Jones RBI single and Wieters' two-run double off starter Ervin Santana. But the Royals bounced back with a run in the third and then tied it on Gordon's homer, leaving Chen with a no-decision.
Chen did better than in his last start, where he gave up five runs in just four innings in a loss to Seattle last Wednesday. The Orioles helped him with three double plays, two of which ended innings and helped him escape jams, as the Royals went just 1-for-7 with runners in scoring position.
"I just want to keep helping the team, do my job, keep my team in the ballgame," Chen said through an interpreter. "And keep winning the ballgame."
Hunter got the win with his 1 1/3 innings of work. Jim Johnson retired the side in order in the ninth for his 12th save, tops in the American League.
Kansas City finished with 10 hits and repeatedly put runners in scoring position. But the Orioles' pitchers didn't issue a walk and came through at the right times -- setting the stage for the offense to rally back.
"We didn't walk anybody, I believe, which was key," Orioles manager Buck Showalter said. "You don't want to put -- as good an offensive team as they are -- people out there. Bend a little, but didn't break. We got some big outs."
Jeff Seidel is a contributor to MLB.com. This story was not subject to the approval of Major League Baseball or its clubs.