Royals fall after Gordon's game-tying homer
Santana allows three runs in first before throwing five scoreless frames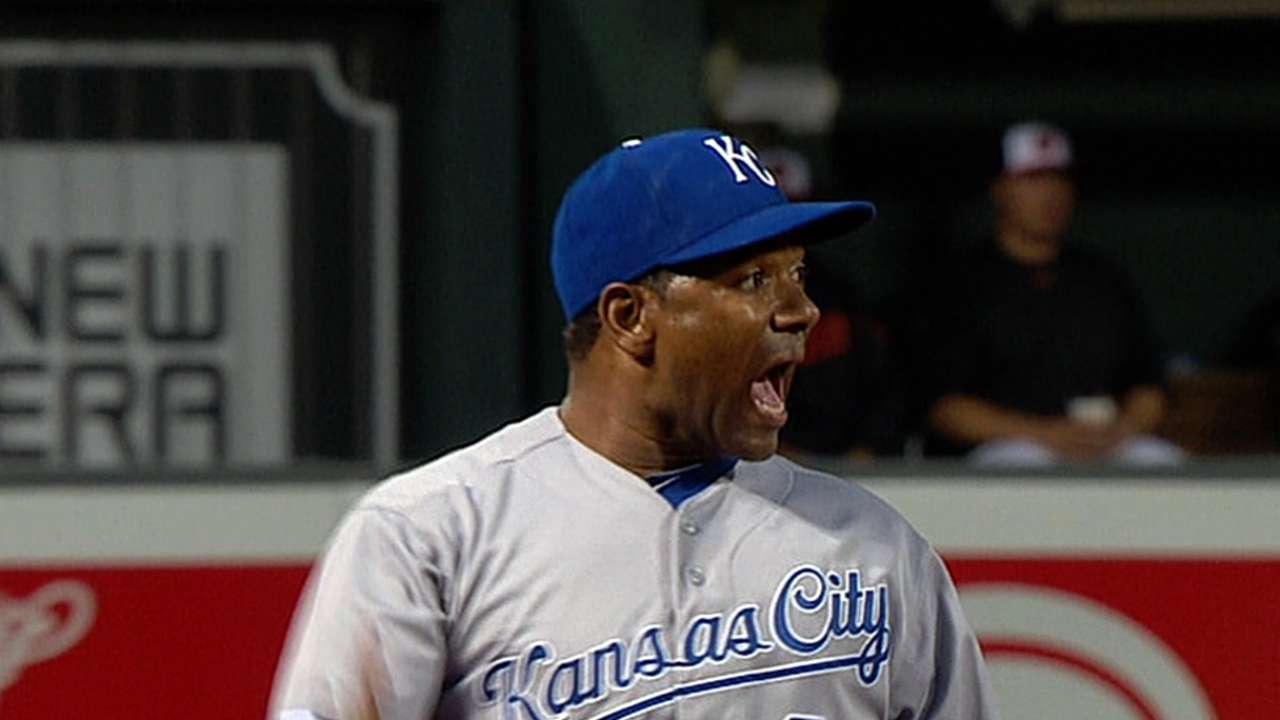 BALTIMORE -- A leadoff walk, an errant pickoff throw and a chalk-line double was all it took to keep the Royals from singing in the rain.
Shaking off the effects of Alex Gordon's game-tying home run, the Baltimore Orioles bounced back to beat the Royals, 4-3, on Tuesday night at Camden Yards.
"We battled, and when Gordo hit the home run, I thought we were back in this game," Miguel Tejada said.
And they were, briefly. Immediately after rain stopped the game for more than three quarters of an hour in the seventh inning, the Royals surged to a 3-3 tie.
Tejada had just singled with one out when a downpour halted play. When action resumed, left-hander Brian Matusz replaced starter Wei-Yin Chen as the Orioles' pitcher. He got one out, but Gordon cracked a two-run homer over the right-field wall and almost onto distant Eutaw Street.
"That wasn't that close -- that was a wall-scraper," Gordon said.
Yet the Royals, after trailing 3-0 and 3-1, had pulled even.
However, the Orioles came back in the eighth inning against relievers Tim Collins and Luke Hochevar. Collins opened the inning by walking Adam Jones.
"The leadoff walk is something that's really going to get you in trouble just about every time, especially late in the game," Royals manager Ned Yost said.
Collins threw a curveball for a strike, then missed on four straight fastballs.
"I'm not out there trying to walk the leadoff guy, and I thought I made some pitches when I needed to and a few calls I thought were questionable," Collins said.
Collins, a left-hander, then struck out left-handed-hitting Chris Davis and yielded to the right-handed Hochevar. Yost wanted the switch-hitting Matt Wieters to bat left-handed, his more vulnerable side. Meanwhile, Jones lurked ominously at first base.
"He wasn't staying there, he was just hankering to look for a spot to steal second base," Yost said. "So we were changing our looks, changing our tempo, slide-stepping a little bit."
Then Hochevar tried a pick-off throw but hit Jones in the back. The ball rolled away from first baseman Eric Hosmer, and Jones took second on the error. Then came a 1-1 pitch to Wieters.
"I thought it was a decent pitch, but I think it might have caught too much of the plate, especially in a situation like that," Hochevar said.
The ball sailed down the left-field line.
"I was wishing foul," Hochevar said.
Wieters was wishing fair.
"I was hoping," Wieters said. "I was leaning in, and I was pretty excited when the umpire made the fair signal."
Gordon rushed over from his spot in left field but couldn't come close to it.
"It hit right on the chalk," Gordon said. "That's just baseball. Sometimes you hit the ball really good and right at someone, and sometimes you hit a ball not so good and it finds a hole, and that's what it did. Unlucky for us, but we had opportunities today to score more than three runs, we just didn't do it.
Nope. Other than Gordon's two-run blast, the Royals got only one run in the third inning against Chen on an RBI single from Alcides Escobar.
The Orioles had jumped ahead, 3-0, in the first inning as they quickly snapped right-hander Ervin Santana's string of 13 scoreless innings -- or 17, if you include four snowed-out innings against Tampa Bay.
Singles by Manny Machado, Nick Markakis and Jones hatched one run. And when Wieters lashed a double to right-center field, the Orioles cashed two more runs.
"The first inning was, like always, a little trouble, but after that I settled down, threw a lot of strikes and put guys away," Santana said.
Of the 12 runs scored against Santana this year, seven have come in the first inning.
After that, however, Santana retired 12 straight batters -- helped by a superb play by Tejada at third base. He speared Jones' sharp bouncer, spun as he hit the dirt and threw to Hosmer to end the third inning.
There was rain throughout most of the day in Baltimore, but it abated and the game began on schedule. A steady drizzle that began in the middle innings accelerated to a downpour just after Tejada's single in the seventh.
The umpires stopped play, and the game resumed after a 48-minute delay. By then, many in the crowd of 12,921 had obviously called it a night. They missed a scintillating finish.
Dick Kaegel is a reporter for MLB.com. This story was not subject to the approval of Major League Baseball or its clubs.