Giants starters' woes continue with Lincecum
Right-hander goes seven innings but allows five Phillies to score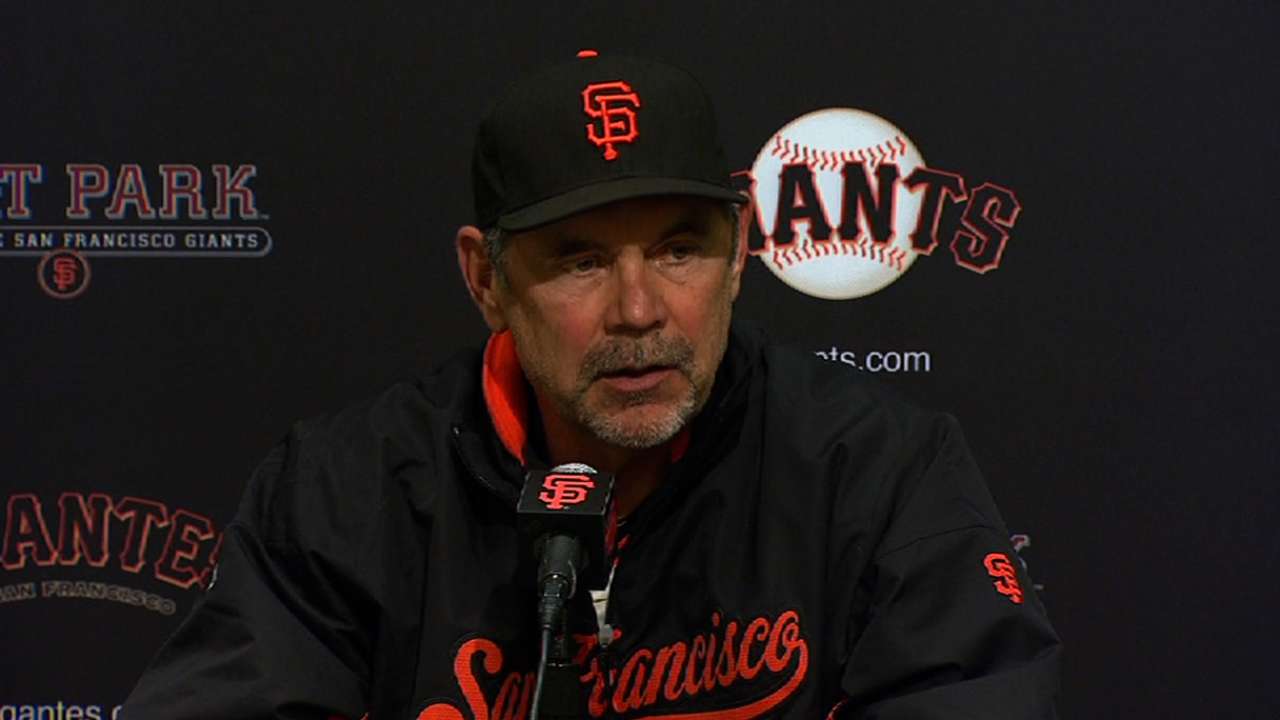 SAN FRANCISCO -- When the Giants excel, they're quick to praise their starting rotation.
And when they play a nondescript game, as they did Tuesday for the second time in two nights, it's the same contingent of pitchers who frequently slip -- thus emphasizing the starting five's importance to the club's success.
San Francisco's 6-2 loss to the Philadelphia Phillies created no panic among the reigning World Series champions. But the Giants are wise enough to know when a slump needs to stop before it begins. Their starting pitchers have reached that point.
The Giants have recorded only two quality starts -- outings lasting at least six innings with three or fewer earned runs allowed -- in their last 10 games. The rotation's ERA in that stretch is an unsightly 6.19. For the season, San Francisco's starters entered Tuesday ranked an uncharacteristic 10th in that category with a 4.44 ERA, which grew to 4.51 after Tim Lincecum allowed five runs in seven innings.
It's time, Lincecum announced, for some group therapy involving him, Matt Cain, Barry Zito, Ryan Vogelsong and Madison Bumgarner. This group has combined to record one victory in San Francisco's last 14 games.
Such chats have helped the pitchers emerge from previous collective slumps. Lincecum indicated that the members of the rotation might gather for some constructive commentary.
"Because it's been put in our minds a little bit more, what's been going on and the things we can do to fix it, easier than not," he said. "With that, [we have to] get back to competing with each other and not worrying about what happens on the field so much."
Manager Bruce Bochy acknowledged the rotation's vulnerability.
"It comes down to consistency with the pitching and we haven't quite been as consistent as we normally are," he said. "We haven't hit our stride, I think, with the pitching yet. That's the key for us."
Lincecum's individual performance has reflected the staff's as a whole.
It's said that hitters tell onlookers how a pitcher's throwing. In Lincecum's case Tuesday, opponents continued sending mixed messages.
Lincecum struck out the side in the first inning against the Phillies, who nevertheless amassed three runs and five hits off him through two innings. On one hand, the length of his appearance matched a season best. He struck out seven to maintain his healthy ratio of slightly more than one per inning.
But Lincecum also permitted nine hits.
"That's definitely frustrating, just the lack of consistency -- making a great pitch and then not repeating it," he said.
Chase Utley, who entered the game batting .167 (5-for-30) lifetime against Lincecum, went 3-for-3 off the right-hander. Utley's first hit wasn't imposing, merely a first-inning comebacker that struck Lincecum's backside before he pounced on the ball, barehanded it and flung it into right field for an error. That helped generate Philadelphia's first run.
Utley was more authoritative in his next two at-bats against Lincecum, rapping a second-inning RBI single and a fifth-inning homer.
Lincecum lamented the hanging slider that Utley clobbered for his homer. Utley didn't care what kind of pitch it was.
"I was just looking for something in the strike zone," he said. "Trying to keep it simple and squared up pretty good. It's a big yard, so I wasn't really sure where it was going to go."
Lincecum will go back to throwing between starts in an attempt to find his rhythm, which he defined as the "timing of when my foot's hitting and where my arm's at when it does."
This game unfolded almost six years to the day when Lincecum made his Major League debut against these same Phillies on May 6, 2007. The promise was there; the polish wasn't. Lincecum surrendered five runs in 4 1/3 innings, yielding two-run homers to Shane Victorino in the first inning and Ryan Howard in the third. He issued five walks. But, as he did Tuesday, Lincecum struck out the side in the first inning, demonstrating the electric stuff that would earn him two Cy Young Awards and four All-Star recognitions.
So in more ways than one, Lincecum's 196th career appearance mirrored his first.
"He was really good at times; other times he made some mistakes," Bochy said. "He had good stuff tonight but had trouble commanding the fastball at times."
Chris Haft is a reporter for MLB.com. This story was not subject to the approval of Major League Baseball or its clubs.