Maholm quietly doing his thing for Braves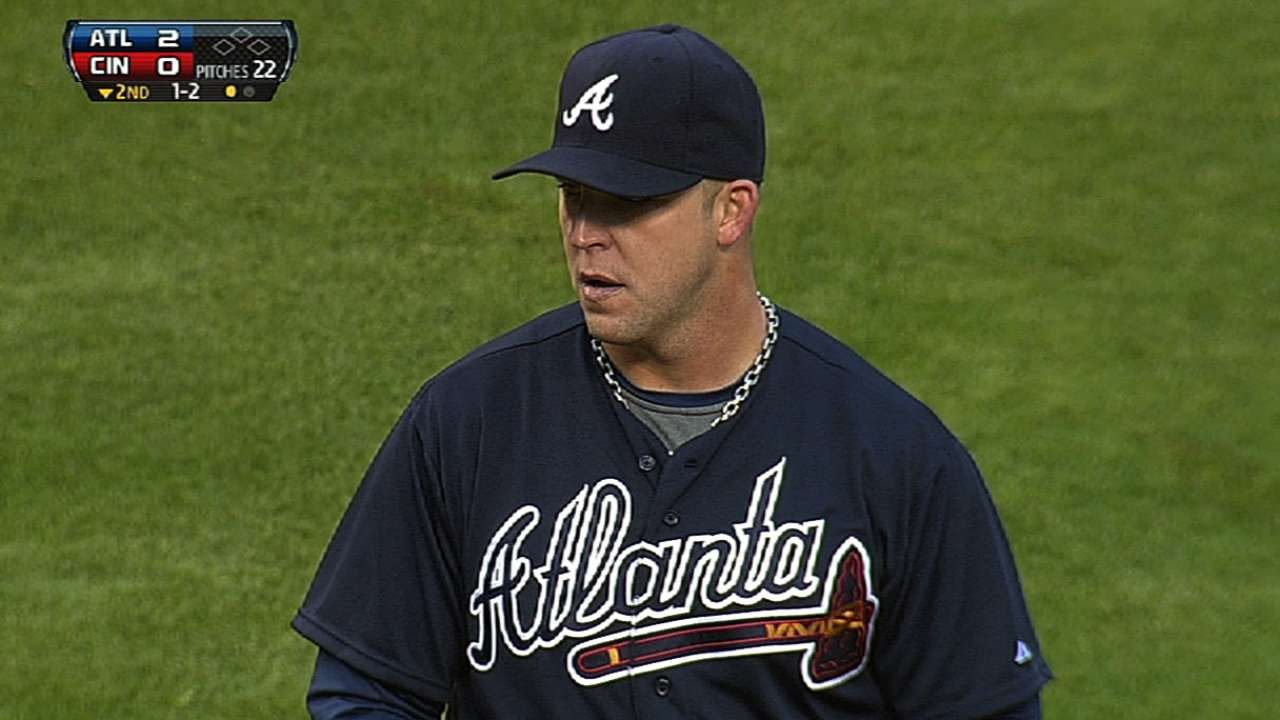 CINCINNATI -- While Andrelton Simmons stole the show on Monday with the first multihomer game of his career, Braves starter Paul Maholm was quietly solid yet again. He allowed two runs on four hits and had six strikeouts in 5 2/3 innings of work, as he notched his fourth win of the year.
Maholm's most impressive inning may have actually been his worst. He gave up hits to the first three batters he faced in the fourth, including Brandon Phillips, who doubled to left to score Zack Cozart. Suddenly a 3-0 game was 3-1, and the Reds had runners on second and third with no outs.
Maholm could have panicked.
Instead, he induced a groundout from Jay Bruce.
"I just wanted Bruce to roll over so I could give up a run and go from there -- and not constantly try and strike guys out," Maholm said. "You end up with four and five runs, rather than just getting out of there with limited damage."
Bruce's groundout scored Joey Votto, but Maholm struck out Todd Frazier and retired Devin Mesoraco to strand Phillips at third -- and retain a 3-2 lead.
Maholm has been one of the National League's most underrated pitchers since last July. His ERA by month has been 1.23 (July 2012), 2.45 (August), 5.40 (September), 3.30 (April 2013) and, through two starts in May, 2.63.
It appears things started to click for Maholm in 2011. After posting an ERA of 4.44 in 31 starts in 2009 and an ERA of 5.10 in 32 starts in 2010, Maholm posted a 3.66 ERA in '11 and a 3.67 ERA in '12.
In '13, he has a 3.09 ERA and has allowed three earned runs or fewer in six of his seven starts.
"Obviously, I've had my bumps in the road," the 30-year-old Maholm said, reflecting on his career. "I think it's learning, it's maturing, it's understanding you don't have to throw so many fastballs. An out's an out. That's the biggest thing. If the team's weakness is offspeed, I'm going to throw offspeed. For me, I'm comfortable with doing that.
"I think it's just the learning curve of going through it for awhile and getting your teeth kicked in a few times and learning there's a different way to do it."
Tony Meale is a contributor to MLB.com. This story was not subject to the approval of Major League Baseball or its clubs.