Astros' moves make them more athletic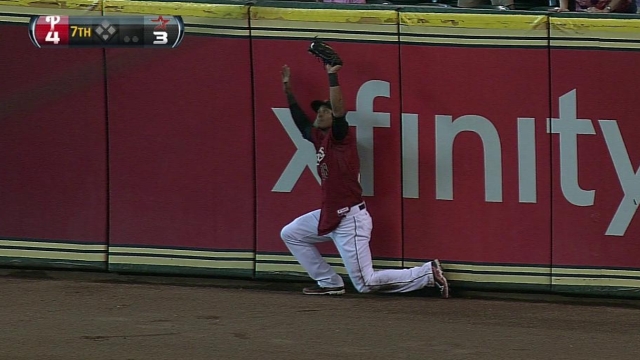 HOUSTON -- The decision to get rid of outfielders Rick Ankiel and Fernando Martinez on Monday had more to do with their lack of offensive production -- and high strikeout rates -- than anything else, but the Astros' outfield has gotten more athletic in the process.
Even with Justin Maxwell on the disabled list with a broken bone in his hand, the Astros had some athleticism with Robbie Grossman and Brandon Barnes, but the addition of Jimmy Paredes and Trevor Crowe give manager Bo Porter plenty of options in the outfield. Grossman, Paredes and Crowe are all switch-hitters.
Grossman started in left, Barnes in center and Paredes in right on Tuesday against the Angels.
"I think that was something we set out to do," Porter said. "We went out to get more athletic, get more guys who have the ability to mishit the ball and still have a possibility of getting on base because of their athletic ability. We set out to cut down on strikeouts and find guys that were going to put the ball in play more."
Paredes played right field and third base at Triple-A Oklahoma City and was hitting .366 with nine doubles, three triples, three homers and 15 RBIs. He's played all over the infield and outfield in his time with Houston, but Porter said he'll play primarily right field. The Astros are just hoping he can hit.
"When you talk to [RedHawks manager] Tony [DeFrancesco] and some of the scouts I know and that have been scouting our team and scouting the league, they say he's the most exciting player they've seen," Porter said. "You look at the skills and say, 'If this guy's turned the corner, let's find out right now in the big leagues.'"
Brian McTaggart is a reporter for MLB.com and writes an MLBlog, Tag's Lines. Follow @brianmctaggart on Twitter. This story was not subject to the approval of Major League Baseball or its clubs.