Fill-in starter Gomez earns victory for Bucs
McCutchen has second four-hit night of season; Jones homers late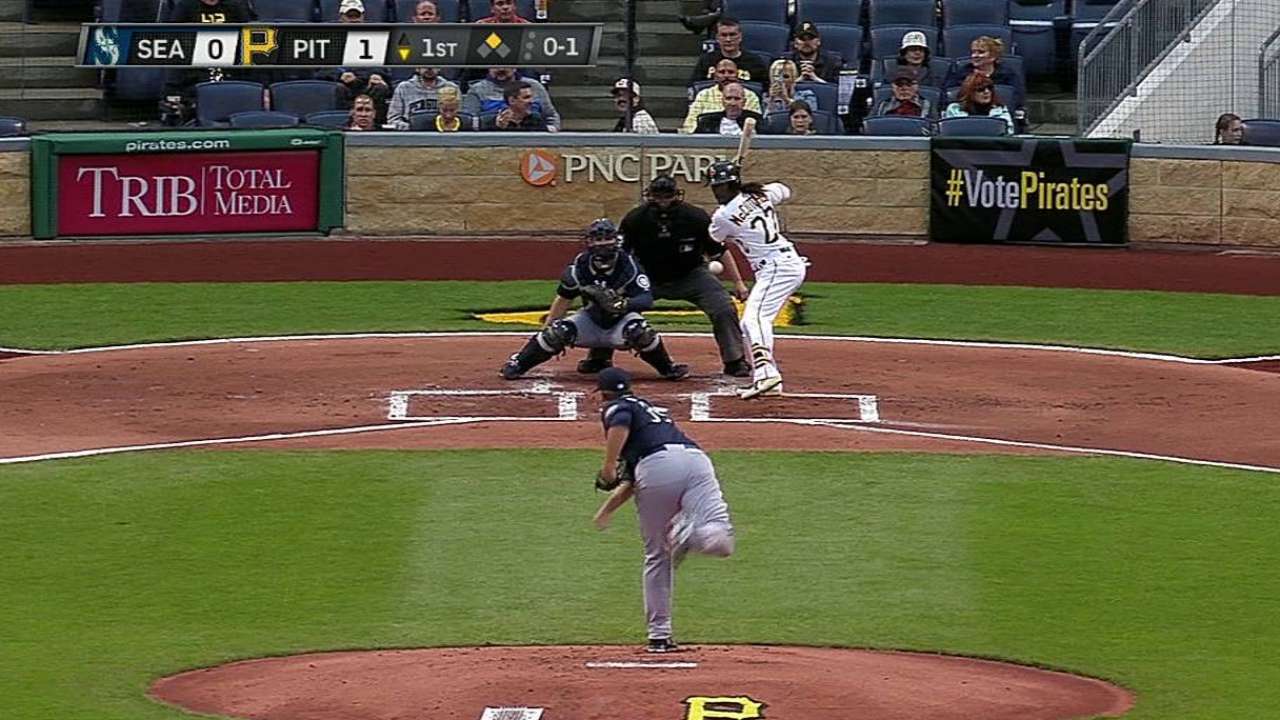 PITTSBURGH -- Jeanmar Gomez came to PNC Park on Tuesday afternoon at the usual time and did his usual thing.
"I played catch. Ran around," he said.
The 25-year-old Venezuelan right-hander looked forward to a relaxing evening, with an uninterrupted view from the Pirates' bullpen. James McDonald was starting the Bucs' Interleague game against Seattle, and not once in six starts had he gotten chased early enough to need Gomez's long-relief help.
Then, at about 4 p.m., McDonald entered manager Clint Hurdle's office. A few minutes later, Gomez entered the office -- and when he came out, the game ball was in his hands.
"Above and beyond the call of duty," Hurdle said hours later of the five shutout innings Gomez had given the Bucs to start them toward a 4-1 victory over the Mariners.
With McDonald watching from the disabled list, placed there prior to the game with discomfort in his pitching shoulder, Gomez hurled two-hit, two-walk ball with five strikeouts.
"He picked the team up big. He picked me up big," said McDonald, who on Wednesday will get results of the doctor's examination he underwent immediately after reporting his discomfort to Hurdle. "I owe him big time. He stepped up really big this time. He has all year."
A later pick-me-up belonged to Garrett Jones who, just as the Bucs' fingernails were about to crack from trying to hold on since grabbing a 2-0 lead in the first, canceled nervous time with a two-run homer with two outs in the eighth.
The home run, off reliever Carter Capps, came with Andrew McCutchen on base with his fourth hit.
"A big home run for us," McCutchen said. "We know [Jason] Grilli is able to close it down with a one-run lead, but to get a couple more runs on board definitely helps."
The Bucs again pushed a veteran pitcher to a first-inning cliff -- this time, righty Aaron Harang -- only to let him regain his footing. Unlike Sunday against Gio Gonzalez and Washington, however, they survived the clemency, thanks to Gomez and five relievers.
The only one to give Harang fits beyond the opening inning was McCutchen, who followed up his RBI double in that first with singles in the third and the sixth, before also picking on Capps in the eighth.
The Bucs' first Interleague game of the season unfolded in the wake of the roster turbulence, as McDonald went on the DL and Gomez took his place on the mound and Josh Harrison took his place on the roster.
"I had already played catch, but they asked me, 'Do you want to pitch?' and I said, OK," Gomez said. "I feel very good about how I pitched. My sinker and slider were good. I didn't throw many changeups, but when I did that was a good pitch, too."
"It wasn't anything crazy. He located things well. It doesn't matter what kind of stuff you have if you locate the ball and move it in and out and up and down," said the Mariners' Dustin Ackley. "You are going to have success and he did that tonight. I thought it was a pretty good performance especially with a guy that probably didn't know he was starting until a couple of hours before the game. That's a big time thing for those guys."
Gomez didn't forget his usual posse: "And what a fantastic job by the bullpen after me."
The "after" followed 66 pitches by Gomez, a very economical 13 per inning. Hurdle, essentially, did not want to push his luck. Certainly not with a bullpen that was rested after Monday's off-day.
"A a guy comes in at 4 and you tell him he's going to start and he gives you five zeroes … I thought we were good," said Hurdle.
The bullpen buddies who teamed up to preserve Gomez's win were lefties Justin Wilson and Tony Watson, then the right-handed chain of Jose Contreras, Mark Melancon and Grilli.
Harang wound up allowing five hits in his six innings, striking out six without walking anyone.
Gomez very likely arranged for some rotation tenure, although Hurdle was not yet ready to commit to him Sunday's start, when McDonald's turn will next come up, in New York against the Mets. Gomez put in his bid, lowering his season ERA to 2.38 for seven games and 22 2/3 innings in a variety of roles.
"We'll wait and talk," Hurdle said. "But I've liked what I've seen, and that's the second time he's answered the bell for us."
Gomez's previous start had come on May 1, after the Pirates had designated lefty Jonathan Sanchez for assignment. The Bucs won that start, too, in Milwaukee.
The Pirates had staged another screening of their own "Groundhog Day" to grab a 2-0 lead in the first, as Starling Marte led off with an infield single in front of consecutive RBI doubles by Travis Snider and McCutchen.
It cannot last, obviously, but Marte getting on base to begin a game is falling into the sun-rises-in-the-east file of inevitability. The hit made him 16-for-26 leading off games; and if that .615 average isn't mind-blowing enough, his on-base percentage in that situation is .677 (21-for-31).
Tom Singer is a reporter for MLB.com and writes an MLBlog Change for a Nickel. He can also be found on Twitter @Tom_Singer. This story was not subject to the approval of Major League Baseball or its clubs.