Harang steadies after first, but Mariners fall to Pirates
Ibanez's pinch-hit RBI double accounts for lone Seattle run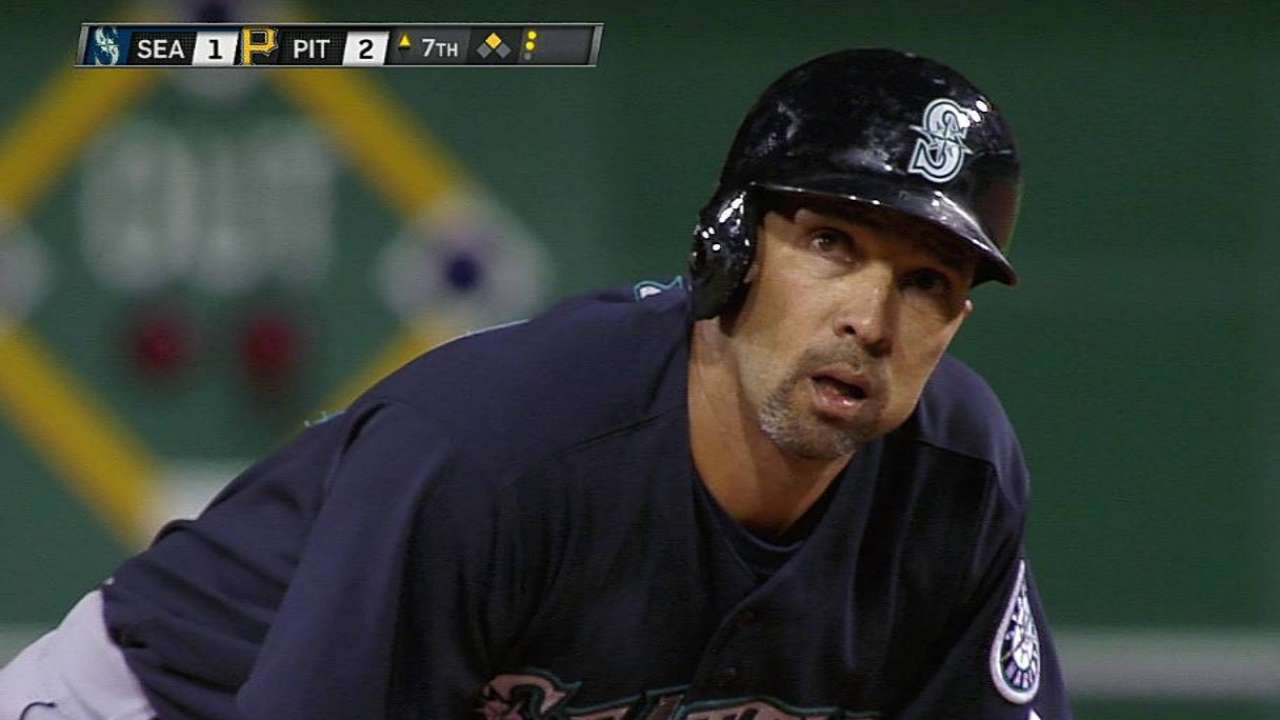 PITTSBURGH -- The Mariners could not solve Pirates spot starter Jeanmar Gomez and suffered a 4-1 loss at PNC Park on Tuesday night.
It was Seattle's first trip to the Steel City since 2004. The loss was the second straight for the Mariners, who have won seven of their last 11.
Aaron Harang, after a shaky start, settled down and tossed six strong innings. The right-hander gave up two runs on five hits and dropped to 1-4 on the season.
"[Harang] was really good," Mariners manager Eric Wedge said. "I even talked to him after taking him out, those last three innings in particular, that's probably about as good as we've seen him. That was good to see, I wanted him to finish on a good note. He was in the upper 90s through six innings, so he is starting to put it together a little bit."
Gomez got the start in place of James McDonald, who was placed on the disabled list two hours prior to first pitch. The right-hander responded with five scoreless frames, giving up only two hits and recording five strikeouts. Gomez notched the win, upping his record to 2-0.
"We didn't have much on Gomez," Wedge said. "A last minute switch, be that as it may, everybody scrambled to do the best job they could, but the kid pitched a good ballgame. He did a good job with the sinker and did a good job with the slider and kept sweeping it off the plate."
"It wasn't anything crazy," Dustin Ackley said of Gomez. "He located things well. It doesn't matter what kind of stuff you have if you locate the ball and move it in and out and up and down. You are going to have success and he did that tonight. I thought it was a pretty good performance especially with a guy that probably didn't know he was starting until a couple of hours before the game. That's a big time thing for those guys."
Pirates center fielder Andrew McCutchen gave a tip of the cap to Gomez.
"You hate for J-Mac to have to go on the DL, but to have Gomez step up … he's done it before," McCutchen said. "When you don't have any expectations of starting, and next thing you know you're in there, that can be tough. But he took it and went out and did an amazing job."
The Pirates jumped on Harang in the first. Starling Marte beat out an infield single and scored on a double by Travis Snider, and then Andrew McCutchen stroked a double to drive in Snider and give the Pirates a 2-0 lead.
"There were two pitches that just stayed middle," Harang said. "It was a slider to McCutchen that was middle of the plate, and then with two strikes I was trying to throw a front hipper to Snider and started it out and it didn't really move. It just stayed kind of middle to middle in, and it was up a little bit. But after that, I was able to execute some pitches. I was starting to split my hands a little sooner and felt like I was able to get a good direction and I found a good rhythm with my timing."
The Mariners sliced the Pirates' lead to 2-1 in the seventh. With one out, Ackley singled off Tony Watson, and then right-hander Jose Contreras replaced Watson. Pinch-hitter Raul Ibanez doubled to knock in Ackley.
Garrett Jones sealed the deal in the eighth. With two outs and McCutchen on first, Jones smacked a two-run homer off Carter Capps, giving the Pirates a 4-1 lead.
"He hit a fastball," Capps said. "I looked at it and Kelly Shoppach said it was a little in, it looked more middle to me and it was over the plate."
"That's tough that late," Wedge said. "You're working hard to try and keep it a one-run game. If you keep it a one-run game, you've got a chance, anything can happen in the ninth inning. But their guy put up a good at-bat and fought through it and got a good pitch to hit and took care of."
Pirates manager Clint Hurdle was pumped up about Jones' fourth home run of the season.
"Big breath of fresh air," Hurdle said. "We were well aware of what we weren't able to accomplish. We let another opportunity get away from us in the first inning. So after Jones got to 0-and-2, to put that swing on that ball, was very welcome."
The Pirates' bullpen closed it out with right-hander Mark Melancon pitching a scoreless eighth and closer Jason Grilli picking up save No. 13 with a perfect ninth.
George Von Benko is a contributor to MLB.com. This story was not subject to the approval of Major League Baseball or its clubs.