Astros ride five-run third back into win column
Carter's homer off Halos' Wilson puts Houston on top for good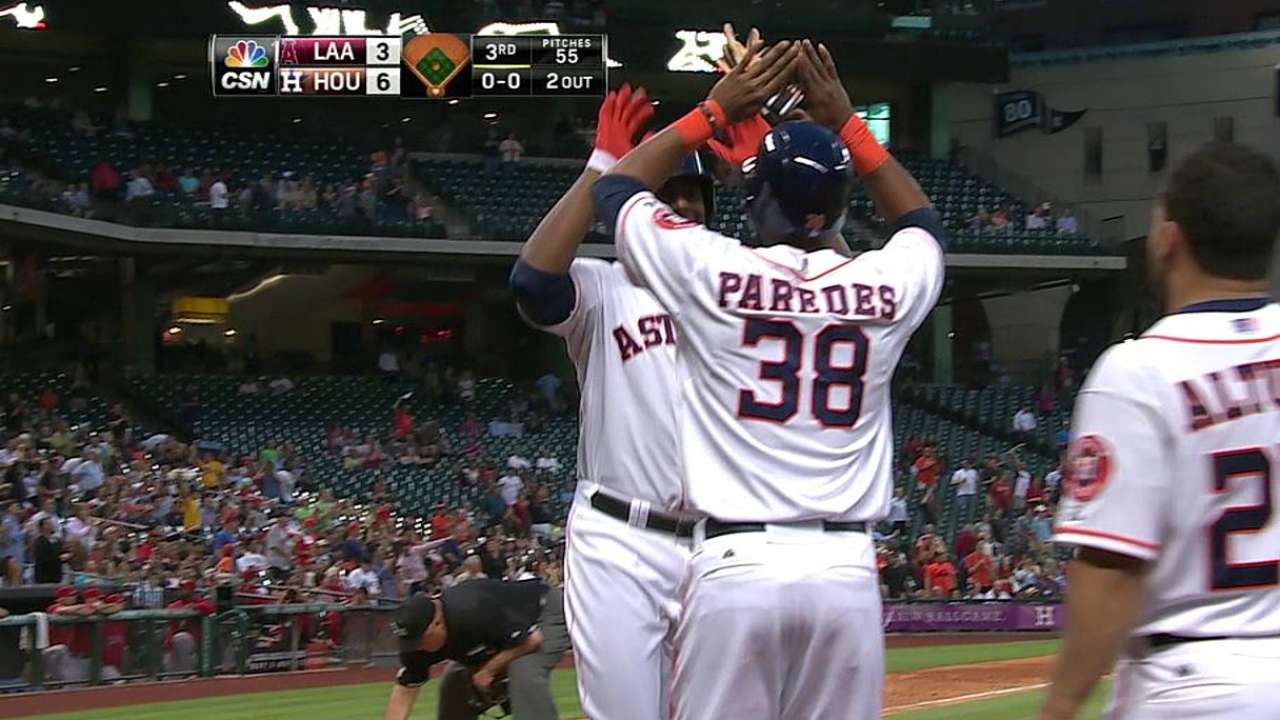 HOUSTON -- The Astros made a flurry of roster moves Monday to tinker their offensive philosophy, giving up some home runs -- and, more importantly, plenty of strikeouts -- in exchange for some speed and athleticism.
The moves were done with the hope that guys like Robbie Grossman, Jimmy Paredes and Jose Altuve could wreak havoc at the top of the order, all the while setting the stage for the sluggers to still be able to break things open with one swing of the bat.
The plan worked to perfection Tuesday night, when the Astros pushed the tempo on the bases and watched Chris Carter cap a five-run third inning with a three-run blast as Houston held on for a 7-6 win over the struggling Angels at Minute Maid Park.
"You look at moves we made and putting speed at the top of the lineup, it was evident today how it changed a ballgame," Astros manager Bo Porter said.
The Astros, who had been outscored 26-2 in their previous two games against the Tigers, snapped a six-game losing streak with their first comeback win of the season. They were 0-17 when the opponent scored first entering Tuesday.
Mark Trumbo's three-run homer in the first inning put the Astros in a familiar early hole, but Altuve homered in the first and the Astros batted around against C.J. Wilson to take a 6-3 lead in the third. The five runs they posted were more than they had scored in 10 of their 11 previous games.
"Everybody was being aggressive today, and the home run I hit was real big for the game," Carter said. "It changed everything."
Astros closer Jose Veras, who two days earlier called a team meeting to try to change the culture in the clubhouse, worked a 1-2-3 ninth inning for his third save in five tries, striking out Mike Trout to end the game.
"When you have the intensity we had today, you have a lot of chance to win a ballgame," Veras said. "That's what these guys did. They didn't try. They did it. We were hungry to win, and that's what it's all about. When you do that and the pitching can hold the game, you have a good chance to win the ballgame."
Jordan Lyles, making his second start since being recalled from Triple-A, regrouped following the Trumbo blast and retired 14 of the final 17 batters he faced. He earned his first win of the season by allowing three runs and four hits in five innings.
"I threw the ball a little bit better tonight than I did last outing, just from the fact of being down, 3-0, and putting up some zeros against a pretty good offense to give our team chance to win," Lyles said.
Porter only allowed Lyles to throw 82 pitches and told him when he took him from the game he would ask more of him later in the season.
"I told him when I went down to take him out of the game, I said, 'There's going to come a time where I will ride you a whole lot longer, but right now is not that time,'" Porter said.
Wilson tied a career high with 12 strikeouts and wound up with a quality start because only two of the seven runs he allowed in 6 1/3 innings were earned, but the Carter homer loomed large.
"In that third inning, we needed a big pitch and he made a mistake and Carter didn't miss it," Angels manager Mike Scioscia said. "It was probably the one pitch [Wilson] might like to have back. It wasn't in enough. "
Grossman, Paredes and Altuve combined to go 4-for-10 with five runs scored, a home run, three RBIs and three stolen bases -- two by Grossman and one by Altuve -- at the top of the order. They set the tone in the third with aggressive base running that helped lead to a pair of errors by Angels catcher Hank Conger. He made a third error in the seventh on a double steal by Altuve and Grossman, with Grossman scoring on the play with the winning run and Altuve getting thrown out at the plate.
"That [power] dynamic is still in our lineup," Porter said. "The guys we added just added a different dynamic that we hadn't had the first portion of this year, and it puts an extreme amount of pressure on your defense to try to get rid of the ball faster."
Still, the Angels trailed by only a run after Alberto Callaspo hit a two-run homer off Travis Blackley in the eighth, but Veras wasn't going to let his teammates down.
"You can feel it in the dugout, you can feel it in the clubhouse...the intensity," he said. "Guys said, 'No more, let's go. Let's start over and go out with the same hunger we had in Spring Training.' That's what it was all about, the intensity they had to today. It was unbelievable."
Brian McTaggart is a reporter for MLB.com and writes an MLBlog, Tag's Lines. Follow @brianmctaggart on Twitter. This story was not subject to the approval of Major League Baseball or its clubs.