Mesoraco, Choo go back-to-back for wild win
Reds walk-off on Braves on consecutive homers with two outs in ninth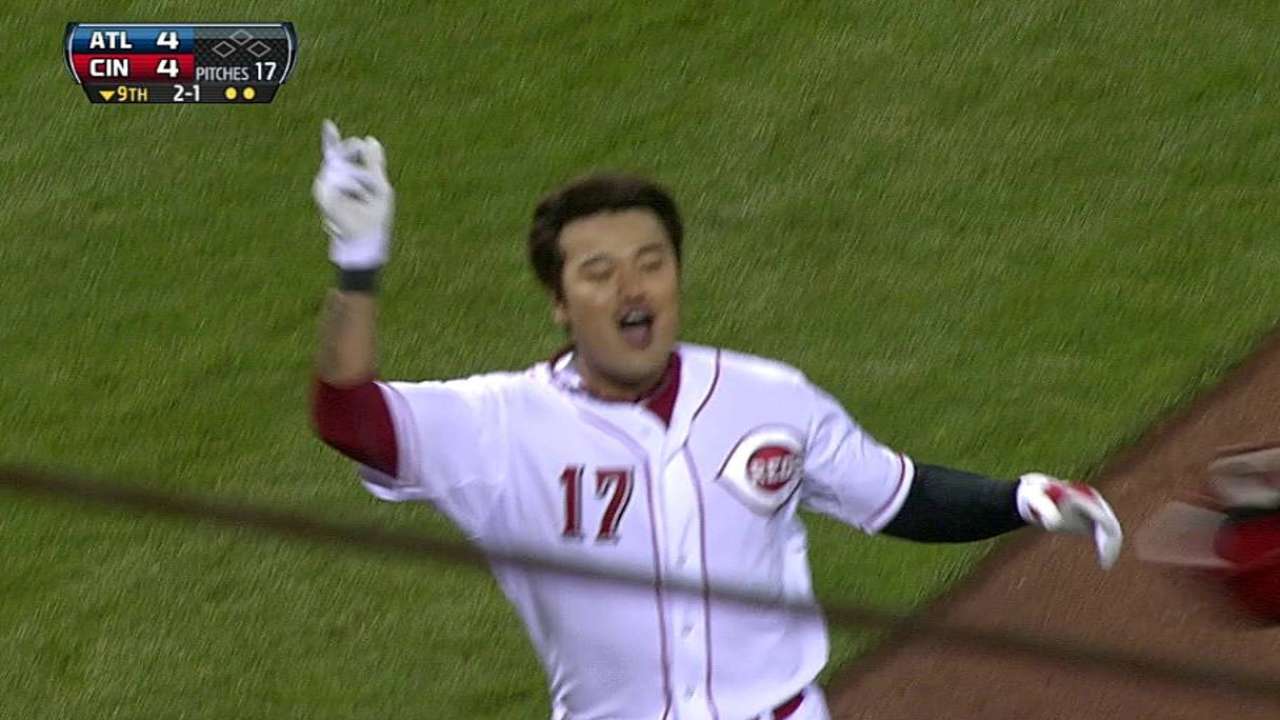 CINCINNATI -- The 27th out was just one strike away from being notched by the Braves on Tuesday night and the Reds were just about done against closer Craig Kimbrel.
If anyone has seen "The Princess Bride," they know there's a big difference between being mostly dead and all dead. Mostly dead is slightly alive. And then along came Devin Mesoraco and Shin-Soo Choo to bring the Reds all the way back to life.
Mesoraco and Choo hit back-to-back home runs in the bottom of the ninth inning off Kimbrel to give the Reds the most thrilling of walk-off victories, 5-4, over Atlanta at Great American Ball Park.
"That's exciting. That's why you play nine and play all the outs," said Reds manager Dusty Baker, who also notched career victory No. 1,600 to pass Tommy Lasorda for 18th on the all-time list. "You never really know. We beat one of the best closers in the game today."
The Reds trailed by a 4-3 score with two outs, and Mesoraco appeared as a pinch-hitter.
"You always have to be ready," Mesoraco said. "It's definitely a change for me to pinch-hit in a spot like that, but it was enjoyable. The juices get flowing pretty quick."
Mesoraco saw a first-pitch slider and four fastballs -- with the fourth one a called strike two. The next pitch was a 96-mph heater that Mesoraco scorched to right-center field. B.J. Upton made a leaping attempt at the wall, but the ball landed in the first row to tie up the game.
"Against a guy like that, I'm just trying to battle and put a good swing on the ball," said Mesoraco of his first career pinch-hit homer. "Dusty always says that with two strikes, look for the hardest pitch away. That's what it was. I stayed on it and went the other way. I knew I squared it up. I wasn't sure it was a homer. I was hoping. I wasn't sure. I was watching him, watching him, watching him and then once [Upton] looked up, it was a pretty good feeling."
Mesoraco barely had time to put his helmet away when Choo finished the job. Attacking a 2-1 fastball, there was no doubt about his homer as it landed in the tunnel near the bullpen in left-center field and traveled an estimated 432 feet. It was his second career walk-off homer.
"It was great, especially against the best closer in the league, Kimbrel," said Choo, who also homered in the third and leads the Reds with seven homers and a .333 average this season. "It was a big game for us."
"That was incredible," Mesoraco said. "Choo has been so good for us. It's crazy how good he is playing and how good of a player that guy is. It's fun. He never gives away an at-bat. You always know that, with him up there, we're going to have a chance to get something going."
After rounding third base, Choo chucked his helmet into the air as he approached home plate, where the welcoming party waited to pound on him in celebration. Meanwhile, Kimbrel could only walk off the field and try to put it behind him.
"It was a fastball exactly where he wanted it, that's what it was," Kimbrel said. "And the game's over and you come back tomorrow."
The Reds spent the whole game playing from behind as starting pitcher Homer Bailey labored over his five innings. Bailey gave up a blooped double by Andrelton Simmons to start the game, and by the time he faced eight batters in the first, he allowed three runs and threw 41 pitches.
But Bailey didn't go away quietly and did not allow another hit until the fifth inning. Another run crossed on a Freddie Freeman single to give the Braves a 4-1 lead.
While giving up four runs and five hits with four walks, Bailey also struck out seven. It was the sixth straight game the Reds did not get a quality start.
"Homer settled down big time," Baker said. "He had a bunch of pitches in the first inning. We didn't want him to go two or three innings because then my bullpen would have been wrecked. He did his job. I have to commend him. I told him after the game going five innings was gutsy and heads up. He kept us in the game and put us in position to win."
Cincinnati's bullpen pitched masterfully and retired the final 12 Braves batters, as Sam LeCure worked two innings and Sean Marshall and Jonathan Broxton each threw one.
In the bottom of the eighth, the Reds rallied with a pair of one-out hits and came away with a Brandon Phillips sacrifice fly to keep it close.
"We have such a good-hitting team," Bailey said. "I know there was a little stretch there where we weren't showing it as much. The game of baseball always comes around in a circle. We knew it was going to happen. Now to see them getting hot, especially off of Kimbrel, whose numbers speak for themselves, to come back like that shows a lot about this team."
Had the Reds lost the game, they would have dropped the first two of three games vs. the Braves and lost their first home series. Now they have a chance to return Wednesday to take the rubber game.
"You look back upon that game and who knows? They might have been the [difference for the] pennant winner or might have been the game that gives us home-field advantage against these guys," Baker said. "Those guys will be somewhere around the top when the smoke clears. That was a big game for us."
Mark Sheldon is a reporter for MLB.com. Read his blog, Mark My Word, and follow him on Twitter @m_sheldon. This story was not subject to the approval of Major League Baseball or its clubs.