Kimbrel, Braves stunned by back-to-back homers
Trying to lock down his 100th career save, closer beaten with two outs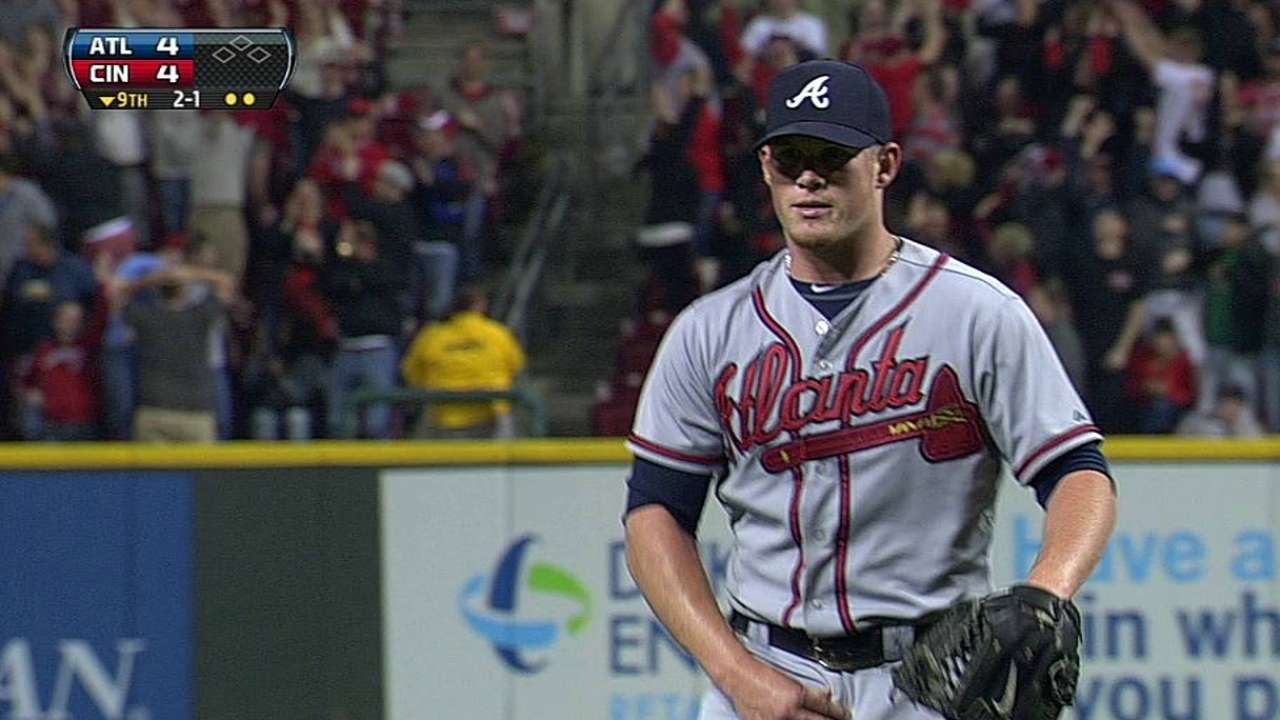 CINCINNATI -- Vying for his 100th career save, Atlanta Braves closer Craig Kimbrel gave up back-to-back two-out solo home runs to Devin Mesoraco and Shin-Soo Choo in the ninth inning, as the Reds notched a stunning 5-4 victory at Great American Ball Park on Tuesday.
"The last three outs of the game are usually the toughest ones to get," Braves manager Fredi Gonzalez said. "And we didn't get them."
Atlanta led, 4-3, when Mesoraco sent a 3-2 pitch 392 feet to deep right-center field. It was his first home run of the season and the first pinch-hit homer of his career.
"I thought the pitch to Mesoraco was a good pitch, down," Gonzalez said. "He drove it to straightaway center. I didn't think it had a chance to go out, but it just kept carrying and carrying. Even then, I thought B.J. [Upton] had a shot at it."
He didn't.
"It's 3-2," Kimbrel said. "In that situation, you don't want to walk him with Choo on deck. He hit it, and in this ballpark it went out."
Said Mesoraco: "Against a guy like that, I'm just trying to battle and put a good swing on the ball. [Reds manager] Dusty [Baker] always says that with two strikes, look for the hardest pitch away. That's what it was. I stayed on it and went the other way. I knew I squared up. I wasn't sure if it was a homer. I was hoping."
Choo followed with the game-winner -- a 432-foot shot to left-center. It was Choo's second career walk-off homer.
"It was a fastball exactly where he wanted it, that's what it was," Kimbrel said. "And the game's over and you come back tomorrow."
Kimbrel has now blown three saves in his last five appearances.
"I feel like those are three wins we should have under our belts," he said. "It's just frustrating. I just feel like I can't get it done. I can't get it done right now."
Kimbrel's blown save spoiled a hot start for Atlanta. The Braves scored three runs on three hits in a 41-pitch first inning off Reds starter Homer Bailey and got an outstanding effort from righty Kris Medlen.
The Braves rocked a Reds starter for the second straight night. On Monday, Atlanta made the typically efficient Bronson Arroyo throw 28 first-inning pitches and scored one run off him in four of the first five frames.
Tuesday didn't feature quite the same slow bleed.
Brian McCann, who made his season debut on Monday after missing five weeks while recovering from right shoulder surgery, got his first hit of the year, ripping a two-out bases-loaded single to right field to give Atlanta a 2-0 lead.
Dan Uggla followed with an RBI single to left-center to make it 3-0. Uggla has hit safely in five straight games, during which he is 7-for-20 (.350).
Bailey entered the game as the National League's top night-game pitcher, having posted a 0.43 ERA in three evening outings. He settled in somewhat after the first inning but never looked entirely comfortable. He allowed four runs on five hits in five innings and threw 97 pitches, walking four and striking out seven.
Atlanta shortstop Andrelton Simmons, who was moved from eighth in the order to leadoff after going 3-for-4 with two home runs and a career-high four RBIs on Monday, went 1-for-4 with a double. He also robbed Jay Bruce of a hit in the fourth, diving to his right to snare a grounder and then firing to first for a bang-bang out. Simmons made another bang-bang play in the eighth, bare-handing a grounder to beat Choo at first by a split second.
Choo got the Reds on the board with a two-out home run to right-center in the third inning. The homer, Choo's sixth of the year, traveled an estimated 386 feet.
"I thought I threw not a good pitch, but a great pitch -- a pitch that I get a lot of guys out with," Medlen said. "But he put a pretty good swing on it."
Choo's homer was the Reds' only hit in the first four innings.
Medlen, who had lost three straight starts, was dominant early and sharp throughout. The Reds put a runner on third with one out in the sixth inning, but Medlen got out of the jam, striking out Bruce and inducing a lineout from Xavier Paul.
Medlen allowed two runs on four hits in seven innings. He threw 99 pitches -- 68 for strikes -- and struck out six while walking two.
I was using both sides of the plate really for the first time this year consistently, throwing in and out for strikes," Medlen said. "That's the best I've felt."
Medlen left with a 4-2 lead, but the Braves didn't score after the fifth inning.
"When you don't add on in this ballpark against that club," Gonzalez said, "you're going to get yourself in these situations."
Still, Gonzalez felt good about handing the ball to Kimbrel with the lead.
"I've been relatively good about keeping it in the ballpark so far in my career until the last week or so," Kimbrel said, "so I've got to figure some things out and keep it in the ballpark.
"It's not going to affect my confidence. It's just going to push me to go out there and go harder, I can tell you that. I can't wait to get back on the bump."
Said Gonzalez: "Hitters go through their little slumps; pitchers do the same. "We've got to get over it, come out tomorrow and still try to win the series. That's what we try to do always."
Tony Meale is a contributor to MLB.com. This story was not subject to the approval of Major League Baseball or its clubs.