Cardinals, Lynn see streaks end in loss to Cubs
Club's six-game run halted; strong righty takes first defeat since Sept. 7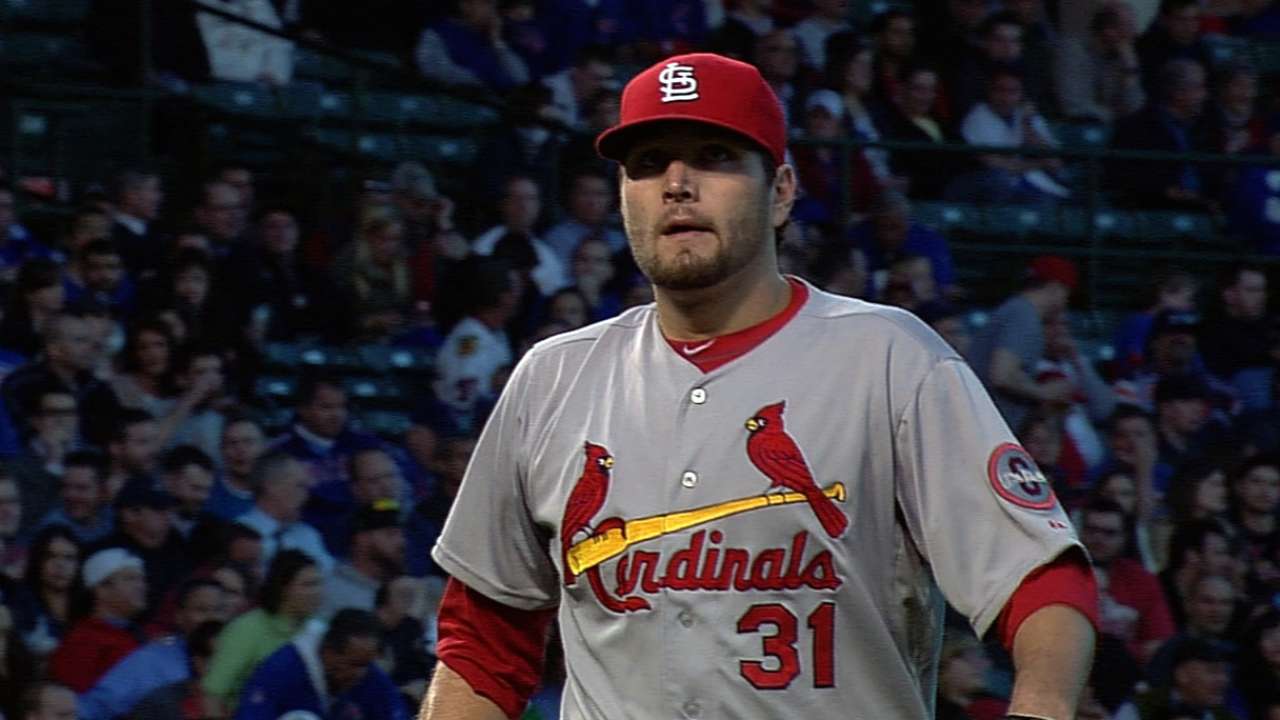 CHICAGO -- A Cardinals club that bashed its way to 29 runs over a four-day span in Milwaukee couldn't sustain the offensive output on Tuesday night. Nate Schierholtz's two-run blast off Lance Lynn in the fourth trumped an earlier homer from Allen Craig and lifted the Cubs to a 2-1 win in front of 30,161 at Wrigley Field.
The loss snapped the Cardinals' six-game winning streak and ended their string of consecutive road wins at seven.
"I really didn't think that [Schierholtz's home run] was going to be enough to do it, but it was," manager Mike Matheny said. "We just couldn't stack it up against [Cubs lefty Travis] Wood. Not very often do you see one pitch beat you."
Craig, who remained homerless until his 30th game of the season, wasted little time picking up his second. He delivered a solo shot off Wood to lead off the second. But Lynn, who entered the night averaging a National League-best seven runs of support, would get no more.
He let the one-run lead slip away in the fourth, an inning Alfonso Soriano extended with a two-out single. Schierholtz followed with his fourth homer of the season. It was one of the only balls the Cubs hit with much authority in a game where they didn't take an at-bat with a runner in scoring position until there were two out in the eighth.
"I felt really good, and that's the most disappointing part when you look at tonight -- one pitch cost you the game," said Lynn, now 5-1 this season. "That's tough to swallow with how good I felt. ... That's the fun part -- and the [not-so-fun] part -- about this game. You can pitch well and lose and pitch bad and win."
The homer was an isolated hiccup for Lynn, who allowed only two of the last 12 batters he faced to reach in his seven-inning start. Lynn, who has now finished seven innings in four straight outings, had his 10-game winning streak halted with the loss -- his first since Sept. 7, 2012. This also marked his first loss in five career starts against Chicago.
In half of the Cardinals' 12 losses this season, their starter has allowed two or fewer runs.
"It was one of those days where I wish we could have had the win, because he pitched so well today," catcher Yadier Molina said of Lynn. "He located pitches good tonight. The fastball he was locating well -- away and inside. And any time he threw the breaking ball, they chased it."
The Cardinals had other chances to peck away against Wood but weren't helped by going hitless in three chances with a runner in scoring position. Matt Holliday ended the third with a groundout that stranded runners on second and third. Another threat fizzled at the bottom of the order in the fourth after Wood pitched around Pete Kozma to face Lynn.
The bases were left full when Lynn struck out.
"When he's getting that inside pitch and putting it right on the corner, that makes it tough," Craig said of Wood. "That's his game, and he really executed his game plan in the middle of the game. We had some runners on, but we couldn't get one of those big innings going."
The Cardinals did push Wood's pitch count up enough to get him out of the game in the seventh, but they would have no better luck against Chicago's perpetually wobbly 'pen. Carlos Marmol, whose control problems have already cost him the closer's role, built up sufficient drama, but closed the seventh and eighth without coughing up the lead.
With one aboard and two out in the seventh, Holliday just missed driving Marmol's slider out to deep center. Molina's single and two-out walk then sparked the Cardinals' rally in the eighth.
Molina, after swiping second earlier in the inning, took instruction from the dugout to try and take third on Marmol's 1-2 offering to Kozma. It was, Matheny said afterward, a called double steal designed to push the tying run up 90 feet, to move the potential go-ahead run into scoring position and to capitalize on Marmol's slow delivery time for home.
"I was trying to be aggressive," Molina said. "I was trying to make something happen. ... Because of my speed, if [Kozma] gets a base hit, it's going to be tough for me to score from second. I was just trying to be aggressive."
Cubs catcher Welington Castillo saw Molina gradually extending his lead and signaled to Marmol to be aware. Marmol paused long enough before beginning his motion to trick Molina into breaking. Marmol threw to third for the easy inning-ending out.
"We know the tendencies of Molina -- he likes to sneak steal when nobody is paying attention," Cubs manager Dale Sveum said. "We took advantage of his aggressiveness in those situations."
"We're being aggressive," Matheny said. "It's on me."
The Cardinals would not threaten again, going quietly in the ninth against newly appointed Cubs closer Kevin Gregg, who has converted all five of his save opportunities.
"That whole club over there is outstanding," Wood said. "They have good players, solid players. It's a real confidence booster for us to come in and take Game 1 from them."
Jenifer Langosch is a reporter for MLB.com. Read her blog, By Gosh, It's Langosch, and follow her on Twitter @LangoschMLB. This story was not subject to the approval of Major League Baseball or its clubs.