Quality assurance: Wood pitches Cubs past Cards
Starter extends remarkable start to season, backed by Schierholtz's HR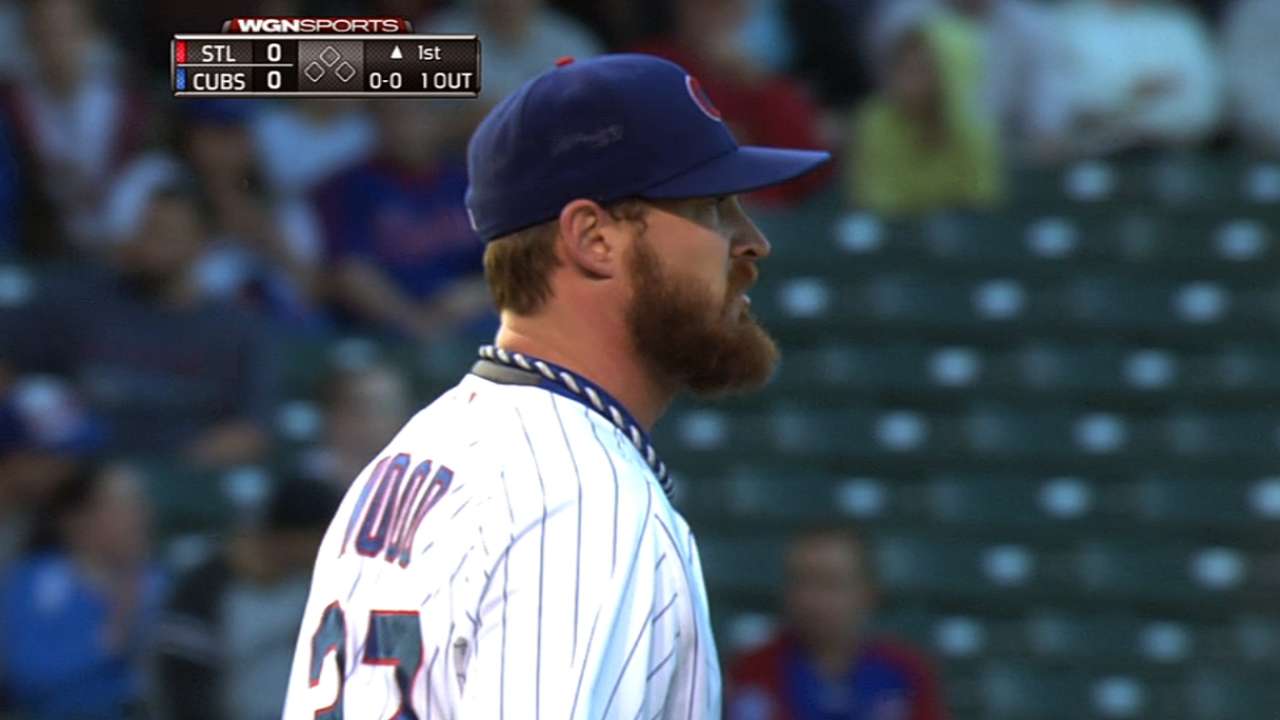 CHICAGO -- For Travis Wood, it's all about quality.
Wood posted his seventh straight quality start, and Nate Schierholtz hit a two-run home run, to lift the Cubs to a 2-1 victory Tuesday night over the Cardinals at Wrigley Field.
Wood is the first Cubs left-hander in 65 years to begin the season with seven consecutive quality starts since Johnny Schmitz did so in his first seven outings in 1948. Mark Prior is the last Cubs right-hander to open a season with seven consecutive quality starts, doing so in 2003.
"That one is the best, because that's the best right-handed-hitting lineup you're going to face," Cubs manager Dale Sveum said of Wood's outing. "The numbers those guys have against left-handed pitching is about as good as it's going to get. That was very, very impressive again."
Wood struck out eight and scattered five hits over 6 2/3 innings. He was lifted after throwing a season-high 114 pitches, and he received a standing ovation as he exited.
"That's a really good lineup," Wood said. "I was fortunate enough to be able to locate pitches and have good command tonight and keep them off balance and have a good game."
In four starts against the National League Central, Wood is 2-0 with a 1.79 ERA. How's his confidence level right now?
"It's as high as it can be," Wood said. "You've got to stay humble. I'm getting my work in four of the five days, and going out the fifth day and seeing what happens."
He may get an extra day if needed. Sveum doesn't want to mess up the lefty's routine, though.
"He's the best starter in baseball, pretty much," Sveum said. "He's figured it out. We talked about it at the end of last year and in Spring Training about how he's able to pitch to both sides of the plate, and arm side -- that's one thing he couldn't do -- and now he can do just about anything he wants with the ball."
Best starter in baseball?
"That's a strong statement," Wood said.
Both the Cardinals and the Cubs have had solid starting pitching this season. The biggest difference between the two teams is what they do with runners on base. St. Louis is batting .328 with runners in scoring position, while Chicago is hitting .187, worst in the Major Leagues.
Allen Craig didn't wait for anyone to get on in the Cardinals' second, when he led off with his second home run of the season. He's now 5-for-13 with two home runs off Wood.
"If you look at the numbers for him off me, they're not pretty," Wood said. "That whole club over there is outstanding. They have good players, solid players. It's a real confidence booster for us to come in and take Game 1 from them."
Alfonso Soriano singled with two outs in the fourth, and Schierholtz launched a 3-1 pitch from Lance Lynn to center field for his fourth home run and a 2-1 lead.
"I just got ahead in the count, got a good pitch to hit and didn't miss it," Schierholtz said.
For the game, the Cardinals were 0-for-3 with runners in scoring position, and the Cubs were 0-for-1.
Lynn suffered his first loss since Sept. 7 and first against the Cubs in five games (four starts).
"He's got command of his fastball, doesn't walk a lot of guys," Sveum said of the right-hander, who allowed four hits and struck out eight over seven innings. "He has velocity, he's got movement on his fastball. The biggest thing is he throws a lot of strikes and is strike one and gets ahead in the count. He's got a couple good breaking balls. He comes right at you and isn't going to hurt himself."
The Cubs got just enough. This was the team's 27th game out of 33 that has been decided by three runs or fewer, and they are now 10-17 in those games.
Carlos Marmol escaped a jam in the eighth, when the Cardinals had runners at first and second with two outs, and Marmol caught Yadier Molina trying to steal third. Cardinals manager Mike Matheny called for a double steal.
"I was trying to be aggressive," Molina said. "I was trying to make something happen. That's the way I play. This time, it didn't work."
The Cubs were prepared.
"The first couple pitches, [Molina] tried to take more of a lead out there, and [catcher Welington] Castillo gave me the sign, and we got him," Marmol said. "I'm glad he made that mistake."
"We know the tendencies of Molina -- he likes to sneak steal when nobody is paying attention," Sveum said. "We took advantage of his aggressiveness in those situations."
Kevin Gregg, who joined the Cubs on April 15 after being released by the Dodgers, is now 5-for-5 in save situations after pitching a clean ninth inning.
"That was our greatest pickup so far up to this point," Sveum said. "His fastball location has been outstanding so far."
The Cubs improved to 5-7 in one-run games and can thank the starting pitching for keeping things close.
"They've been lights-out, and if we score a couple runs, we're definitely going to be in the game," Schierholtz said of the starters. "Pitching did a great job tonight, and they've been great all year."
Carrie Muskat is a reporter for MLB.com. She writes a blog, Muskat Ramblings, and you can follow her on Twitter @CarrieMuskat. This story was not subject to the approval of Major League Baseball or its clubs.