Painful Sox loss manifests with frustrating eighth
Dempster delivers, but injuries and errors help give Twins advantage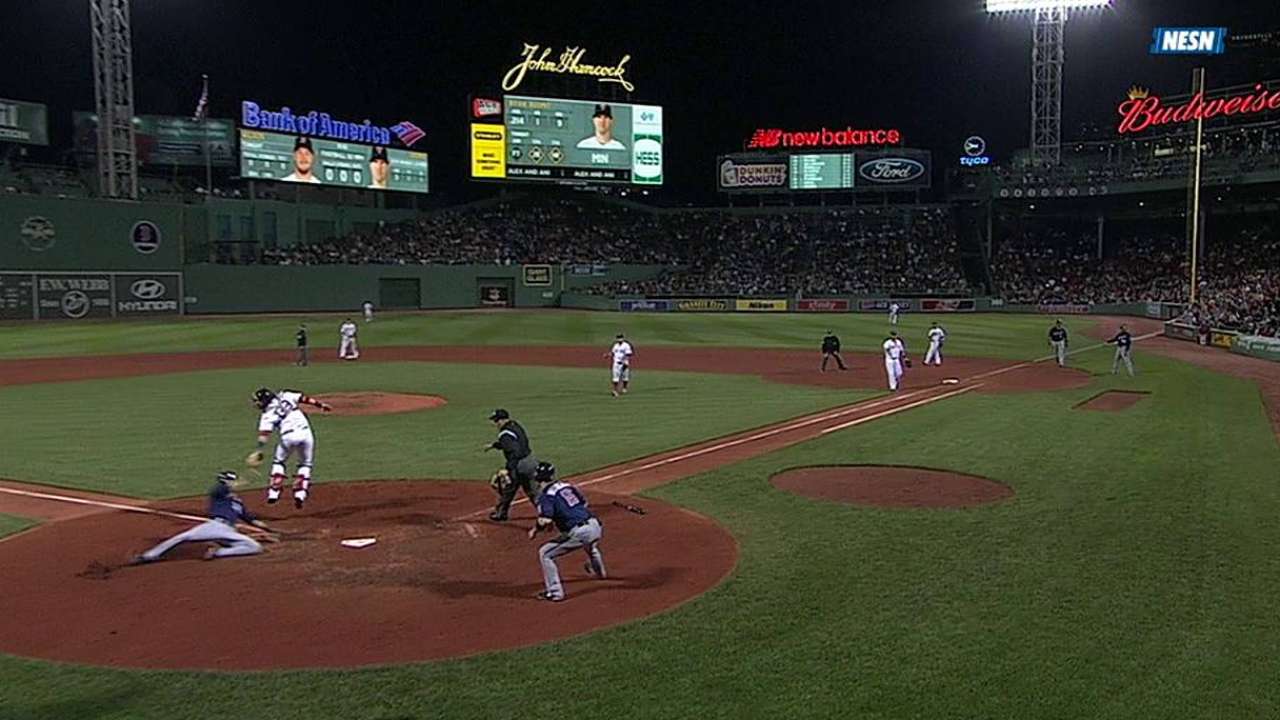 BOSTON -- The unglamorous life of a utility infielder has a two-word slogan for anyone who takes the job seriously: Be ready.
Pedro Ciriaco felt he was prepared for whatever came his way when he was thrust into emergency action on Tuesday night, following an injury to starting Red Sox third baseman Will Middlebrooks.
For whatever reason, Ciriaco's hands betrayed him to start the eighth inning, as he booted two consecutive groundballs that helped lead to his team's 6-1 loss to the Twins.
"That was uncharacteristic of Pedro tonight," said Red Sox manager John Farrell. "He's shown to be a very dependable defender. You know, two miscues are unlike him."
The Twins would go on to score four runs in that inning, breaking open what had been a 2-0 game.
Nobody felt worse about it than Ciriaco, who came out of nowhere last season to become a key contributor for the Red Sox.
"I just missed the ball," said Ciriaco. "I just missed. I've just got to be prepared to be ready and just make that play. I come every day with the mentality to play, be ready. I practice every day. I just missed the ball."
It was that kind of night for Boston. The turning point seemed to be in the top of the fifth in what was actually a highlight reel play.
As third baseman Middlebrooks and catcher David Ross converged on a foul ball, they crashed into each other, with Middlebrooks making a sensational catch.
Ross exited with a left quad contusion. Middlebrooks came out two innings later with right side soreness. By game's end, he was undergoing X-rays and a CT-scan, as the Red Sox were hoping to rule out a significant rib or oblique injury.
This was supposed to be a night off for starting Red Sox catcher Jarrod Saltalamacchia. But he pressed into duty when Ross left the game and was involved in a key play in that eighth inning that didn't go well for his team.
With the bases loaded and nobody out, Ryan Doumit hit a crisp grounder to first baseman Mike Napoli, who fired home for the force.
Saltalamacchia threw back to first for what could have been a double play, but his throw sunk on Napoli at the last instant and got through for an error, allowing another run to score. The error was charged to Saltalamacchia, and the Red Sox were staring at a 6-0 hole.
Farrell and Saltalamacchia were both irate because they felt Doumit was out of the baseline.
"Well, we execute the out at home," said Farrell. "The return throw is low as he's trying to throw around the runner in Doumit. He steps on Napoli's foot, that clearly indicates he's inside the base. The explanation to me was -- I'm still trying to figure out the explanation. I'll just leave it at that. That 45-foot line is there for a reason. He wasn't in it. By the rule, he should have been out."
What was Saltalamacchia's view?
"From my angle, I'm obviously trying to clear myself of the runner and he was clearly inside the baseline," said Saltalamacchia. "The whole way he was almost on the grass. So as a catcher you're taught to just clear yourself as much as possible, but he was getting down the line pretty good. So I just kind of cleared myself and threw it. Obviously, John came out, and being the last catcher, I can't really say too much. But I definitely thought he was inside the baseline."
Before things became discombobulated in the eighth, the story of the night for the Red Sox was Ryan Dempster.
With the bullpen short-handed and missing two key pieces -- Andrew Bailey and Joel Hanrahan -- Dempster did exactly what Boston had hoped. In fact, he was still in the game when the eighth inning started.
Dempster went seven-plus innings while allowing five hits and four runs, just two of which were earned. He walked one and struck out eight.
"I mean, that's your job as the starting pitcher," Dempster said. "You go out there and try to do that. So I was happy with that -- I just wish I could have pitched a little better and given us a chance to win the ballgame."
Twins lefty Scott Diamond didn't give the Red Sox much of a chance to win, firing seven scoreless innings for the win. Diamond gave up three hits and no walks while striking out two.
"I could've set up a rocking chair back there," said Doumit. "He makes it real easy. He's one of the most prepared pitchers I've ever been around. He has a game plan every time out and sticks to it. Nights like this are fun. That's a really good baseball team over there and to only give up three hits against a lineup like that is impressive."
Dempster and Diamond took a scoreless game into the fifth.
Dempster blinked first, ever so slightly. Doumit drilled a liner to right out of the reach of the diving Shane Victorino for a double. Dempster balked Doumit to third. With one out, Wilkin Ramirez came through with an RBI single to make it a 1-0 lead.
Doumit again took a big swing against Dempster in the seventh, this time belting a solo homer to make it 2-0.
"I made two mistakes, and he took advantage of both of them," said Dempster. "You tip your cap. Sometimes you get away with mistakes. I didn't get away with mistakes today."
Ian Browne is a reporter for MLB.com. Read his blog, Brownie Points, and follow him on Twitter @IanMBrowne. This story was not subject to the approval of Major League Baseball or its clubs.