Diamond's gem backed by late Twins offense
Lefty tosses seven scoreless at Fenway; Doumit hits reviewed homer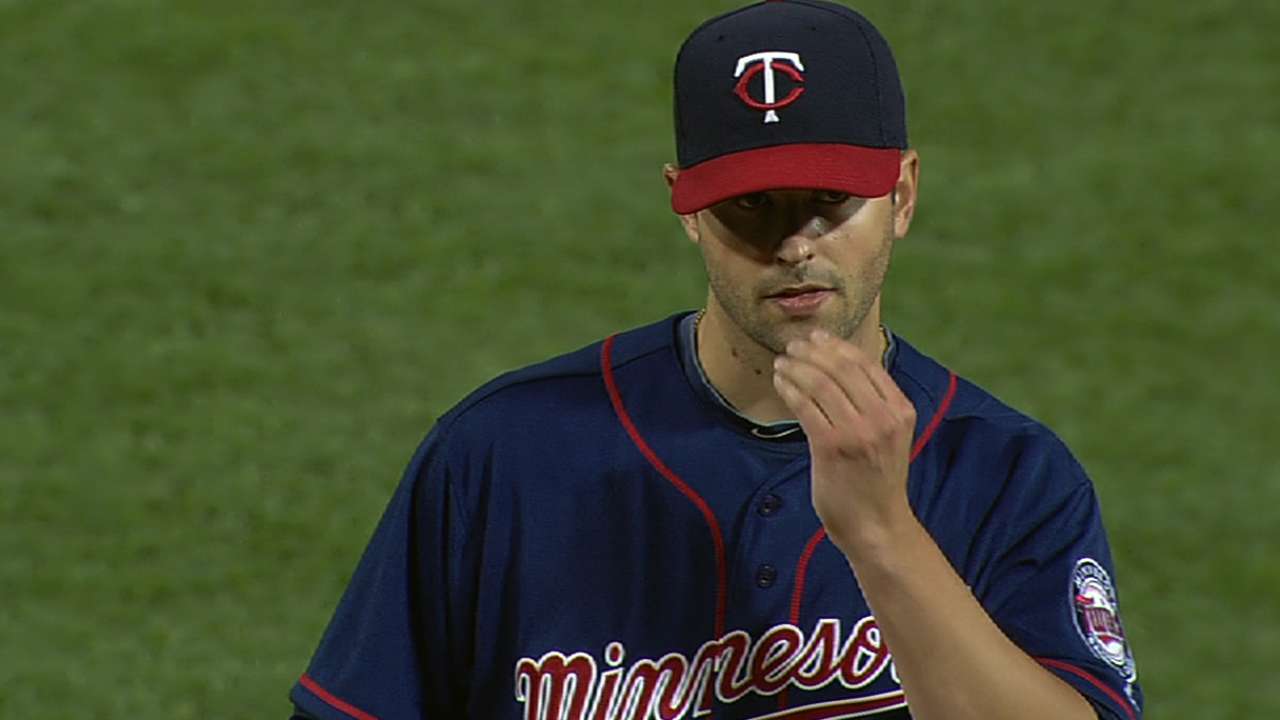 BOSTON -- So far for Scott Diamond, there has been no sophomore slump.
Diamond, who was a pleasant surprise for the Twins as a rookie last year, is out to prove his impressive rookie campaign was no fluke. And so far, he's doing just that in the early going despite starting the year on the 15-day disabled list after having a bone chip removed from his left elbow in December.
Diamond recorded his fourth straight quality start and Ryan Doumit homered to help back him offensively, leading the Twins to a 6-1 win over the Red Sox on Tuesday night at Fenway Park.
Diamond, making his fifth start of the season, turned in his best outing, tossing seven scoreless innings to pick up his third win. The left-hander allowed just three hits and struck out two without issuing a walk.
"Everything is getting back in sync," said Diamond, who improved to 3-2 with a 3.03 ERA after posting a 3.54 ERA in 27 starts last year. "This is what you always work toward. It feels good to have it happen. But it's still a long season, so we have to continue to build."
Diamond retired the last 15 batters he faced after giving up a leadoff single to Stephen Drew in the third. No Red Sox runner reached second base against Diamond, who gave up leadoff hits in each of the first three innings.
"I could've set up a rocking chair back there," Doumit said. "He makes it real easy. He's one of the most prepared pitchers I've ever been around. He has a game plan every time out and sticks to it. Nights like this are fun. That's a really good baseball team over there and to only give up three hits against a lineup like that is impressive."
Diamond outdueled Boston right-hander Ryan Dempster, who was solid but couldn't quite match his Twins counterpart. Dempster went seven-plus innings, allowing four runs (two earned) on five hits and a walk while striking out eight.
"A very good outing by Ryan Dempster," Red Sox manager John Farrell said. "Unfortunately not much to show for it on our end, and that's not taking anything away from Diamond, who lived on the edge, stayed out of the middle of the plate. Even when he got in a couple of fastball counts, he located well. By the time he was in there, I don't think we had a guy past first base."
Doumit sparked the offense for the Twins, doubling in the fifth and coming around to score on a one-out single from Wilkin Ramirez.
Doumit later connected on his first homer of the year on a solo blast off Dempster in the seventh. The homer, which landed in the first row of the seats atop the Green Monster in left, was reviewed by the umpire crew but was upheld.
"It's nice to get off the schneid," Doumit said. "You don't like looking up at the jumbotron and seeing a zero in the home run department. So it's nice to get one out of the way."
The Twins were helped by shaky defense in the eighth, as Pedro Ciriaco -- who replaced an injured Will Middlebrooks at third base in the seventh -- made back-to-back errors to open the inning.
The errors chased Dempster from the game and reliever Craig Breslow couldn't contain the damage. Joe Mauer made the Red Sox pay with an RBI double to left before Justin Morneau and Trevor Plouffe added back-to-back RBI singles.
Doumit then grounded into a fielder's choice that brought home another run, as catcher Jarrod Saltalamacchia's throw to first base on a potential double play went under the glove of first baseman Mike Napoli for an error.
"We were able to have a big inning near the end there," Twins manager Ron Gardenhire said. "We capitalized on a few mistakes. So it was a nice win for our baseball team."
In the ninth, Saltalamacchia went deep for the Red Sox's lone run off reliever Josh Roenicke, who pitched the last two innings for the Twins. Gardenhire said it was a tough decision to pull Diamond -- who threw 96 pitches -- after the long top of the eighth, but the skipper felt it was the right one.
"It was a big decision to take him out or leave him in but coming off the elbow thing, we're still a little leery of it. We didn't want to push it. We'll push it a little later. But a great performance."
Rhett Bollinger is a reporter for MLB.com. Read his blog, Bollinger Beat, and follow him on Twitter @RhettBollinger. This story was not subject to the approval of Major League Baseball or its clubs.