Milone, A's lose tight battle against Indians
Lefty fires seven strong innings as one unearned run is difference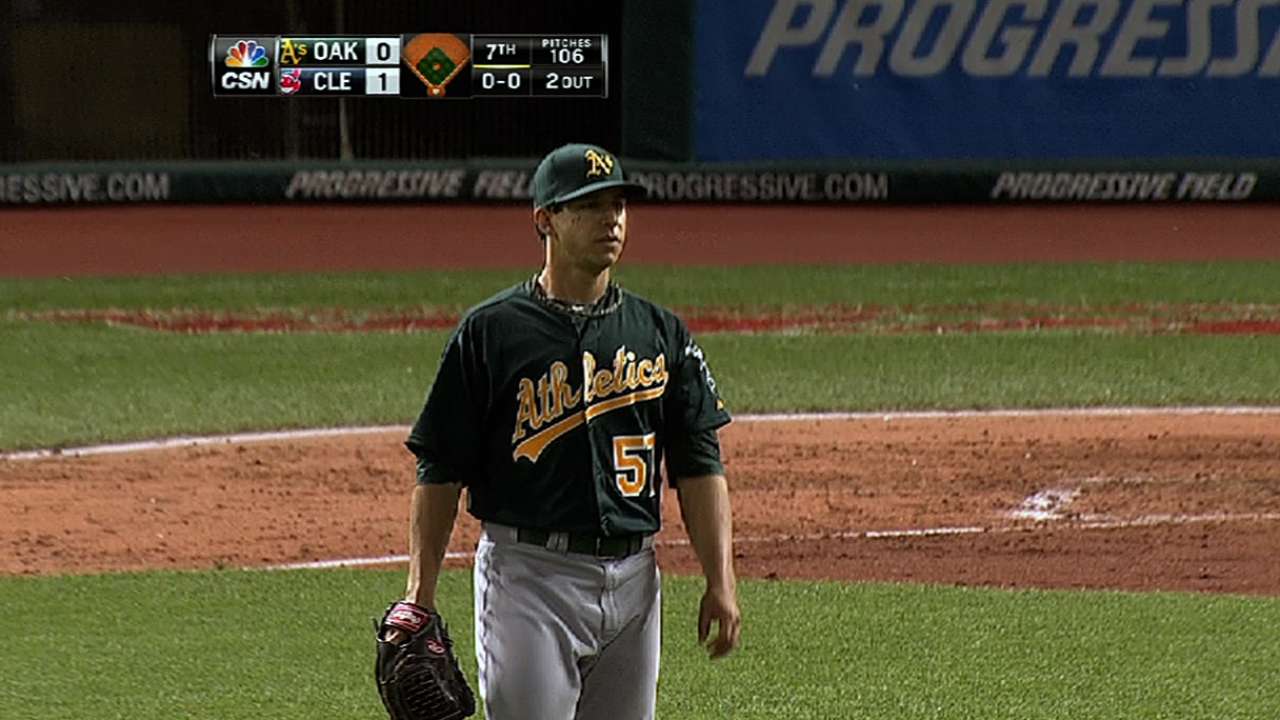 CLEVELAND -- It's a bit odd how often the A's get shut out, considering they lead the Major Leagues in runs scored.
On Tuesday night, Indians starter Zach McAllister and a couple relievers held them down in Oakland's 1-0 loss at Progressive Field. The A's have dropped two straight in the series and 12 of their last 18 games.
The A's failed to add to their runs total of 174 runs, as they were blanked for the fourth time this season, tying the Astros for the most such instances in the American League.
Like McAllister, A's starter Tommy Milone (3-4) was extremely effective, firing seven strong innings with five strikeouts and zero walks. The only run -- Yan Gomes' sacrifice fly in the fifth -- was unearned due to a pair of Oakland errors.
"Milone pitched great," A's manager Bob Melvin said. "It's disappointing when you can't get him a run or two to give him a win after pitching like that. But no, he was terrific.
"And as the game went along, you know, you can't give anything up. Again, it's too bad we couldn't score him a run or two."
Carlos Santana led off the fifth with a sharply-hit grounder that skipped off first baseman Brandon Moss' glove for the first of two A's errors on the play. The ball careened toward second baseman Eric Sogard, who threw it away for the second miscue. That allowed Santana to reach second, and he later scored on the sac fly.
"Moss has got a lot of range over there," Melvin said. "He's got to know his limitations. But he gets out there with a chance to get it, and it tips of his glove, and then Sogie tries to make a throw to Milone, and it didn't work out for us.
"But as a first baseman, your instincts say when the ball is hit to your right and you have a chance to get it, you go get it. It just didn't work out our way."
Those errors marked the only significant detectable difference between each club's side of the box score. McAllister (3-3) logged four strikeouts and one walk in 7 2/3 innings. Both starters allowed five hits. The A's stranded five runners, compared to the Indians' four.
John Jaso notched two singles for Oakland, while Josh Donaldson, Derek Norris and Sogard each added another off McAllister.
"He threw a few more splits today than we had seen in the past," Melvin said. "Maybe not as good of velocity on his fastball, but it looked like he was on the corners most of the night, and mixed his pitches better than we've seen in the past."
Milone lowered his ERA from 3.69 to 3.13, despite the hard-luck loss.
"It doesn't matter really," said Milone, who also had a hand in catching a few Indians runners on the bases. "Obviously, we have to win. My goal is to keep the team in the game. That's what I'm going to do every time out, or I'm going to try to.
"Early on, I was throwing a lot of balls. But I was able to come back and make some good pitches. Being able to do that kind of got me in a rhythm towards the end of the game."
Indians manager Terry Francona was impressed with Milone's performance.
"Once he got into the game, he started coming in on us with that cutter," the skipper said. "And then when he needed to go to a big pitch, he'd throw that changeup. He really pitched a really good game. We had some opportunities. We had guys at second a few times. He handled the running game a little bit himself."
Oakland could have been in business in the ninth inning, when Yoénis Cespedes singled to center off closer Chris Perez, but he was gunned down by Indians catcher Yan Gomes while trying to steal second. Perez then promptly struck out Brandon Moss to end the game and earn his fourth save.
"You've got to try it," Melvin said about Cespedes' steal attempt. "It's 1.5 [seconds] to the plate. He didn't get as good a jump on the second one, and it ended up being kind of high and wide, which is a good pitch for Gomes to throw, and he made a good throw. But if I didn't want him to go, I'd have put a red light on him."
The bullet from Gomes' arm caught the attention of his own manager, too.
"That was one of the better throws," Francona said. "That's impressive. Any time you see one of your guys make one of their better plays at a point in the game when it's necessary, that's really exciting."
The play was the latest one to go against the A's since they arrived in Cleveland. They'll need to win the next two just to split the four-game set.
"There are going to be times during the season when guys go cold," Melvin said. "We have quite a few guys that aren't swinging near as well as they were earlier. And then you've got to try to win in different fashions. We just came up short tonight, but it certainly wasn't Milone's fault."
Mark Emery is an associate reporter for MLB.com. This story was not subject to the approval of Major League Baseball or its clubs.