Harvey's gem helps Mets slip by White Sox in 10
Right-hander retires 27 of 28 in nine shutout innings; Baxter wins it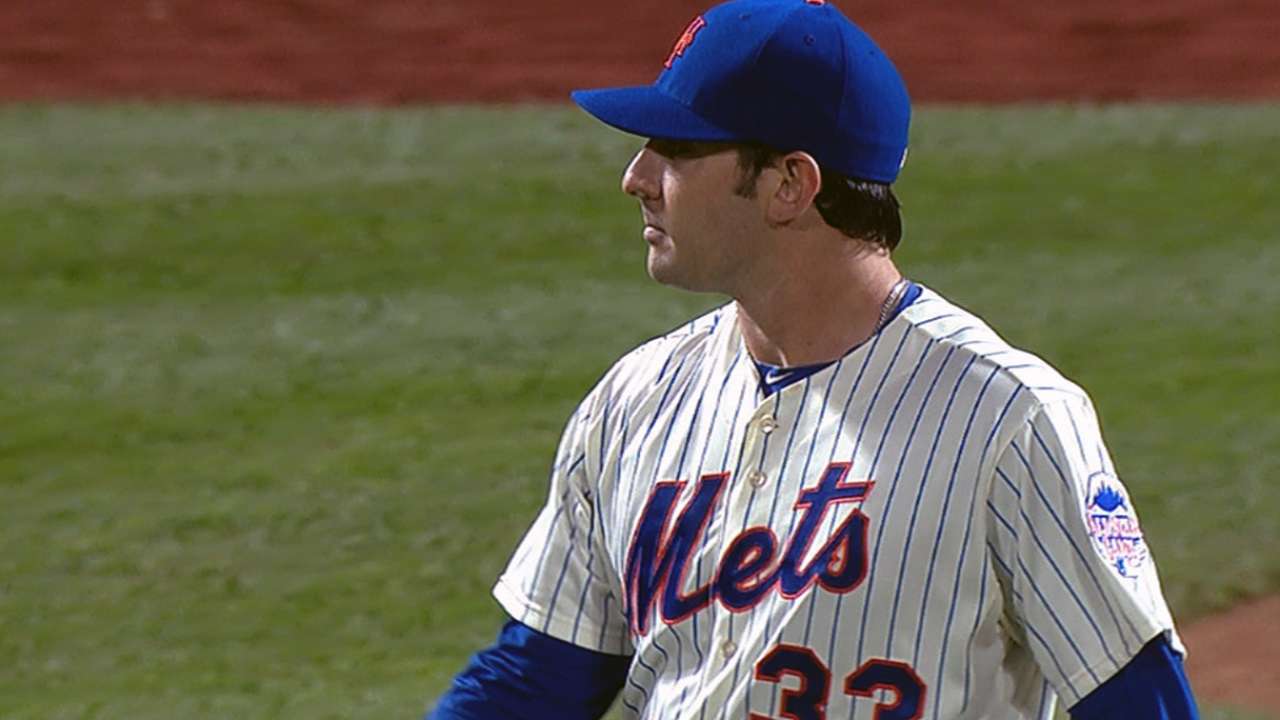 NEW YORK -- When Matt Harvey says that extra rest is a non-issue, he means it.
Harvey, the Mets' ace, spent much of the last week stressing the same opinion, telling anyone who would listen that he'd be fine to pitch on seven days' rest. And then he proved it. Harvey, who threw two bullpen sessions between starts, provided the best outing of his young career Tuesday in the Mets' 1-0, 10-inning victory over the White Sox.
"I'm going to warm up everybody two days before they pitch," quipped manager Terry Collins. "Have them throw a side, a little touch-and-feel before they have an off-day."
Harvey, making his first start in eight days, retired the first 20 batters he faced, taking a perfect game into the seventh inning. And just when it seemed inevitable, Harvey's no-hit bid ended with two outs on an infield single by Alex Rios.
Rios, a right-handed hitter, made things interesting in the seventh by bouncing a ball deep into the hole at shortstop. The veteran blazed his way up the line and narrowly beat the throw from Ruben Tejada, who ranged to his right and leaped in the air in order to make the play.
"It's baseball. Things like that happen," said Harvey of Chicago's only hit. "The guys made all the plays. John Buck called an amazing game. I think I shook him off three times, like I have all year. I jumped on his back and I was fortunate enough that I was able to execute each pitch."
Harvey's career night ended as an epic no-decision, a start in which the 24-year-old worked nine innings and allowed just one of 28 batters to reach base. Harvey set a new career high with 12 strikeouts, and the Mets didn't lead until Mike Baxter's walk-off single in the 10th.
Harvey took his perfect game 20 batters, equalling Rick Reed's feat in a 1998 start against the fledgling Devil Rays. But the start may need even more historical perspective: Harvey logged a Game Score of 97 with his outing Thursday, and since 1916, there have only been 40 nine-inning games with a higher score.
Harvey, in fact, was the first pitcher since Francisco Cordova in 1997 to get a no-decision in a game in which he threw nine shutout innings while allowing one hit or less and striking out at least 10 batters. And while he finished just short of the Mets' second no-hitter, Harvey didn't have any regrets.
"Everything was obviously working," he said. "When I can throw my slider for a strike and also bounce it when I need to, that's when it starts getting fun. That was definitely the best I've felt all year."
"The best thing he had going is that he had everything going," added Buck. "I think what really set [the tone] was the location of his fastball right off the bat. ... I was elevating up and in and going back down, low and away. He was locating his heater wherever and whenever I wanted."
Harvey's routine came up in the week before this start because of how dominant he had been to this point of the season. Harvey was named the National League's Pitcher of the Month for April, and he was one of only two pitchers in the NL to win at least four games without losing any.
But after his last start -- a no-decision on April 29 against the Marlins -- the schedule conspired to make Harvey uncomfortable. The Mets had two scheduled days off and a game postponed by rain in the last week, which meant that they needed to juggle their rotation to keep everybody on turn.
Harvey wound up throwing an extra bullpen session between starts, and he said Tuesday that he didn't really feel the impact of the extra rest. And that was obvious from the early innings. Harvey was tested most by a bloody nose in the first inning, and the rest was garden variety dominance.
"It seems like every time we talk about this guy, it's something new," said Collins. "Like I said before the game, one of the things about Matt is his delivery is so quiet and smooth. There's not a lot of hiccups in it, so for him to have an extra day may not matter. But to pound the strike zone like he did today? You just don't see young guys do that. You really don't. Not with a power arm like that."
Harvey, who threw seven innings of one-hit ball in his season debut, was rarely challenged by the White Sox. The right-hander struck out three of the first six batters he faced, and he got three outs via ground balls in the third and fourth innings. Perhaps the play of the game came with one out in the fourth, when third baseman David Wright backhanded a ball and made a long throw to retire the hitter.
The defense wasn't really tested again until the seventh, and Tejada just missed keeping Harvey's bid for perfection alive. Harvey struck out Adam Dunn to end the seventh inning and worked the next two innings without allowing another hit, but the Mets still hadn't scored.
New York's winning rally started with a leadoff walk by Ike Davis, and Juan Lagares moved Davis into scoring position with a sacrifice bunt. That brought Baxter to the plate as a pinch-hitter, and he made sure Harvey's effort wouldn't be wasted with a clean single to right field.
"When he goes out and he throws like that, he gives everybody energy," said Baxter. "Just because we didn't go out and get hits doesn't mean it's not energetic. He sets the tone, and everybody kind of follows into the rhythm when he throws. It's second to none. He's really spectacular with it."
Harvey's gem almost never happened because his nose started bleeding in the bullpen and the team's training staff had trouble stopping it. The game had a brief delay and Harvey spent parts of the first inning wiping away blood, and Buck got in a good joke about it in the winning clubhouse.
"He was telling me he wanted to throw more curveballs," said Buck. "So I punched him."
Harvey, in the aftermath, said he was thrilled with the way he pitched and the support he got from his team. And to his credit, he said Tejada couldn't have done any more with the game's only hit.
"In that hole, it's tough," said Harvey. "Anything going away and making that long throw, I knew it was going to have to be absolutely perfect. He made an awesome attempt and I definitely appreciated everything. The guys in the field, they did everything. They made every play and they made it fun."
Spencer Fordin is a reporter for MLB.com. This story was not subject to the approval of Major League Baseball or its clubs.