Santiago's gem overshadowed by Mets' Harvey
Lefty allows four hits over seven innings; offense held to one hit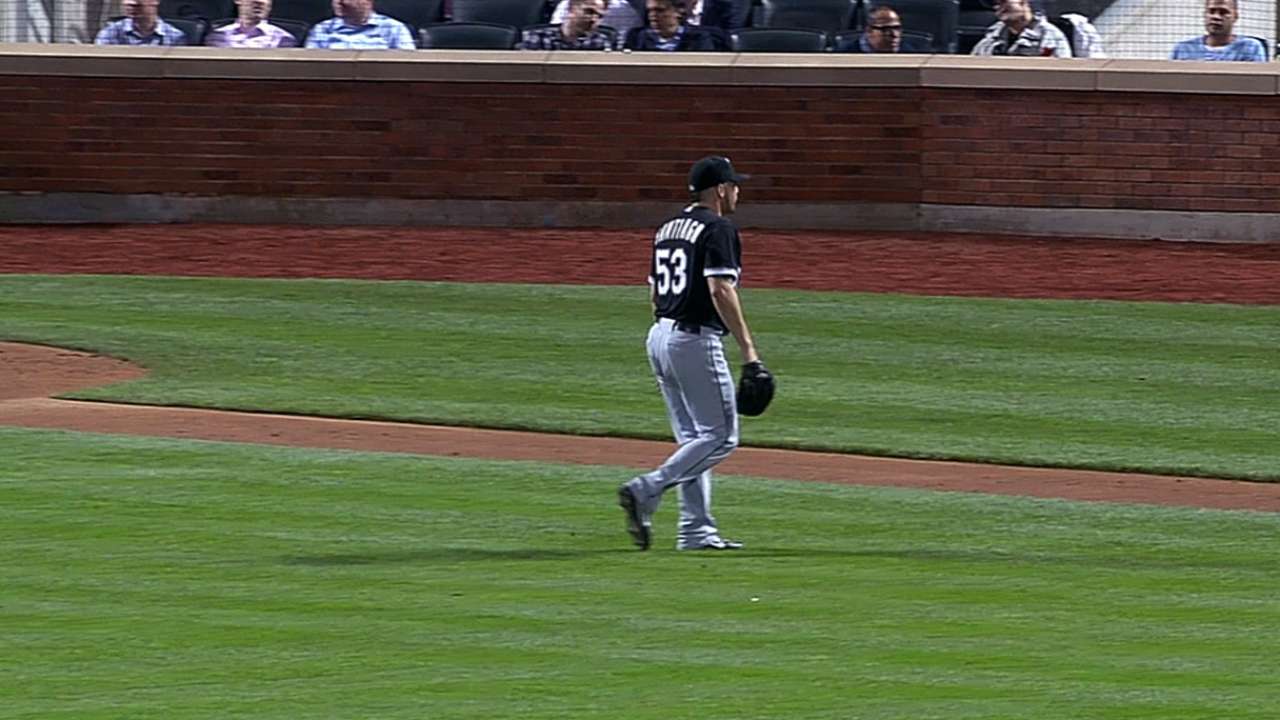 NEW YORK -- Pitching in front of somewhere between 100-120 friends and family members, against a Mets team he rooted for as a child, Hector Santiago did everything he could Tuesday to get the White Sox a win at Citi Field.
His seven scoreless innings, featuring eight strikeouts, two walks and four hits allowed, still weren't enough to prevent a 1-0 Mets' victory in 10 innings. The White Sox (13-18) slipped to 3-4 on their eight-game road trip and 0-4 in Interleague Play.
Here are the truly strange facts coming from Tuesday's two-hour, 30-minute affair. Matt Harvey, the dynamic starter for the Mets (13-16), actually was a little bit better than Santiago, taking a perfect game through the first 20 batters he faced.
Harvey lost the perfect game on Alex Rios' infield single in the seventh and exited after nine innings of one-hit baseball. Even with 12 strikeouts over 105 pitches, Harvey also finished with a no-decision.
That no-decision made Harvey the first pitcher since Pittsburgh's Francisco Cordova on July 12, 1997, to go nine shutout innings or more, allow one hit or less, strike out 10 or more and receive a no-decision. The right-hander looked even better than his 4-0 record and 1.56 ERA would indicate.
"He's as advertised," said White Sox manager Robin Ventura. "He has pretty much dominant stuff as much as anybody we've seen. Kind of the [Justin] Verlander stuff. It's velocity, it's movement, just presence, everything. He had it all. He was impressive."
"When you get a guy with four good pitches and when he can locate those pitches, it makes it pretty tough on us," Rios said. "And he was locating and had four well-above-average pitches tonight."
Harvey's dominance could not become an overriding worry each time Santiago took the mound. He had enough jitters to shake out with the large supporting contingent making the 30-minute trip from Newark, N. J., where Santiago grew up.
His nerves were evident in the first two innings, with two baserunners reaching in each frame. In that first inning, Santiago stranded runners on first and second with one out by retiring John Buck on a flyout to center and Lucas Duda on a routine grounder to second.
In the second, with runners on second and third and two outs, third baseman Conor Gillaspie made a nice pickup of Ruben Tejada's grounder and threw him out at first to keep the game scoreless. The southpaw took off from there, retiring eight straight and 14 of his final 16, as he finished at 111 pitches.
"Santiago pitched a great game. He really did," Mets manager Terry Collins said. "Changeup, screwball, the two offspeed pitches. He threw everything for strikes. But I thought we were going to score. I thought for sure Matt was going to finish the game."
"You're in front of the crowd and you start running out there and they are yelling and you just get amped and try to do a little more," Santiago said. "Into the third inning, I got settled in and just felt my groove and found the arm slot and just found where I was on line and just going right after guys like I should have been from the first [batter]."
Every bit of Santiago's excellence was necessary with the visitors' one-hit output.
Through 20 batters, the White Sox didn't have anything resembling a hit against Harvey. There was a Jeff Keppinger line drive in the first that drifted foul down the right-field line, and there were a couple of well-struck fly balls that just didn't carry.
Gillaspie worked the count to 3-1 with one out in the fifth before eventually taking a borderline called third strike. Then, in the seventh, Rios hit an 0-1 pitch between shortstop and third base that was gloved by Tejada at short. Tejada took an extra step to put a little something on his jump throw to first, but the fleet-footed Rios beat the play by about a step.
"Things like that happen," said Harvey, who came within seven outs of becoming the first pitcher to throw a perfect game against the White Sox since Addie Joss on October 2, 1908. "The guys made all the plays. John Buck called an amazing game. I think I shook him off three times, like I have all year. I jumped on his back and I was fortunate enough that I was able to execute each pitch."
Nate Jones (0-3) was tagged with the loss, courtesy of pinch-hitter Mike Baxter's single to score Ike Davis, after Davis drew a walk to open the 10th. Of course, it's impossible to win with no runs.
Since April 27, the White Sox have lost to Matt Moore, David Price, Yu Darvish and Jeremy Guthrie and have been shut down by James Shields and Harvey. All are top-of-the-rotation hurlers who can dominate even the best of offenses.
Sitting 15th in the AL in runs scored, runs per game, batting average and on-base percentage, the White Sox certainly are not close to being one of baseball's best offenses.
"You just have to deal with them because we're going to face good pitching and we just can't have any excuses," Rios said. "We have to go out there and do our best and grind every night like we've been doing."
Scott Merkin is a reporter for MLB.com. Read his blog, Merk's Works, and follow him on Twitter @scottmerkin. This story was not subject to the approval of Major League Baseball or its clubs.