Marlins blanked behind LeBlanc in San Diego
Day after scoring 14 runs, club can't support lefty vs. Cashner, Padres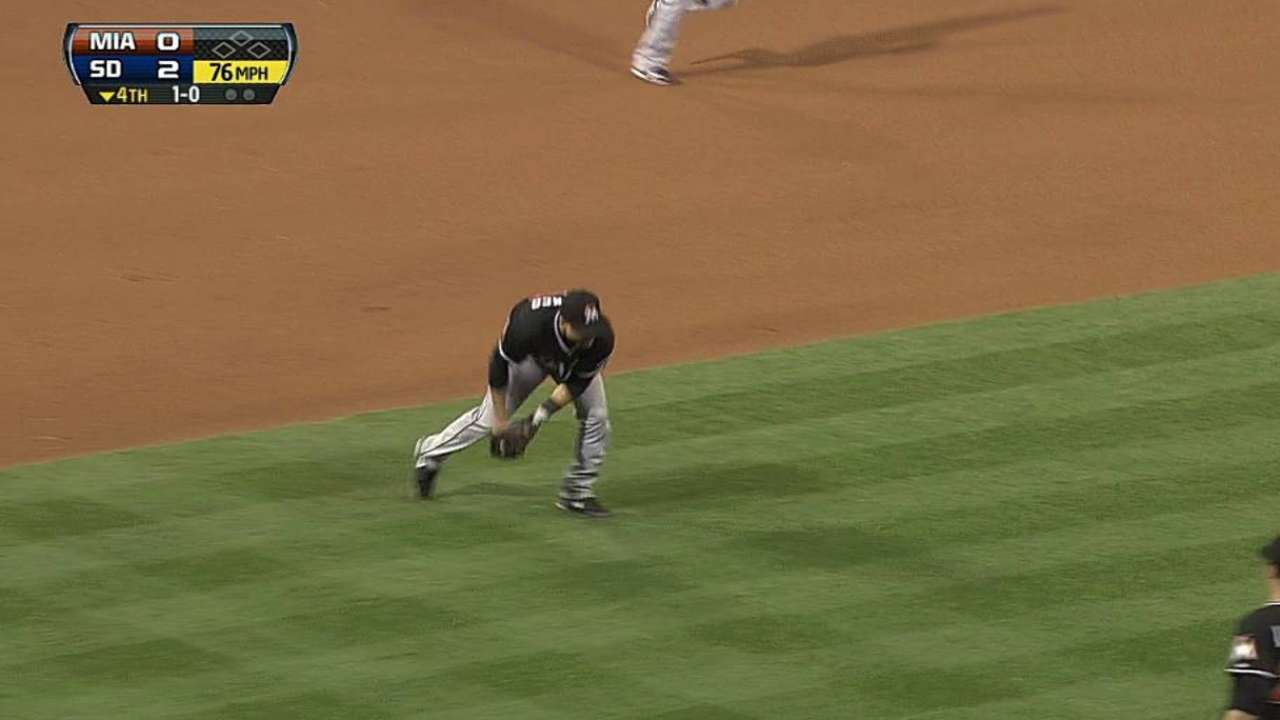 SAN DIEGO -- All the momentum the Marlins built over the weekend evaporated quickly on Monday night at Petco Park.
Andrew Cashner silenced the Marlins over 7 1/3 innings, limiting them to four hits, and the Padres coasted to a 5-0 victory in front of 14,596.
Jedd Gyorko homered off Wade LeBlanc, who allowed four runs -- three earned -- in five innings and had his record drop to 0-5.
The Marlins entered the three-game set riding a two-game winning streak, including a 14-2 rout of the Phillies on Sunday at Citizens Bank Park.
But against Cashner (2-2), the Marlins weren't able to get anything going. They were shut out for the fifth time this season.
Compounding a frustrating night were two errors, increasing Miami's MLB-leading total to 27 on the season. And the Marlins were 0-for-7 with runners in scoring position.
"We just didn't play well," manager Mike Redmond said. "It wasn't a good show for us tonight."
Cashner enjoyed the longest start of his career, and he struck out four and walked three.
"He had a decent fastball and threw a couple of nice changeups," Redmond said of the San Diego right-hander. "But I thought we got some good pitches to hit. We just weren't able to capitalize."
Marcell Ozuna had his six-game hit streak snapped. The 22-year-old right fielder fell two games shy of matching the longest streak to open a career as a Marlin. Alejandro De Aza hit safely in his first eight games with the organization in 2007.
From the first inning, the Marlins simply weren't sharp. The Padres capitalized on catcher Rob Brantly's two-out error to score an unearned run. Everth Cabrera, who walked with one out and stole a base, scored from second when Carlos Quentin lifted a two-out pop fly in front of the plate that Brantly dropped.
"That's Brantly's ball. He just missed it," Redmond said. "The pitcher doesn't catch those. It's the catcher's ball. He just didn't make the play. We gave them that run, that's for sure.
"We had a couple of chances again early. I don't know what we were with runners in scoring position, but I know it wasn't good. Really that should have been a 2-2 game even after we gave them the first run."
Gyorko's home run to center field to open the second inning gave the Padres a 2-0 lead.
"Not a whole lot to take away from it," LeBlanc said. "I'm 0-5. I'm not really giving this team a chance to win. It just seems like this season has been a real grind so far. It's really been a grind. It's starting to get frustrating, but you've just got to keep working."
The Marlins loaded the bases in the third inning, but came away with nothing. It was a turning point inning because they could have gotten back into the game.
Adeiny Hechavarria, who matched a franchise record with seven RBIs on Sunday, doubled to lead off the third. He advanced to third on a sacrifice bunt. Juan Pierre walked and stole second, putting two runners in scoring position with one out.
Cashner struck out Chris Valaika looking, and after Placido Polanco walked to load the bases, Justin Ruggiano struck out on a changeup.
"He was the guy that we didn't want to let beat us," Cashner said. "That was a big situation, and I wasn't commanding my fastball. The one thing I was commanding there was my changeup."
In the fourth inning, the Padres tacked on two more runs, with successive two-out RBI singles to right field by Chris Denorfia and Cabrera.
With the way the Marlins were struggling at the plate, the fourth inning basically put the game out of reach. LeBlanc was hurt by a one-out walk to Nick Hundley, who advanced to second on Cashner's sacrifice bunt.
Denorfia's single to right field -- a smash that deflected off Valaika's glove -- brought home Hundley on a close play. Ozuna made a powerful throw to the plate, but Hundley just got in. Cabrera also slapped the ball into right field.
"Wade was up in the zone," Redmond said. "He left quite a few pitches out over the plate."
Joe Frisaro is a reporter for MLB.com. He writes a blog, called The Fish Pond. Follow him on Twitter @JoeFrisaro. This story was not subject to the approval of Major League Baseball or its clubs.