Cashner's career night silences Marlins
Righty goes 7 1/3 scoreless; Gyorko homers, Headley extends streak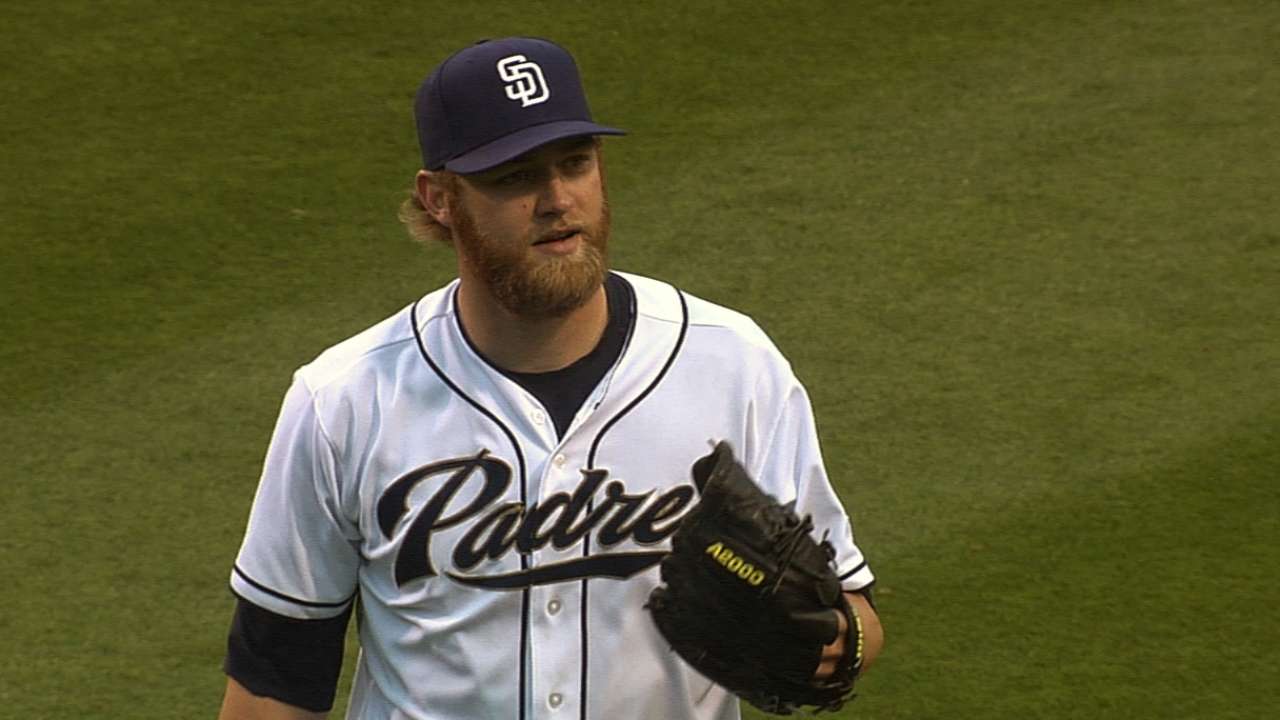 SAN DIEGO -- This was the outing the Padres had been waiting for all along from Andrew Cashner.
The 26-year-old right-hander tossed 7 1/3 scoreless frames, allowing just four hits to the Marlins in a 5-0 Padres victory Monday night -- a win that marked the club's ninth in its last 12 games, moving the Friars out of the National League West basement.
It was the longest outing of Cashner's young career, and -- the Padres hope -- a precursor for a very bright future. He used his four-seam fastball and sinker very effectively, while executing his changeup and a slider when he had to.
If Cashner was pitching with a bit of an edge following a poor start against the Cubs last week -- the team that traded him in 2012 -- he wouldn't admit to it following the game.
"Any time you go out, you want to compete and you want to execute pitches," Cashner said. "I feel like when I was in Chicago, I just didn't execute pitches. I left too many pitches down the middle."
Padres manager Bud Black, however, said he sensed a bit of a chip on Cashner's shoulder.
"I like the fact that he bounced back after a rough game last week in Chicago," Black said. "He came back with a little bit of determination to prove that he's more of this type of pitcher."
The Padres' offense gave Cashner some early support when Miami catcher Rob Brantly dropped a popup off the bat of Carlos Quentin. Shortstop Everth Cabrera was hustling on contact, and he managed to score from second with two outs.
An inning later, the Padres doubled their lead when second baseman Jedd Gyorko crushed a 1-0 fastball to dead center field for his third homer in six games. The ball landed an estimated 413 feet from home plate.
"[I'm] comfortable -- I'm seeing the ball pretty well for the most part," Gyorko said. "I've just got to put more at-bats together. I've had the one or two at-bats that have hurt me the last couple games, but other than that, my at-bats have been solid."
The Marlins responded by loading the bases in the top of the third inning, but Cashner got out of trouble with a gutsy pitch sequence to Justin Ruggiano. Typically a fireballer, Cashner got the Marlins cleanup hitter to swing and miss at three changeups.
"He was the guy that we didn't want to let beat us," Cashner said. "That was a big situtation, and I wasn't commanding my fastball. The one thing I was commanding there was my changeup."
For as well as Cashner pitched, he'd like to see a better strike-to-ball ratio. Early on, he struggled to keep his fastball in the zone, leading to just 55 strikes in his 97 pitches. More importantly, however, Cashner didn't give Marlins hitters anything they could handle.
Cashner had a bit of a scare at the plate in the sixth when he checked his swing on an up-and-in fastball. He hit the deck and appeared to tweak his right knee, but he returned for the seventh and showed no ill effects.
That was pretty much the only nerve-wracking moment of the night for Padres fans. Chris Denorfia and Cabrera notched a pair of two-out RBI singles off former Friar Wade LeBlanc in the fourth to extend the lead to 4-0, and the way Cashner was pitching, that was more than enough.
"When you've got a guy like Cashner on the other side, throwing the ball like he was throwing, you've got to do a little better job than I did," LeBlanc said.
Padres third baseman Chase Headley continued his tear by going 2-for-4, extending his hitting streak to 11 games. His RBI double in the seventh inning put the game on ice.
"We're playing well," Headley said. "We're playing the way we thought we were capable of playing from the start of the season. Baseball's funny that way. You'll have your stretches where nothing goes right, but you can get it turned around."
After a 5-15 start to the year, the Padres continue to inch closer to the .500 mark. They're now just four games below and five games in back of the first-place Giants.
"We've started pitching well, the bullpen did a nice job, and we've got timely hitting," Black said. "I think that's sort of the recipe for victory. That's what you do when you win."
Black's squad has been doing an awful lot of that recently.
AJ Cassavell is a reporter for MLB.com. Follow him on Twitter @ajcassavell. This story was not subject to the approval of Major League Baseball or its clubs.