Misplays loom large in Dodgers' fifth straight loss
Capuano yields six runs in return as Los Angeles falls into last place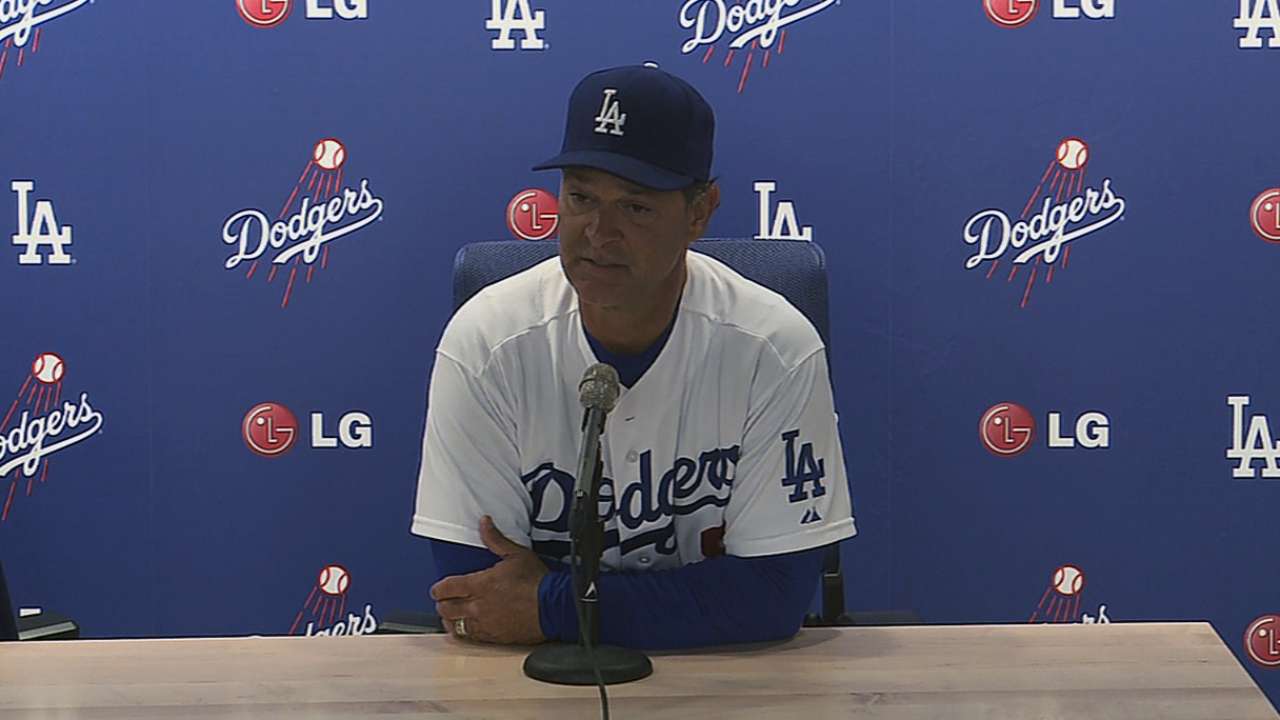 LOS ANGELES -- Maybe it's coincidence, but the Dodgers returned home Monday night and Gerry Hunsicker was there, too.
The Texas-based Hunsicker is senior advisor for baseball operations of the Dodgers. He was hired by club president Stan Kasten in the offseason, and he watched the Dodgers fall into last place in the National League West with an embarrassing 9-2 loss to the D-backs.
If he's got any advice on pulling a $230 million club out of this mess, the front office is all ears. The Dodgers, who had a six-game losing streak two weeks ago, have lost their last five, and in this one, they showed none of the late-inning character seen over the weekend in San Francisco. So if any major changes occur soon, this was the kind of game that would prompt them.
Carl Crawford's two outfield misplays overshadowed his solo home run and undermined Chris Capuano's return from the disabled list. New shortstop Dee Gordon double-clutched twice to keep the Dodgers from turning double-plays.
Hunsicker also saw a blatant baserunning mistake by Matt Kemp and a four-plus-inning start by Capuano, who allowed back-to-back homers to Paul Goldschmidt and former Dodger Cody Ross. Goldschmidt, who went 4-for-5 in the game, is 12-for-15 lifetime against Capuano.
Adrian Gonzalez, playing with neck pain, returned to the lineup with a pair of hits after missing all three starts in San Francisco. The Dodgers' offense still went 0-for-7 with runners in scoring position.
In the 15 Dodgers games not started by Clayton Kershaw and Hyun-Jin Ryu, Los Angeles starters have just two wins. They've also failed to complete five innings six times.
The Dodgers are now 5-14 against division opponents and have lost 13 of the last 16 to the D-backs.
Los Angeles had one hit after the fourth inning, a one-out single in the eighth that Kemp tried, and failed, to stretch into a double -- while down by four runs.
"We didn't do enough to deserve to win the game," said manager Don Mattingly. "I feel good about my club, but I don't feel good about the game. The game stunk. You don't make that many mistakes in so many areas and feel good about it. You can't make that many mistakes and win."
Mattingly wouldn't even blame the umpires on a controversial call leading off the top of the fifth inning. Crawford, who had already misplayed opposing pitcher Trevor Cahill's second-inning sinking hit into a two-run triple, dropped Didi Gregorius' routine fly ball.
It was the kind of play that usually is ruled an out when the ball falls while being transferred from glove to throwing hand, but third-base umpire Bruce Dreckman ruled that Crawford never made the catch and the call was upheld after a meeting of the umps.
"I don't know what that was about," said Crawford. "He's got to get in better position to see that. I felt like I caught it. TV showed I caught it. I hope for instant replay to get here quick. I know people make mistakes, but that was a catch. I'm pretty sure the umpire will be upset about me saying that, but it is what it is."
Mattingly protested mildly at the time and insisted later that Crawford made the catch, but he didn't rant and rave afterward.
"For me, that's an out, but I can't really blame the game on that," Mattingly said. "It was a sloppy game. To say that was the turning point in the game, I have trouble putting it on that and blaming the umpire. But if they look at it, common sense says it's a catch."
Again, maybe coincidence, but after the disputed play, Capuano served up the back-to-back homers. He was lifted after going 2-0 to Miguel Montero and then took out his frustrations on a water cooler on his way to the clubhouse.
Capuano said he felt fine physically in his first game back since suffering a calf strain April 16. Capuano said the home runs were not a sign he was rattled by the preceding controversy. "You can't let calls or things like that change your approach out there," he said. "Maybe I was pressing a little bit. As much as you tell yourself not to press, you put more on your shoulders and get tight." Capuano said his anger came from leaving five more innings for the bullpen to eat. Paco Rodriguez had two scoreless innings, Matt Guerrier one while Javy Guerra allowed three runs in two innings.
Crawford said his misjudged dive that led to the three-run second inning was all on him.
"I tried to make something happen and flat-out missed that ball," he said. "I took a chance and probably shouldn't have and paid the price for it.
"Everybody is just trying to do too much. Me, trying to do too much. I probably should have played it off the hop. We all just want to do good. Everybody is trying too hard and stuff like tonight happens. We've got to relax and go out and play our game. We've got high expectations and we're definitely not playing up to what we're capable of."
"I saw it and I was wanting it to get down," Cahill said of his hit. "I saw him dive. I thought he blocked it or something, and then I saw him running towards the wall and I figured it was time to run a little bit harder."
Ken Gurnick is a reporter for MLB.com. This story was not subject to the approval of Major League Baseball or its clubs.