Phillies enjoy all-around victory over Giants
Lee's strong pitching, productive offense combine for win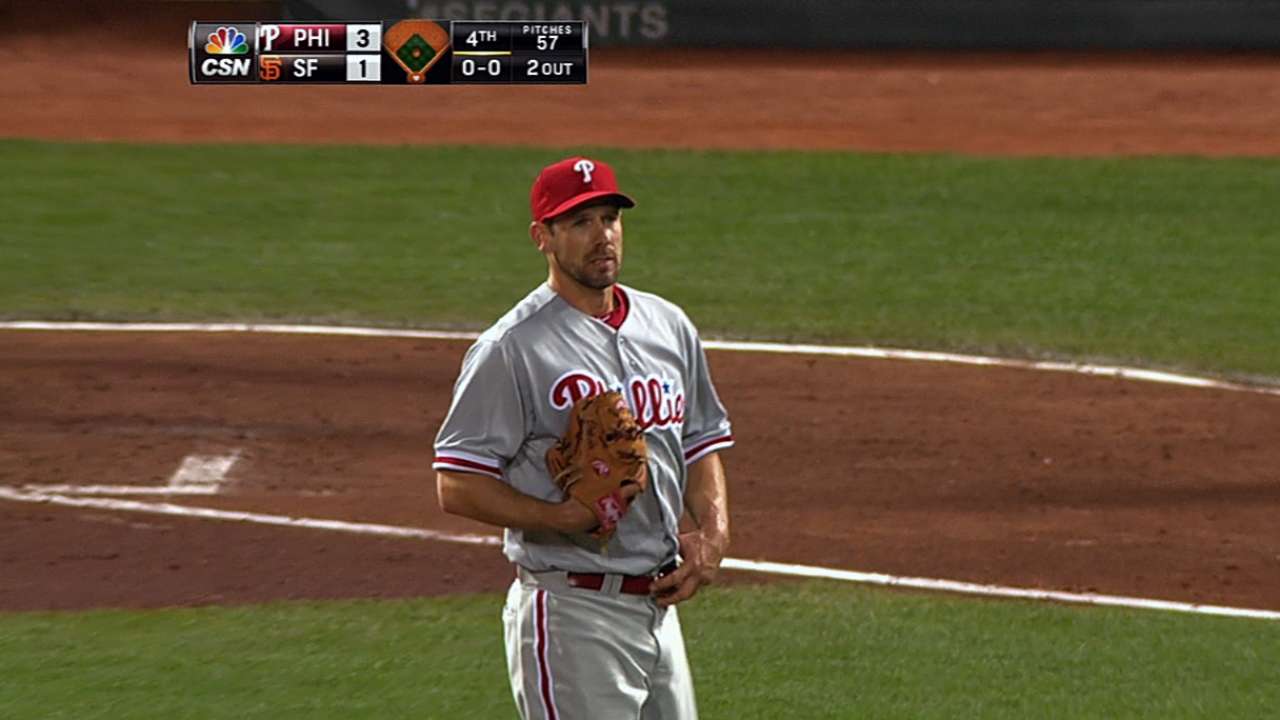 SAN FRANCISCO -- The Phillies asked themselves the same question most fans asked late Monday night.
Why can't they play like this more often?
Manager Charlie Manuel has been talking for weeks about the team's need to play a complete game, but he has seen too much of the opposite. But after getting throttled in two games last week in Cleveland and looking bad again in two losses over the weekend against Miami at Citizens Bank Park, the Phillies hit well, pitched well and played good defense in Monday's 6-2 victory over the defending World Series champion Giants at AT&T Park.
"That's more of what we are right there, no doubt," said Phillies left-hander Cliff Lee, who allowed five hits and two runs and struck out six in eight innings. "We definitely haven't been playing up to our potential. We've been really far short of that, to be honest with you. I think tonight's more of a real depiction of what we are. Yeah, I expect us to pick it up a little bit. We've kind of underperformed this first month, and it's time for us to turn it on."
Lee said last Wednesday in a 6-0 loss to the Indians -- one of five shutout losses in their last 20 games -- that the Phillies needed to play with more pride. He reiterated those feelings Monday.
"I think pride is a big part of executing. Just grinding," Lee said. "Sticking in there ... basically, if you're going to get beat, go down fighting. [The Indians] got us early both games, just seemed like we kind of laid down and let them take it from us. Just kind of what I was hinting at with that. More of a pride, fight-to-the-very-end type stuff. It didn't really feel that way in Cleveland. We were better at home against the Marlins, but we still could do even better, and tonight was more of what I expect from this team as far as energy and applying the pressure to the other team rather than having them apply it on us."
The Phillies had just five hits and scored just two runs in those losses to the Marlins, but they had eight hits and scored five runs in six innings against Giants left-hander Madison Bumgarner, who had allowed just 25 hits and seven runs in 40 2/3 innings in his first six starts this season.
Somebody explain that one.
The Phillies left the bases loaded in the first inning and had them loaded again with two outs in the second when Michael Young doubled into the right-field corner to score John Mayberry and Erik Kratz to give the Phillies a 2-0 lead. Chase Utley scored on a wild pitch to make it 3-0.
The Phillies scored two more in the fifth to take a 5-1 lead when Delmon Young's sacrifice fly scored Michael Young and Domonic Brown crushed a solo home run to right field. The ball sailed out of the ballpark and bounced into McCovey Cove. It was Brown's sixth homer of the season. Jimmy Rollins added a sacrifice fly in the ninth.
"I felt like we had a really good game plan," said Michael Young, who went 3-for-4 with two doubles, two RBIs and one walk. "Guys were really disciplined up there, guys stuck with their plans and things worked out.
"I think the biggest thing is to make sure our approach is sound, that we compete in every at-bat and never give them away. I'm not saying we do that, but that's always a key in any offense, to make sure you battle every at-bat. But we are confident we're always going to get good pitching. Guys like Cliff are capable of giving performances like that on a nightly basis. So we have to make sure that if there's one [run] out there -- we don't always need three- or four-run innings -- but if there's one out there, we have to make sure we pick him up. Tonight we did a pretty good job of that."
Lee improved to 3-2 with a 3.26 ERA. The Phillies will need more from Lee with Roy Halladay out indefinitely with an injured right shoulder.
"Obviously, we hope that it's not as big of a deal as I think everyone might think it might be," Lee said. "Hopefully it's something minor and he's able to get back. If not, what can you do? You still got to go out there and grind and try to give the team a chance to win every time you take the mound, no matter who the guy is.
"He's pitched a long time, fired a lot of bullets. I hope it's not major and it's something minor and he's back in a couple weeks and jumps back on board. But until then, we just got to keep on grinding. Even if he's gone forever, there's nothing we can do. We got to go out there and continue to pitch and try to give the team a chance to win every time you take the mound. All of us."
Todd Zolecki is a reporter for MLB.com. This story was not subject to the approval of Major League Baseball or its clubs.