Perez solid in first rehab appearance in Double-A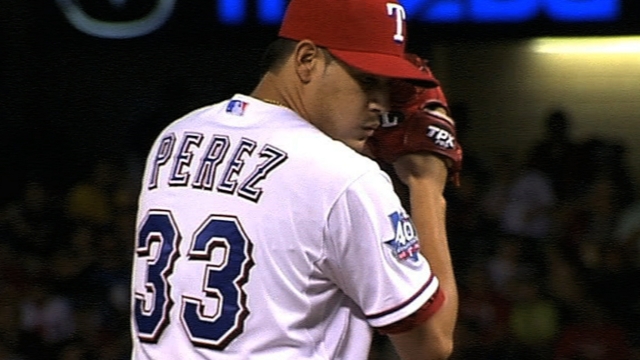 CHICAGO -- Left-hander Martin Perez, working his way back from a fractured throwing arm sustained in Spring Training, made his first rehab appearance on Monday with Double-A Frisco.
Perez was struck by a line drive on March 3, after it looked as if he would secure the No. 5 spot in the Texas rotation. Now, with him and last year's Opening Day starter Colby Lewis (left elbow) inching closer to a return to the big leagues, the Rangers may have some decisions to make.
"No guarantees," manager Ron Washington said of Perez joining the rotation when healthy. "It's a possibility, but no guarantee. There's a difference."
Perez allowed five hits in four innings, surrendering one earned run while striking out one. He did not walk a batter.
Washington said Perez has thrown in extended spring training games in Arizona to prepare for his rehab starts, so the purpose of the Minor League outings will be solely for building arm strength. Perez is expected to be on an incremental pitch count after his 53-pitch outing on Monday.
"He's starting to get built up. That's it," Washington said. "And once he gets built up where he can throw over 100 pitches, stay in a game as long as he's effective, then he's ready. That's what this is."
With Lewis guaranteed a spot in the rotation when he also returns, Washington said he wouldn't speculate which circumstances would shift Lewis and/or Perez into the rotation and drop Justin Grimm and/or Nick Tepesch out.
"I can only give you the circumstances when that becomes a reality, when I can sit down with everybody and we discuss what we think is best for us," Washington said. "But for me to say it right now when [Perez] just left Arizona, I don't think that would be right for the other guys that have an opinion."
Lewis was shut down midway through last season with a torn flexor tendon in his throwing elbow, which required surgery. He has thrown in extended spring training, and is expected to pitch for Triple-A Round Rock on Thursday.
"It's great that we're getting our pitching back," Washington said. "It's our depth. But I think it's all gonna come down to what's best for us and what's best for the player at the time. If we all feel that Tepesch needs to be here or Grimm needs to be here, those other guys are just going to have to wait their turn."
Joey Nowak is a reporter for MLB.com. Follow him on Twitter at @joeynowak.& This story was not subject to the approval of Major League Baseball or its clubs.