Simmons' first multihomer game powers Braves
Maholm turns in solid start as McCann goes 0-for-4 in debut vs. Reds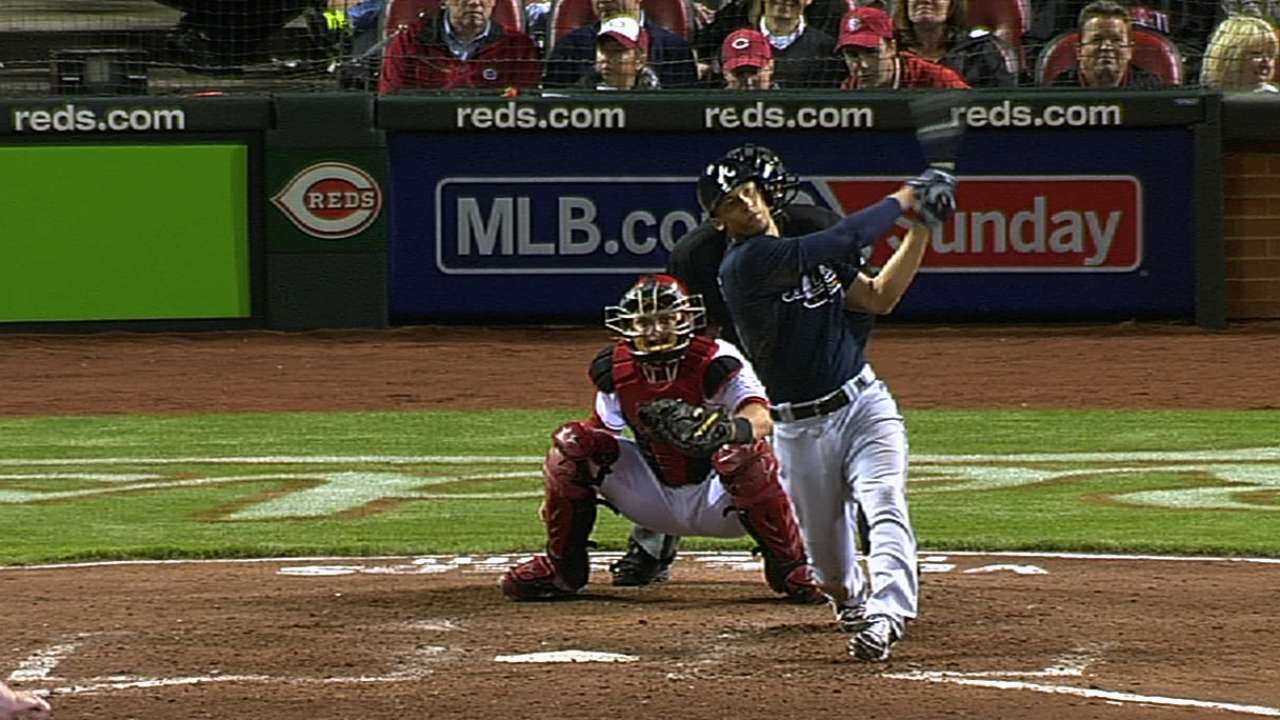 CINCINNATI -- The Atlanta Braves had lost six straight games in Cincinnati dating back to 2011.
Andrelton Simmons made sure the streak wouldn't reach seven.
The 23-year-old shortstop went 3-for-4 with two home runs and a career-high four RBIs on Monday, as Atlanta won, 7-4, at Great American Ball Park.
"I felt good at the plate," Simmons said. "I got a couple pitches over the plate. Thanks to my teammates, though. They gave me a good scouting report before I had to face anybody. They made it easier."
They also knew what they were talking about. The Braves rocked Reds starter Bronson Arroyo early and often to start their 10-game road trip off on the right foot.
Arroyo hasn't been great against Atlanta in his career -- he entered the game with a 5.34 ERA in 16 career games against the Braves -- but he had fared better lately, going 2-0 with a 3.26 ERA in his previous five meetings with the National League East leaders.
On Monday, he regressed to the mean.
The Braves scored one run off Arroyo in four of the first five innings, including two off the bat of Simmons, who had a solo home run in the second and an RBI single in the fourth. The homer, Simmons' third of the year, traveled an estimated 406 feet.
Arroyo threw 78 pitches over seven innings in his last start; on Monday, he was at 78 pitches with one out in the third. He finished with 97 pitches in five innings, allowing four runs on eight hits. He walked two and struck out seven.
"That was definitely a battle," Arroyo said. "Top to bottom, that's a really powerful lineup. A lot of threats are in there. You have to be a little more nitpicky. I wound up getting guys on base early in almost every inning. When you do that, it forces you to throw more pitches, especially against a lineup as deep as these guys. The only guy I really didn't know in the lineup and wasn't worried about hitting the ball out of the ballpark was [Simmons], and he ended up taking me deep."
Braves starter Paul Maholm, who pitched for the Pittsburgh Pirates from 2005-11, is no stranger to the Reds or Great American Ball Park -- and early on, it showed.
Maholm surrendered just one hit his first time through the Reds order -- a single to right by No. 8 hitter Derrick Robinson -- before Cincinnati broke free in the fourth. The first three hitters reached base, including Brandon Phillips, who doubled in the Reds' first run. Jay Bruce followed with an RBI groundout to make it 3-2.
Maholm, however, struck out Todd Frazier and induced a groundout from Devin Mesoraco to avoid further damage.
"It's a tough park to pitch in; it's a tough lineup," Maholm said. "They're going to grind out at-bats. You've got to limit the damage as much as you can."
The Braves took it from there, as Simmons, Justin Upton and Freddie Freeman went a combined 7-for-13 with five RBIs. Simmons hit his second homer of the game in the eighth -- a 383-foot, two-run shot off Reds reliever Logan Ondrusek -- to notch the first multihomer game of his career.
"He's swinging the bat good," Braves manager Fredi Gonzalez said. "But he makes his RBIs and his batting average on the field. He doesn't have to hit .300. He could hit .250 or .260 and really be a force to be reckoned with."
Simmons also made a nifty play in the field, reaching between his legs to tag out Shin-Soo Choo at second base on a stolen-base attempt.
Meanwhile, Maholm's mastery of Joey Votto and Bruce continued; the Reds' Nos. 3 and 5 hitters went 0-for-5 with an RBI against the Braves' lefty and are now a combined 5-for-42 in their careers against him. The key at-bat came in the fifth, when Votto -- representing the go-ahead run -- grounded out with two runners on to end the inning.
Maholm allowed two runs on four hits in 5 2/3 innings, walking two and striking out six. He threw 105 pitches, 64 for strikes. He exited in the sixth in favor of Cory Gearrin, who struck out Mesoraco to strand Frazier on third and end the inning.
"He did whatever he wanted to do tonight," Braves catcher Brian McCann said of Maholm. "He had both sides of the plate working, slowed it down with the curveball, pounded them in with the cutter. When he's got both sides of the plate working, he's going to win a lot of ballgames."
McCann went 0-for-4 in his season debut after spending the first five weeks of the season on the disabled list.
The one bright spot for the Reds was reliever Alfredo Simon, who struck out all six batters he faced.
The Reds actually sent the tying run to the plate in the ninth, but Braves closer Craig Kimbrel struck out Votto to end the game and record his 10th save of the season and the 99th of his career.
"The regular fan tomorrow is going to get up and read the paper and go, 'The Braves won by three, Kimbrel got the save and Simmons hit a few homers,'" Gonzalez said. "But we got into some serious trouble. When you're facing Votto in the ninth in this ballpark with two people on and a two-run lead, it's hard. But we did well. We kept adding on and adding on, and you've got to do that because they have a history in this ballpark of coming back."
Tony Meale is a contributor to MLB.com. This story was not subject to the approval of Major League Baseball or its clubs.