Arroyo saddled with third straight loss in opener
High pitch count forces right-hander to last just five innings vs. Braves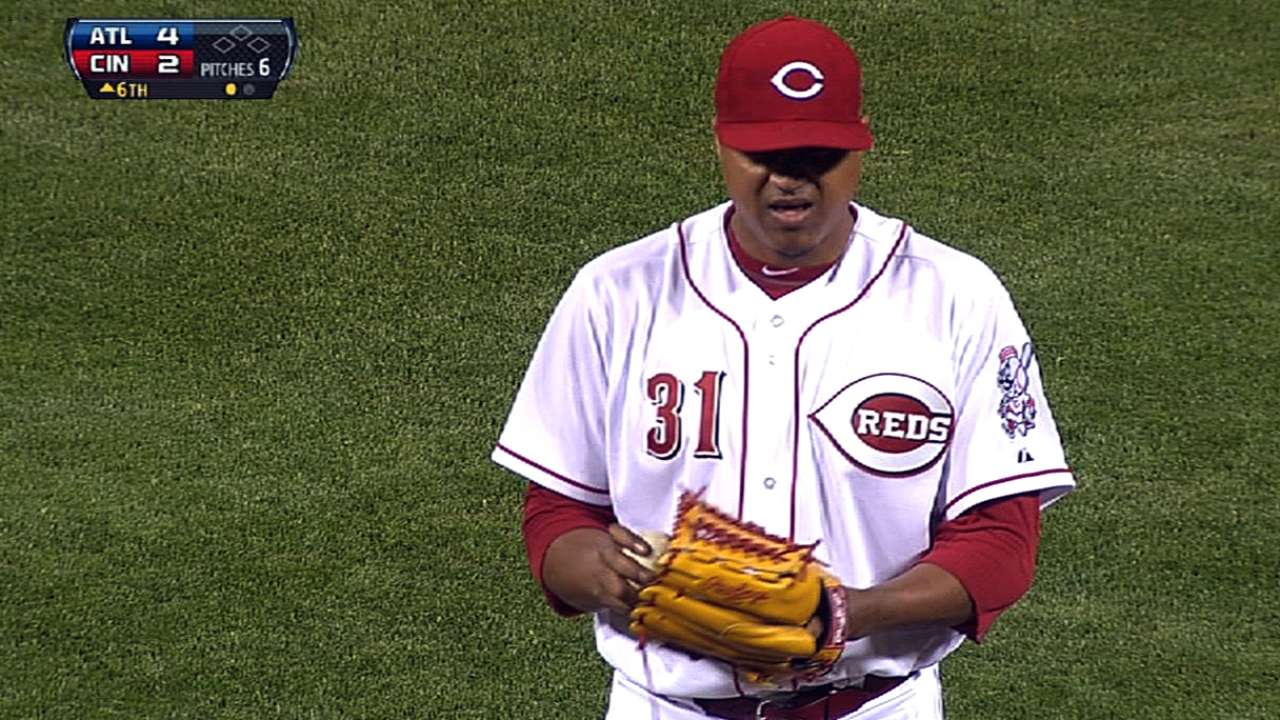 CINCINNATI -- Reds starting pitcher Bronson Arroyo had to grind and he had to slog during a seemingly perpetual uphill fight vs. the Braves. The one thing Arroyo did not do was give up on trying to keep the Reds in striking distance.
Coming off of a three-game sweep of the Cubs and a hard-earned .500 road trip, the start of the homestand was a bit of a wet blanket for Cincinnati during a 7-4 loss to the Braves on Monday night.
"That was definitely a battle," Arroyo said. "Top to bottom, that's a really powerful lineup. A lot of threats are in there. You have to be a little bit more nitpicky. I wound up getting guys on base early in almost every inning. When you do that, it forces you to throw more pitches, especially against a lineup as deep as these guys were."
Taking a loss for the third straight outing, Arroyo threw 97 pitches and allowed four runs and eight hits with two walks and a season-high seven strikeouts.
In the top of the first inning after a walk and a blooped single, Freddie Freeman's lined single to right field scored Chris Johnson for a 1-0 lead. It could have been worse for Arroyo, who issued a two-out walk to load the bases but escaped with a called strikeout of No. 7 hitter Dan Uggla on his 28th pitch of the inning.
Atlanta picked up the attack in the second inning when Andrelton Simmons led off with a home run to left field for a two-run deficit.
"The only guy I really didn't know in the lineup and wasn't worried about hitting the ball out of the ballpark was [Simmons], and he ended up taking me deep," Arroyo said.
Uggla hit a leadoff triple to right-center field in the fourth inning and scored on a Simmons single. Arroyo left two runners on by ending the inning with a double play from Johnson.
"That guy is a battler," Reds manager Dusty Baker said of Arroyo. "He threw a lot of pitches because he was in and out of trouble a lot, but he got out of it a couple of times."
Braves starter Paul Maholm retired his first seven in a row and nine of 10 before the Reds' lineup came to life. After the first two batters in the bottom of the fourth reached, Brandon Phillips hit an RBI double to left field to score Zack Cozart, and Joey Votto scored on a Jay Bruce groundout.
Atlanta added another run against Arroyo in the fifth when Justin Upton scored on an Evan Gattis one-out double to left-center field. But Arroyo kept the damage from piling on by getting out of the inning with another Uggla called strikeout.
It was the fifth straight game where the Reds did not get a quality start.
"They did their job, got me in trouble," Arroyo said. "I fought back hard and did get some big punchouts to give me an opportunity to keep it close enough to maybe have a chance to bring it back."
Reds reliever Alfredo Simon kept the Reds close as he pitched two innings and struck out all six batters faced. What didn't help was Logan Ondrusek giving up three runs with two outs in the eighth. Simmons hit a two-run homer to left field for his first multihomer game and a career-high four RBIs. Pinch-hitter Jordan Schafer made it back-to-back homers with a drive to right field to make it 7-2.
The Reds added two runs in the eighth, including an RBI double by Votto to the left-field corner that scored Cozart. In the ninth against closer Craig Kimbrel, singles by Donald Lutz and Shin-Soo Choo brought the tying run to the plate with one out. Cozart popped out to first base and Votto struck out to end the game.
"When you're facing Votto in the ninth in this ballpark with two people on and a two-run lead, it's hard," Braves manager Fredi Gonzalez said. "That's a good ballclub, and they have a history of coming back, especially in this park."
The Reds came into the game 12-4 at Great American Ball Park this season and tied for the most home wins in baseball. Even though the Braves had lost 11 of their last 16 coming in, they lead the National League East with a high-power, high-strikeout group. Reds pitchers notched 15 strikeouts but couldn't keep enough zeros on the linescore.
"You can't trade runs with them the later it gets," Baker said. "That's what happened. We traded some runs and they ended up scoring late."
Mark Sheldon is a reporter for MLB.com. Read his blog, Mark My Word, and follow him on Twitter @m_sheldon. This story was not subject to the approval of Major League Baseball or its clubs.