Feldman's scoreless start leads Cubs past Rangers
Five-run fourth inning gives right-hander more than enough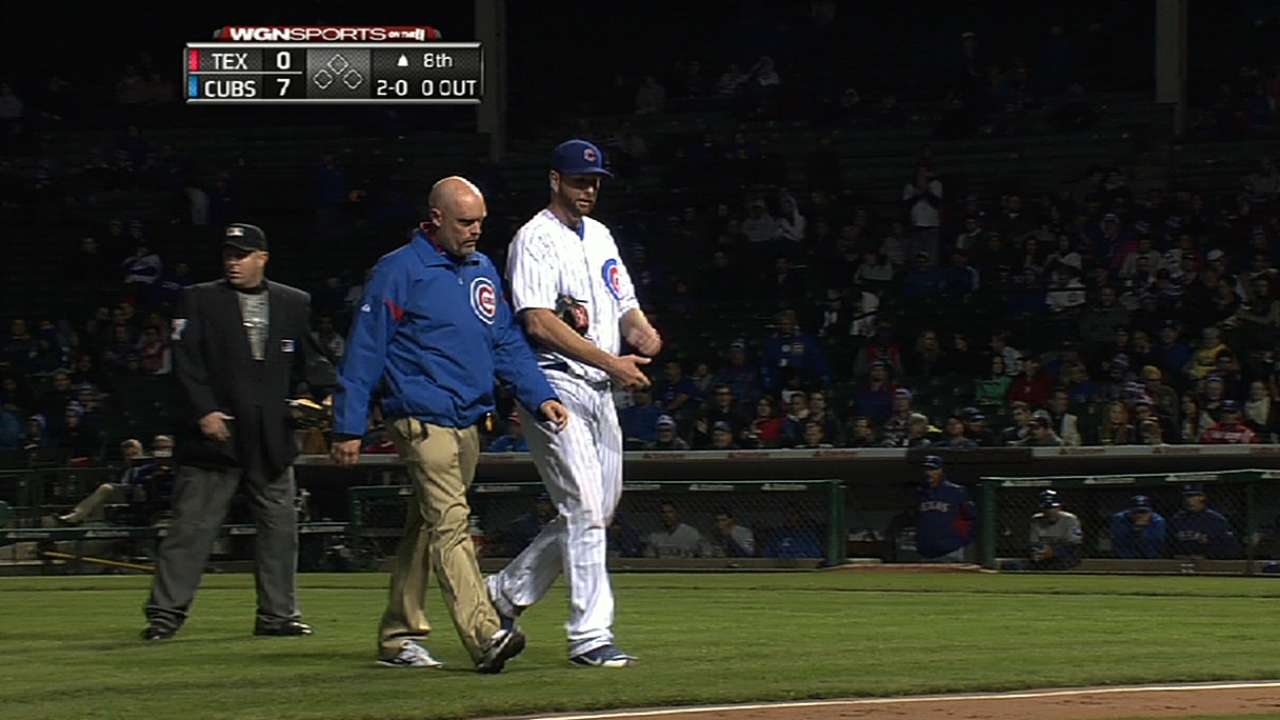 CHICAGO -- Scott Feldman had every reason to be pumped Monday night. The right-hander was coming off his first complete game and facing his former team, the Rangers, who he started with back in 2003.
One of the reasons Feldman signed with the Cubs was the chance to be a full-time starter, something he couldn't do with Texas. If he had something to prove, he did so calmly, following the same game plan he did against the Padres in his last start, and now the right-hander leads the Cubs in wins.
Starlin Castro and Anthony Rizzo both hit two-run singles in a five-run fourth and Rizzo added a two-run home run in the eighth to back Feldman, who helped himself with an RBI single, to give the Cubs a 9-2 victory over the Rangers.
"He was commanding every pitch," Cubs catcher Welington Castillo said of Feldman, who held the Rangers to two hits over seven innings, but had to leave in the eighth because of a hand cramp. "He executed the pitches and he got out of the innings. He made the pitches when he needed to make them -- that's not an easy lineup to face. I give all the credit to him."
Monday's game was a makeup from an April 17 Interleague contest postponed because of rain. The two teams split the first two games played.
Cubs manager Dale Sveum was prepared for Feldman being too hyped.
"Hopefully, he's not too amped up today," Sveum said earlier in the day. "It's always a different feeling [facing your former team]. You obviously want to do well. He should know all these guys really well. If he locates like the other day [against the Padres], they'll have a tough time against him."
The only problem Feldman had was with his right index finger in the eighth. He fell behind in the count 2-0 to David Murphy opening the inning, and was then lifted because of cramping. What happened?
"It was weird," Feldman said. "I threw my last warm-up pitch and my finger was getting stuck. I tried to stretch it out and do a couple more throws. Finally, on the last one, I realized it wasn't going to work."
He had flown out to center in the seventh inning, and said the at-bat didn't affect his hand. He did get a major confidence boost as the crowd of 32,618 cheered loudly when he was at the plate.
"I thought I was getting a standing [ovation]," Feldman said. "Then I came into the clubhouse and [clubhouse manager Tom Hellmann] had to burst my bubble and said it was because the Bulls won [against the Heat]. I thought I was raking."
He was pitching. Feldman is the first Cubs pitcher to throw at least seven innings and give up three or fewer hits in consecutive starts since Rich Harden did so Aug. 11 and Aug. 19, 2009. It's the first time in Feldman's career he's given up two earned runs or less in five consecutive starts, and he now has a 1.63 ERA in his last four starts.
"That's really encouraging to see -- that's three or four really good outings in a row, especially two very impressive outings in a row," Sveum said. "He's got a feel for [his cutter] right now and it's impressive, especially to go along with his two-seamer. He didn't throw a whole lot of offspeed pitches tonight."
"He can have some good stuff," Rangers manager Ron Washington said. "He looked like he was on his way to finishing the eighth inning and it just didn't happen. I don't know if he came up with a cramp or what, but he was good tonight as far as our offense was concerned. We couldn't do anything with him."
The Cubs tallied in the first on Alfonso Soriano's run-scoring groundout. Then came the fourth. With two outs, Luis Valbuena doubled and the Rangers intentionally walked Darwin Barney, who was hitless in his last 16 at-bats. Feldman lined a single to left-center to score Valbuena, and make it 2-0.
"I was just trying to get a hit," Feldman said of his at-bat. "I was trying to put some runs on the board and at least be a tough out. Anybody would do that, walk a big league hitter to get to a pitcher. Luckily, I was able to find a hole there."
David DeJesus then walked, and Castro followed with a two-run single. Rizzo delivered another two-run single to open a 6-0 lead.
"The fourth inning, when we put up the five runs, the two-out hits were nice," Rizzo said. "To do it without a home run that inning was nice. We haven't done that all year. That was good for our team, good for our momentum."
Nate Schierholtz hit a sacrifice fly with the bases loaded in the sixth to give the Cubs a 7-0 lead, and Rizzo connected off Derek Lowe in the eighth for his ninth home run.
Feldman was originally scheduled to start against the Rangers in April, but was skipped because his back tightened up. Was it tough to face his former teammates?
"I tried to relax out there, but obviously I know a lot of those guys and have a lot of respect for them and had a great seven, eight years over there and made some good friends," Feldman said. "When we're not playing against them, I hope they do good, and on a night like tonight, I'm trying to get them out."
He did just that.
The Cubs scored a season-high nine runs, and snapped a four-game losing streak in the win.
"I think we're a lot better team than what our record shows," Rizzo said. "We've lost a lot of heartbreakers and today definitely feels good and we should be happy about it."
Carrie Muskat is a reporter for MLB.com. She writes a blog, Muskat Ramblings, and you can follow her on Twitter @CarrieMuskat. This story was not subject to the approval of Major League Baseball or its clubs.