Rangers unable to overcome Tepesch's rocky outing
Offense manages just two hits off dealing Feldman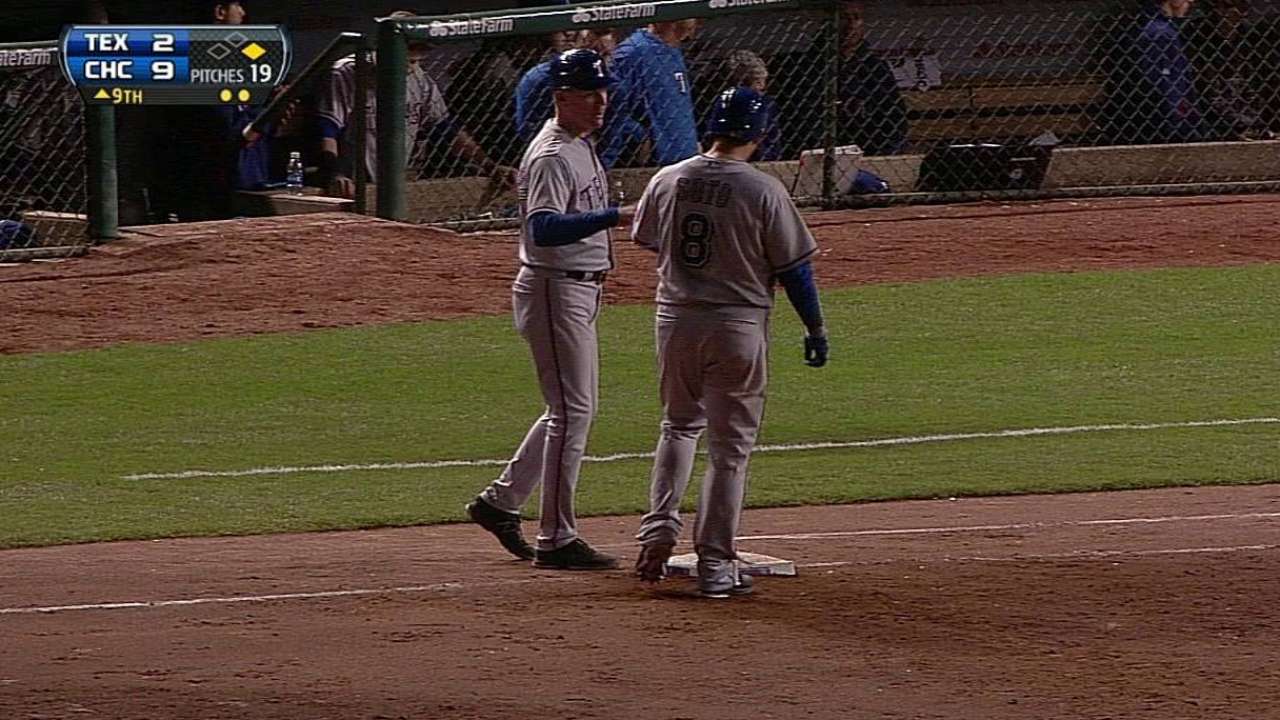 CHICAGO -- Scott Feldman has done things in about a month with the Cubs that he never did in eight years in a Rangers uniform. And now he's doing the damage against his former team.
Feldman, who signed with the Cubs this winter after 204 appearances with Texas, shut down his former squad in Texas' one-day stopover at Wrigley Field. After pitching his first career complete game in his last outing, Feldman allowed just two hits (both singles) in seven shutout innings of a dominant 9-2 win on Monday.
"He can have some good stuff," Rangers manager Ron Washington said. "But he was good tonight, as far as our offense was concerned. We couldn't do anything with him."
The righty has allowed two earned runs or less in five consecutive starts for the first time in his career, and became the first Cubs pitcher to throw at least seven innings while allowing three hits or fewer in back-to-back starts since Rich Harden did it Aug. 11 and Aug. 19, 2009.
Feldman was slowed only by a cramp in his right hand, forcing him out of the game just two pitches into the eighth. He now owns a 3-1 record and 1.63 ERA over his last four starts. And he is responsible for halting the first-place Rangers' winning streak at three games.
"I tried to relax out there, but obviously I know a lot of those guys and have a lot of respect for them and had a great seven, eight years over there and made some good friends," Feldman said. "When we're not playing against them, I hope they do good. And on a night like tonight, I'm trying to get them out."
It was an entirely different story for Rangers starter Nick Tepesch, who lost his first decision since April 14. The rookie right-hander allowed at least one baserunner in each of his four innings, and was charged with six runs -- five earned -- on six hits and four walks (one intentional).
Michael Kirkman (one) and Derek Lowe (two) were also charged with runs in Chicago's heaviest run output of the season.
Truth be told, Tepesch didn't receive much help early from his teammates, who committed two errors in the first three innings after entering the game on a season-best seven-game errorless streak. The Rangers offense also mustered just five hits, stringing together two hits and a Cubs error to tack on two runs in the ninth.
But Texas was in a hole early. Catcher Geovany Soto had a throwing error on a David DeJesus stolen base in the first that allowed DeJesus to move to third and eventually score on an Alfonso Soriano groundout to give the Cubs a 1-0 lead.
Chicago poured it on in the fourth, when they batted through the lineup and notched four hits against Tepesch, who also walked two in the inning. Consequently, the key at-bat was against Feldman, who got a fastball with two strikes, two outs and two men on.
"[Tepesch] had Feldman on two breaking balls swinging and that's the one he should have tried to put him away with, not the fastball," Washington said. "And he went at the fastball and Feldman got him."
Said Tepesch: "I just didn't really make a good pitch right there. That was basically it."
Feldman drove in the first run of the inning before Starlin Castro and Anthony Rizzo each had two-run, two-out singles. Chicago tacked on another with a sixth-inning sacrifice fly and Rizzo laced a two-run line-drive homer to right field off Lowe in the eighth.
The Rangers have lost four of their last five to the Cubs, dating back to May 22, 2010.
"We got a lot of runs, which made it nice and comfortable out there on the mound," Feldman said. "It seemed like every time [the Rangers] hit a ball on the screws, it was right at somebody."
Joey Nowak is a reporter for MLB.com. Follow him on Twitter at @joeynowak.‬ This story was not subject to the approval of Major League Baseball or its clubs.