Arencibia finishes Blue Jays' epic rally vs. Rays
Catcher's two-run homer in ninth completes seven-run comeback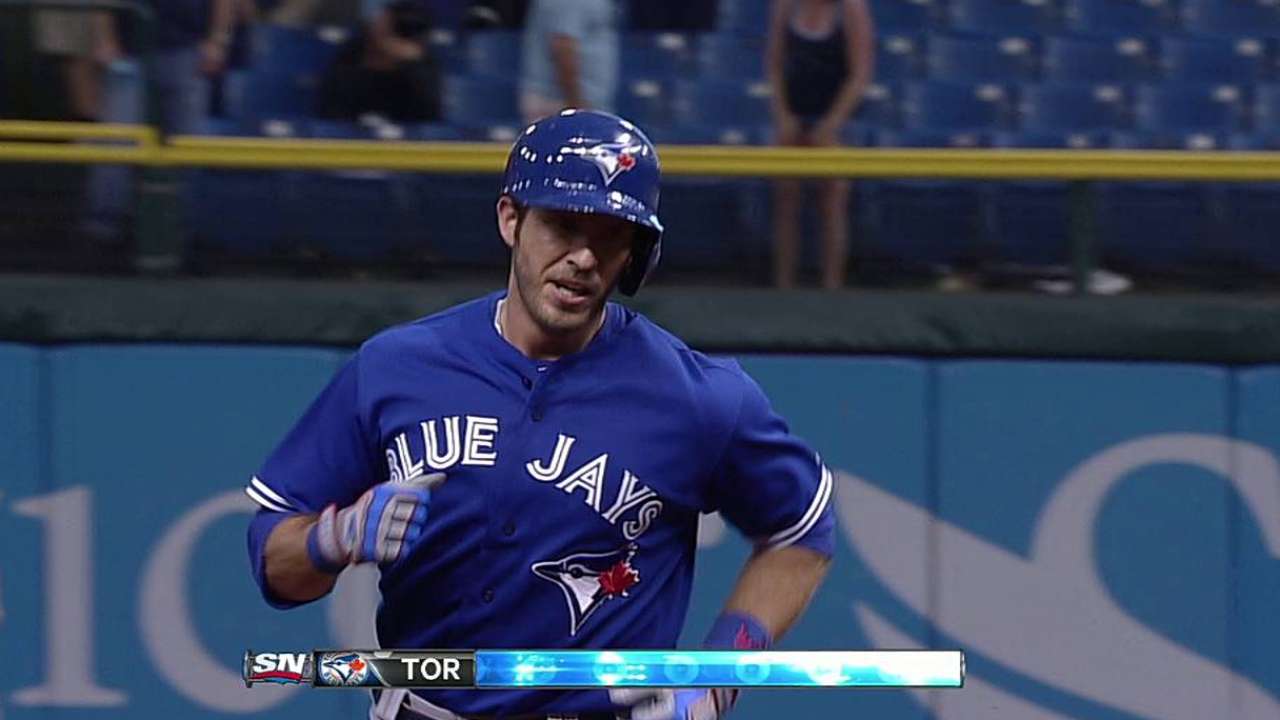 ST. PETERSBURG -- J.P. Arencibia's Monday began on a sour note but finished with a bang, as the catcher capped the Blue Jays' largest come-from-behind victory in almost six years.
Arencibia arrived at Tropicana Field earlier in the day without a spot in the lineup card, as manager John Gibbons made a surprise decision to switch things up and go with veteran backup Henry Blanco instead.
Gibbons admitted the decision didn't sit well with his starting catcher, but in the end, it didn't matter because Arencibia entered in the sixth and eventually hit a go-ahead homer to help offset what previously had been a seven-run deficit to earn an 8-7 victory over the Rays.
"J.P. plays to win as much as anybody, more than most, and he cares," Gibbons said. "He wasn't really happy that he wasn't in there, but he said, 'I'll be ready if you need me,' and sure enough -- that's what he does. He can burn you."
Toronto found itself seemingly down and out after just three innings as Mark Buehrle suffered through another nightmare outing on the mound. But little by little, the Blue Jays chipped away and surprisingly turned the would-be blowout into a thriller.
The comeback began in the fourth on a two-run homer by Colby Rasmus and an RBI single by Melky Cabrera. Two more scored in the sixth on another two-run shot, this time by pinch-hitter Mark DeRosa.
From that point on, it was a tight ballgame. An error by Rays shortstop Yunel Escobar led to another run in the eighth, but Toronto seemed incapable of taking that final step despite multiple opportunities to put additional runs on the board.
Even the ninth started on the right note, as the club had a runner on third base with nobody out. But after Rasmus struck out and Maicer Izturis grounded out to first, another crushing defeat seemed imminent. At least, until Arencibia stepped to the plate.
Arencibia went down to his final strike but then unloaded on a 2-2 fastball from Rays closer Fernando Rodney and sent it into the left-field seats to put Toronto in front for the first time. Arencibia's had a number of dramatic moments in his career, but this one will rank near the top.
"I was so happy, I think I was fist pumping," Arencibia said of his reaction. "I don't know if I did a combination of Kirk Gibson's fist pump, I almost fell a few times rounding the bases. I was just so excited that we were able to get the lead."
The seven-run deficit was the biggest the Blue Jays have overcome since June 5, 2007, in a game that also came against Tampa Bay. It couldn't have come at a much better time for Toronto, as the club desperately attempts to overcome a slow start.
Arencibia has done his part. He entered Monday's game leading all Major League catchers with eight homers, 16 RBIs, 15 extra-base hits and 58 total bases. Those numbers look even better after Monday and, ironically, come on a day when Arencibia was the pregame storyline because of his surprise absence.
None of that really seems to matter right now, though, as Toronto can celebrate the fact that Rodney blew his second save of the season and the club escaped with a rare victory at Tropicana Field -- a place that has been notoriously tough on the Blue Jays.
"It's just part of the game," Rodney said. "I feel sorry for what happened, because the bullpen couldn't hold the lead. ... Tomorrow is another day. We come the same, focused for tomorrow. Keep your head up."
The offensive onslaught helped overshadow an ugly night on the mound for Buehrle. The veteran lefty entered the game having allowed the most home runs per nine innings in the American League with 2.1. The well-documented problems continued versus Tampa Bay, as it was a pair of homers in the third that proved to be his undoing.
All seven runs were scored in the third as the Rays sent 10 batters to the plate on six hits and a walk. The biggest blow came off the bat of third baseman Evan Longoria, who sent a 2-1 pitch over the wall in left for the third grand slam of his career. Three batters later, Luke Scott added a two-run shot and the game appeared to be out of hand.
Buehrle has remained composed throughout his rough April and now May, but the failed expectations to date have to be taking their toll. The run support he received on Monday night at least makes it easier to swallow this time around.
"It's frustrating, I'm not doing much to help this team win right now," said Buehrle, who was charged with all seven runs on nine hits and two walks. "This is a huge win, these guys battled back today. As soon as I gave up seven, we could have just rolled over and gave up, but this offense went out and battled and got us the win."
The Blue Jays have now won two consecutive games for just the second time this season. For the first time this year, there are signs of life at the plate, as the club has scored a combined 18 runs over that brief span.
Momentum doesn't really exist in baseball because so much is left up to the next day's starting pitcher, but runs can become contagious, and the Blue Jays are hoping this small sample size of games will eventually multiply into an extended run.
Arencibia's homer might be the aberration, but it also could be one of the turning points.
"It's definitely huge, they always play us well, and they play everybody well, for that fact," Arencibia said. "They have a great pitching staff over there, and usually when they put seven on the board, they're usually going to have a pretty good night. Fortunately, we were able to come back and answer and swing the bats."
Gregor Chisholm is a reporter for MLB.com. Read his blog, North of the Border, and follow him on Twitter @gregorMLB. This story was not subject to the approval of Major League Baseball or its clubs.